Thinking about a unique weekend getaway? You should think about visiting Shipshewana, Indiana. It's home to one of the largest Amish communities in the nation. Read below to learn more about my overnight experience!
As I mentioned a while back, Anika and I traveled this past fall to Indianapolis so her group could compete in the National FFA Convention. A combination group of 29 students and chaperones traveled from Oregon, flew into Chicago, and the approximately four-hour trip down to Indianapolis. Along the way we made a very unique overnight stop in a place where life is just a little different from what many of us are used too. We stayed in a community where buggies outnumber cars and everywhere you look homes and landscapes are immaculately kept.
Shipshewana: An Amish Town
Shipshewana is located in Northern Indiana, and is one of the largest Amish communities in the nation. It's a small town with many things to explore. We arrived in the evening and checked into the local Super 8 hotel. There are several hotels to choose from downtown.
The next morning we began our learning journey – starting off with a visit to the Menno-Hof museum. It's a great place to start where you can learn a lot about the life's of the Amish and Mennonites. 
From there we were escorted around the town to different local places with the help of a local guide. There are several tour guide companies in Shipshewana and I'd recommend considering this option. We stopped at local shops, and a livestock auction site (where there are auctions weekly, year round). We also checked out a buggie lot – kind of like a car lot, only it's just a handful of buggies for sale on someone's property. The kids had lots of questions about them – it was great having someone knowledgeable there to tell us about them.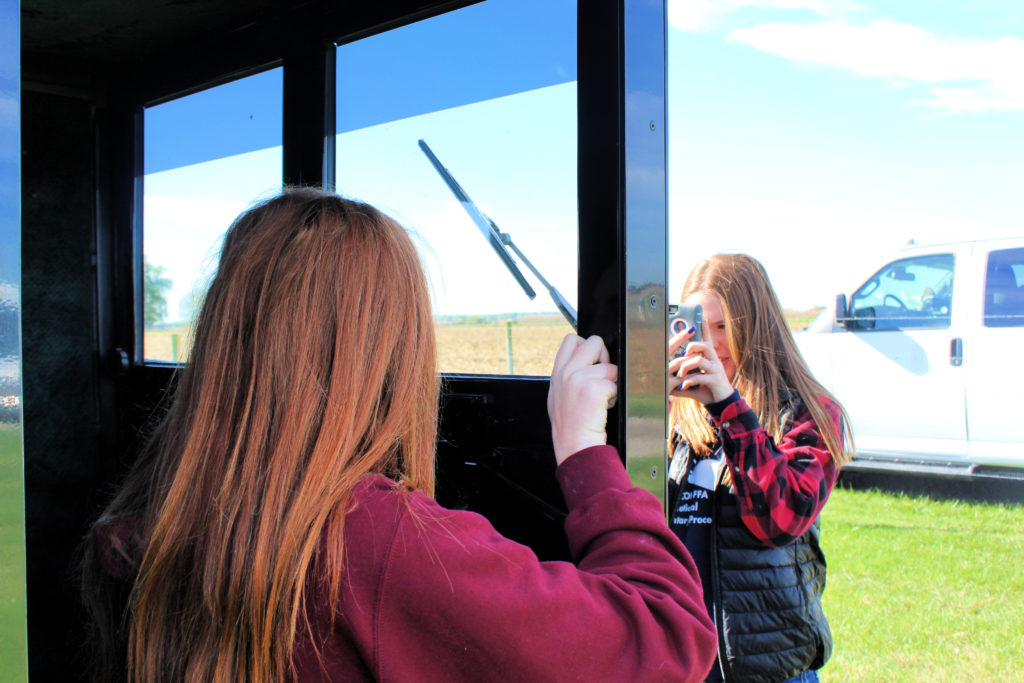 We toured a working dairy farm, where we learned a bit on how things operate – and everyone had their chance and milking a cow. We stopped in at a furniture shop, and a farrier's home business. For those of you who don't know (I didn't) a farrier is a horse shoer, and in a town where horses probably outnumber cars he keeps busy.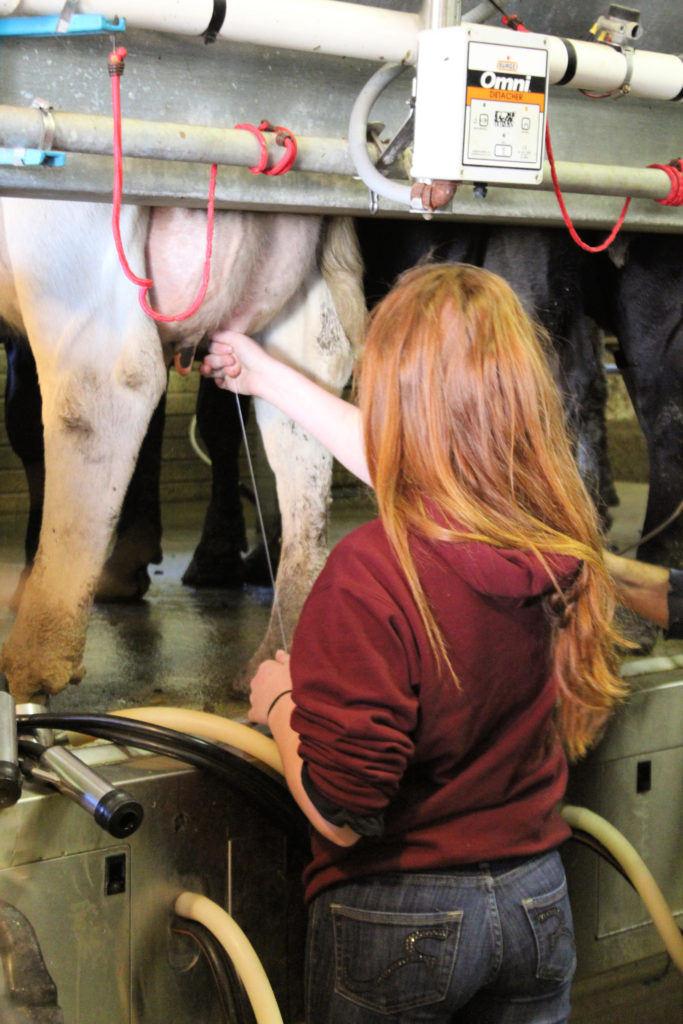 We passed through the beautiful countryside; all of their homes were white with lots of acreage. There were many Amish community schools where we could see children playing outside for recess time.
We ended our day with a traditional Amish Thrasher dinner in our tour guides home. His wife and daughters had been preparing all afternoon for our arrival. A Thrasher dinner is a family style dinner that many of the community eat together after a long days work. The meal consisted of two different kinds of meats, mashed potatoes, noodles, salad, homemade breads, and pies for dessert. Following the meal they played songs of their piano and asked them any final questions about everything we had learned that day.
A few things to know before visiting:
One of the most important things as a tourist you should know is that the Amish community does not like having their photos taken where they can be identified, as it has something to do with their beliefs surrounding one of the ten commandments. There were many more photos that I would have liked to have taken, however I wanted to make sure I was very respectful of this. It is ok to photograph them from a distance if they aren't identifiable in the photo.
There are lots buggies and bikes alongside the highway and parked in parking lots. Be respectful and careful of them!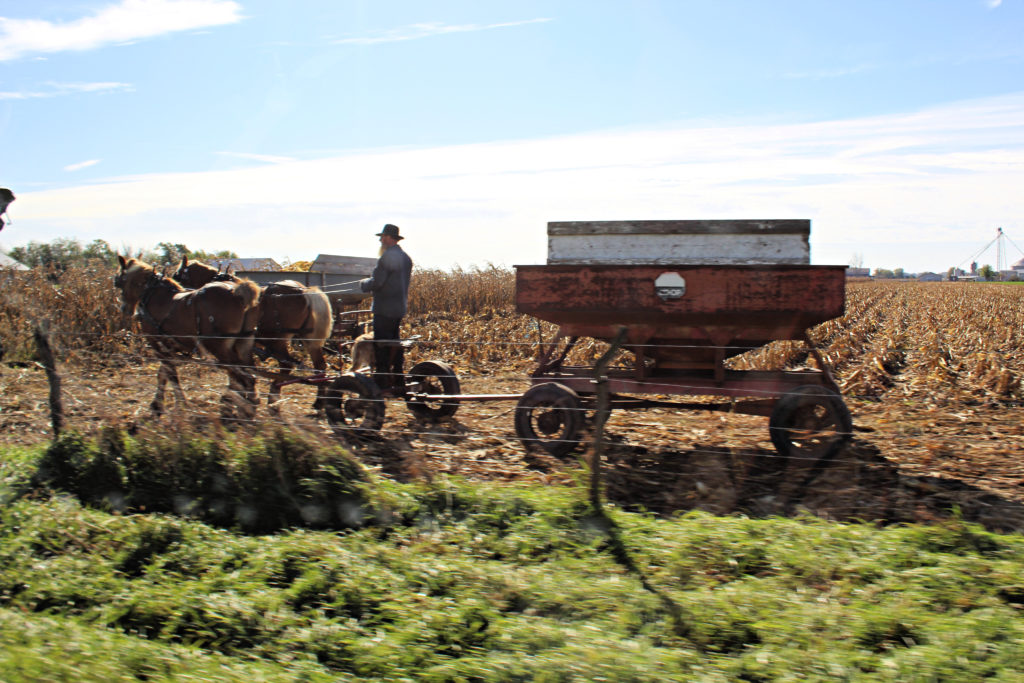 Many Amish have home businesses, so if there's a sign up outside you are more than welcome to stop by.
Places to visit in Shipshewana:
Start your journey at the Menno-Hof museum so you can learn more about the history of the area.
For dining, check out The Blue Gate restaurant  or the Rise 'n Roll Bakery .
E&S Sales is the local grocery store, but it's like a bulk goods store with prices so good you'll want to stock up and ship items back home!
There are numerous little shops to stop into. We didn't do too much shopping, but did go to the Davis Mercantile. It has 21 shops on four floors with a carousel on the top floor!
Have you ever traveled to an Amish town before? I'd love to hear about it!
~Melissa
(Visited 812 times, 1 visits today)