This shop has been compensated by Collective Bias, Inc. and its advertiser. All opinions are mine alone. #SousVidePerfection #CollectiveBias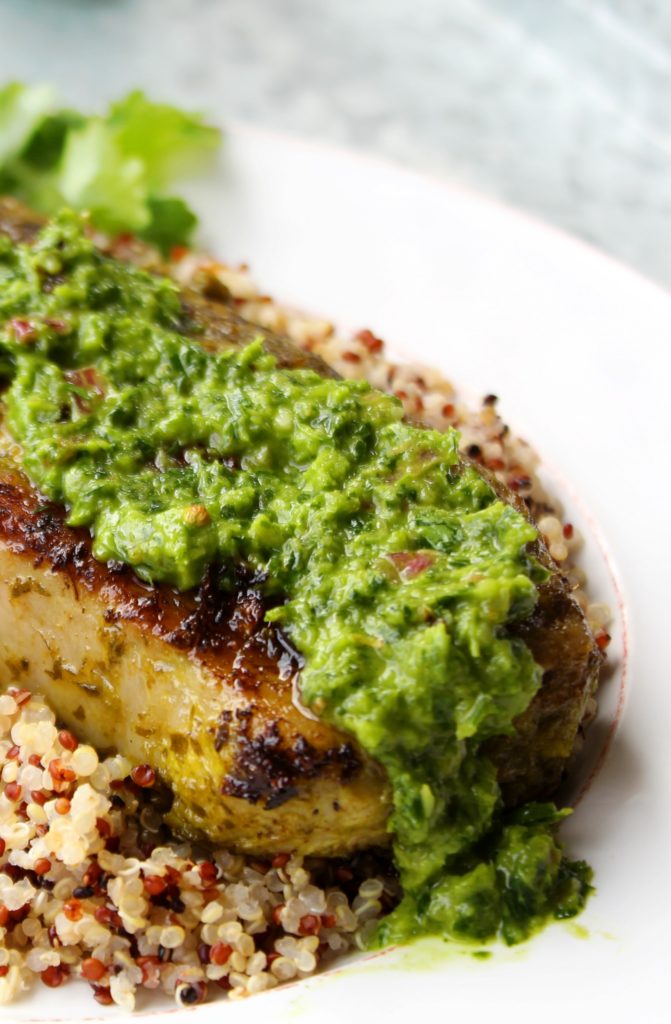 I have been stuck in a cooking rut lately. When life gets busy it seems I tend to just stick with dishes that I know…and I'm trying to change that. So I recently purchased a sous-vide machine. Have you heard of cooking with this method before? I had heard of the name before, but up until a few months ago wasn't very familiar with the term. A co-worker of mine who also enjoys cooking began mentioning theirs, and how it cooked their meat just ever so perfect, even and tender. Needless to say I had been thinking of purchasing one since that conversation.
What is a Sous-Vide?
Cooking food the sous-vide method is something that a lot of cooking professionals do. It entails sealing your food in a bag, then submerging it in the perfect water temperature. The sous-vide machine circulates and keeps the water consistently at the appropriate temperature.
It's not meant to be a fast cooking method, however, once you've began you can then forget about it while it cooks. It's definitely not just for meat either. You can cook vegetables, side dishes, desserts, eggs, etc. It's certainly something cool to play around with!
I've use mine a couple of times now and have had a lot of success.
One dish that I ended up cooking was pork chops with a chimichurri marinade. I have always wanted to make chimichurri sauce before, and it was just one of those things that I just hadn't done yet.
Creating with the FoodSaver® V4400 2 in 1:
To make this recipe you'll need a sous-vide machine as well as a FoodSaver®. I'm currently using the  FoodSaver® V4400 2 in 1 Automatic Vacuum System. The  FoodSaver® is the #1 vacuum sealing system in the world – and it' snot just for keeping foods fresh longer! It's perfect to use with your sous-vide machine because the  FoodSaver® Vacuum Seal Rolls and Bags are completely airtight, heat proof, and BPA-Free.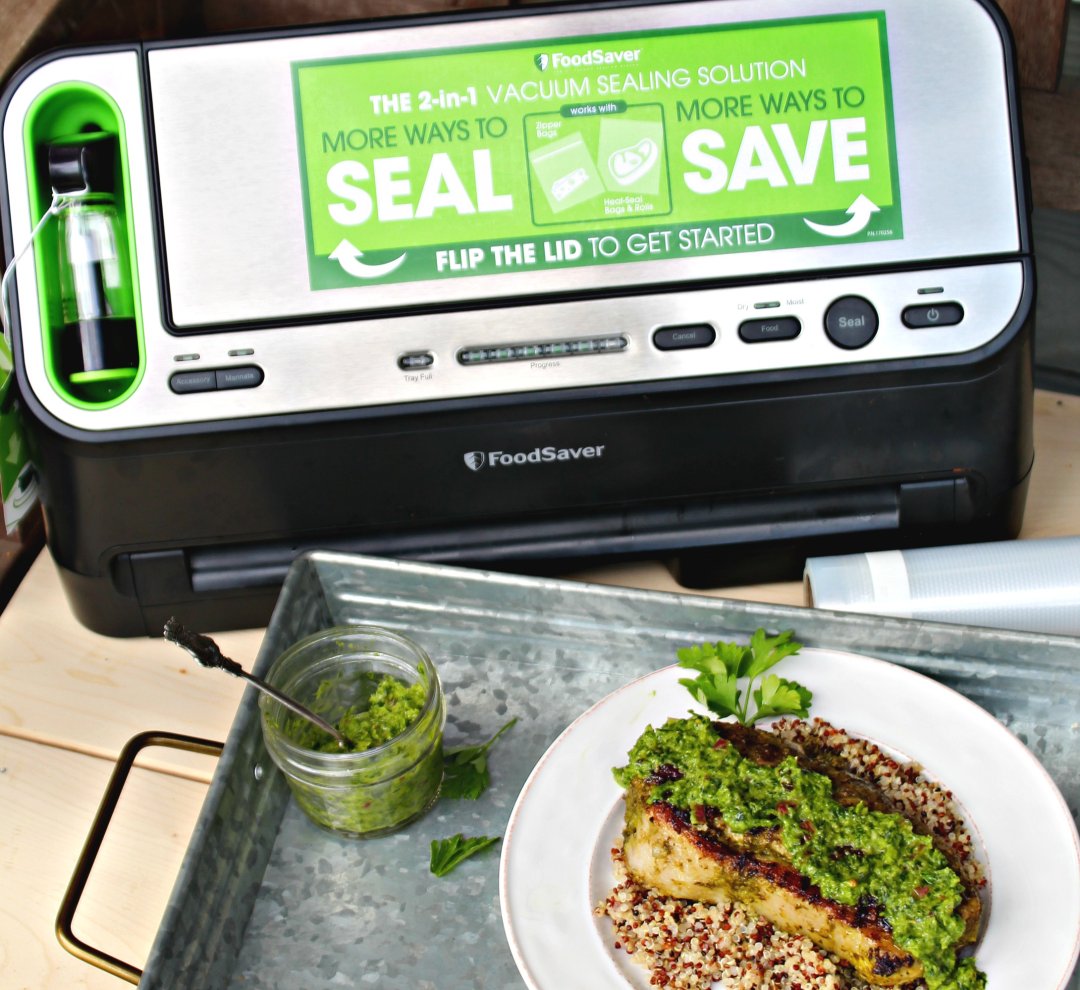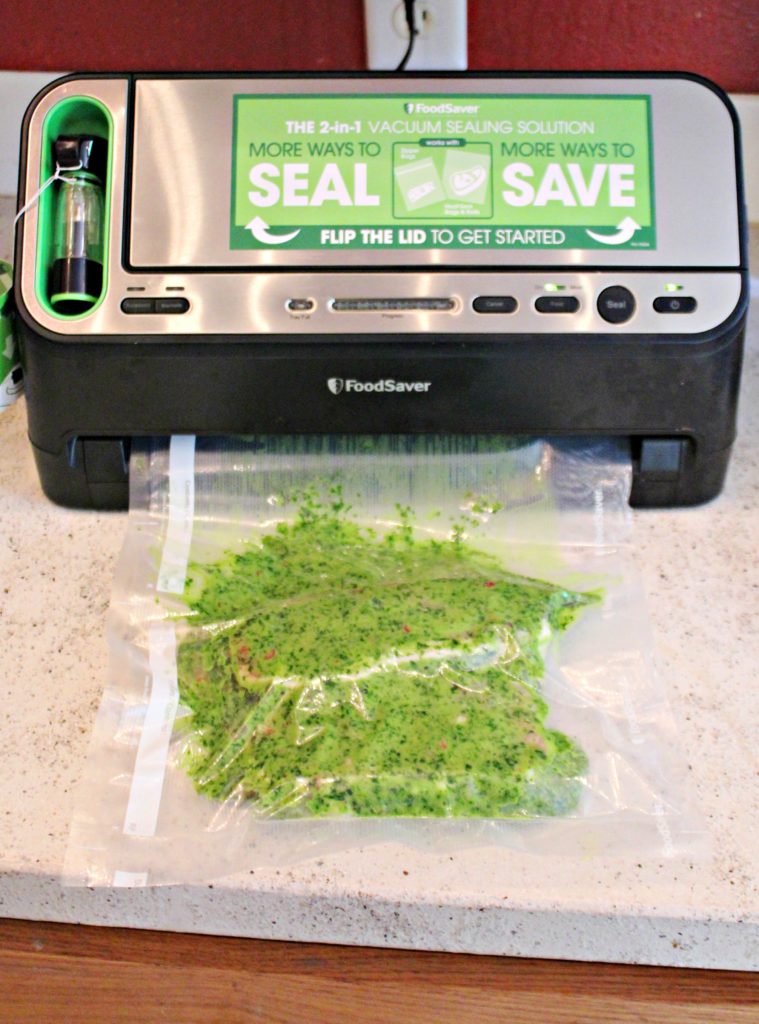 To Make the Chimmichurri marinade:
You'll need to purchase Italian parsley, olive oil, red wine vinegar, cilantro, garlic, cumin, and a shallot. It'll be a tad thicker than some chimmichurri sauces, but if you'd like you can always add a little more olive oil. This will make enough to marinade + some reserve to top the pork loin chop with after cooking.
After making the marinade, you'll place your meat into a FoodSaver® bag then add the chimichurri marinade and then seal. Place in the refrigerator until ready to cook.
Next you'll set up your sous-vide machine and set the temperature to 160 degrees. Place the bag into the water when it is the appropriate temperature, then cook for 1-1/2 hours (depending on the thickness of the pork chop). Afterwards, sear both sides of the pork loin chops in 1 tablespoon of butter, then top with remaining chimichurri marinade just before serving!
Serve with quinoa or rice!
Ingredients
1 cup of packed fresh Italian parsley

1/2 olive oil

1/3 cup red wine vinegar

1/4 cup packs fresh cilantro

2 garlic cloves, peeled and minced

1 shallot, finely chopped

1/2 teaspoon ground cumin

1/2 teaspoon salt

1 tablespoon butter

1 pound of pork loin chops
Instructions
placed the garlic, salt, ground cumin and red wine vinegar in a small bowl. Set aside. Add the parsley, olive oil, cilantro and shallot into a blender or food processor and puree. Pour in vinegar mixture and blend until combined.
Place pork loin chops and 1 cup of marinade (save remaining marinade) into a FoodSaver® bag. Seal bag with the FoodSaver® according to instructions. Place in the refrigerator until ready to cook.
Meanwhile, heat water for the sous-vide machine until temperature reaches 160 degrees. Set timer on the sous-vide machine for 1 1/2 hours. Place the pork loin chop bag into water and cook.
After the cooking has completed, remove meat from the bag and sear each side in 1 tablespoon of butter until lightly browned.
Serve with remaining marinade and a side of quinoa or rice.
Enjoy!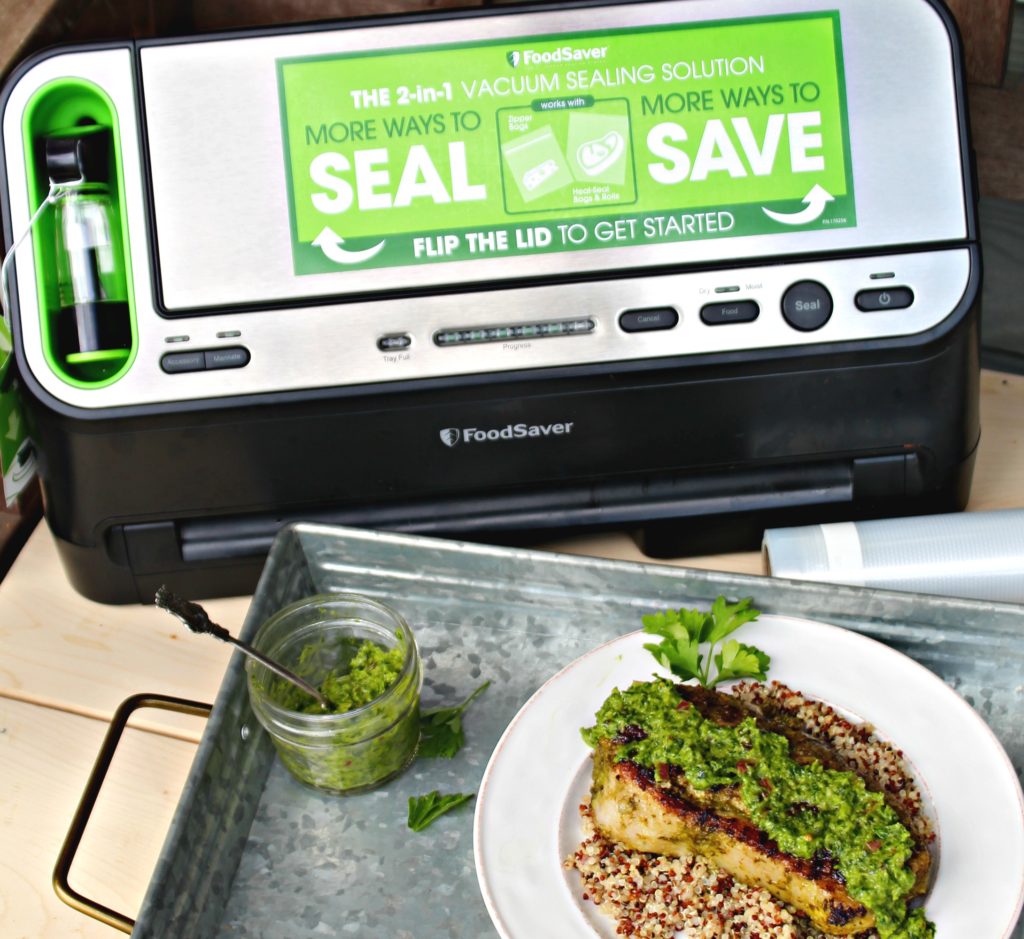 Have you ever cooked using the sous-vide method before? I want to hear about it! Comment below and let us know!
~Melissa
(Visited 5,013 times, 1 visits today)