Disclosure: This shop has been compensated by Collective Bias, Inc. and and Mazola® Corn Oil​. All opinions are mine alone. #MakeitMazola #SimpleSwap #CollectiveBias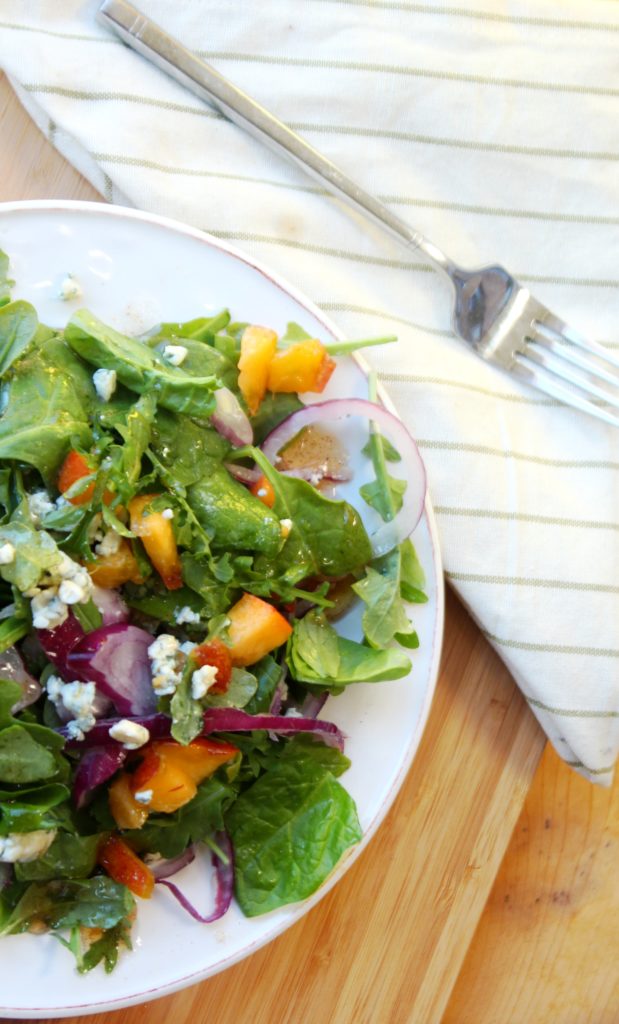 Hey everyone! I hope life has been treating you well. I'm loving all of the fall weather changes and am excited to cook lots of tasty, hearty meals – however sometimes I still crave a delicious salad! Salads are great because they are truly quick meals to make, which is perfect on busy school nights. Pair it with some toast or even a bowl of soup and voila! Dinner is served. I also enjoy eating them for lunch too. I've recently been cooking with Mazola® Corn Oil more frequently and created a honey vinaigrette with it that I'm going to share with you today.  A clinical study showed Mazola Corn Oil reduces cholesterol 2x more than extra virgin olive oil. To learn more about this claim, see Mazola.com.
About Mazola Corn Oil
What exactly is Mazola Corn Oil? It's an all-purpose cooking oil that is a smart heart-healthy choice for your family. You can use it in a variety of ways including: baking, grilling, sautéing, and making marinades or dressings.  It has a neutral taste as well, so it allows the natural flavors of your food stand out. Mazola also has a higher smoke point than a lot of other cooking oils. What does that mean? Cooking oils each have what is called a smoke point, and once exceeded, it can negatively affect your food's flavor and nutritional value. Mazola Corn Oil has a smoke point at 450°F, so it works great for stir-frying, grilling, baking, etc.
Creating the steak salad
What I absolutely love about this salad is all of the delicious flavors that are combined together. You get sweet, savory, as well as a good variety of textures – and it takes less than 30 minutes to make. I used a 50/50 combination of  baby spinach and arugula, which combined has more flavor and nutritional value vs. using iceberg lettuce.
I then thinly sliced half of a red onion, crumbled some blue cheese, and diced a ripe nectarine. I used the red onion instead of a yellow onion because I felt the flavor paired better, plus red onions have more antioxidants than yellow onions do!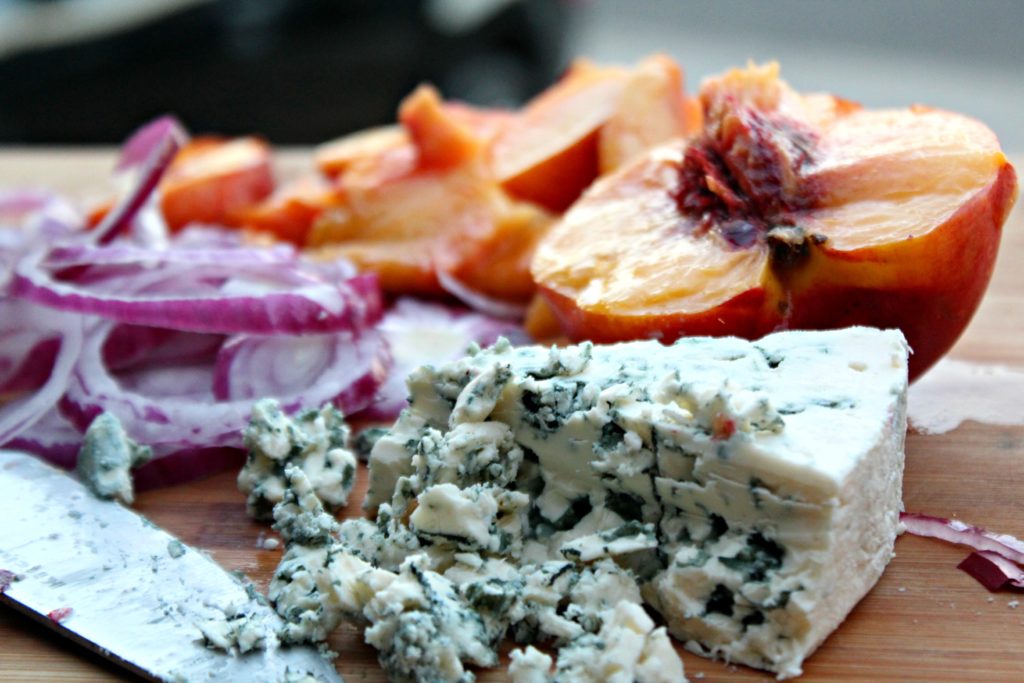 Lastly I cooked a lean steak and made the honey vinaigrette by combining the Mazola Corn Oil, honey, paprika, garlic powder, and juice from 1/2 a lime. I love using honey, rather than granulated sugar, as a better-for-you sweetener.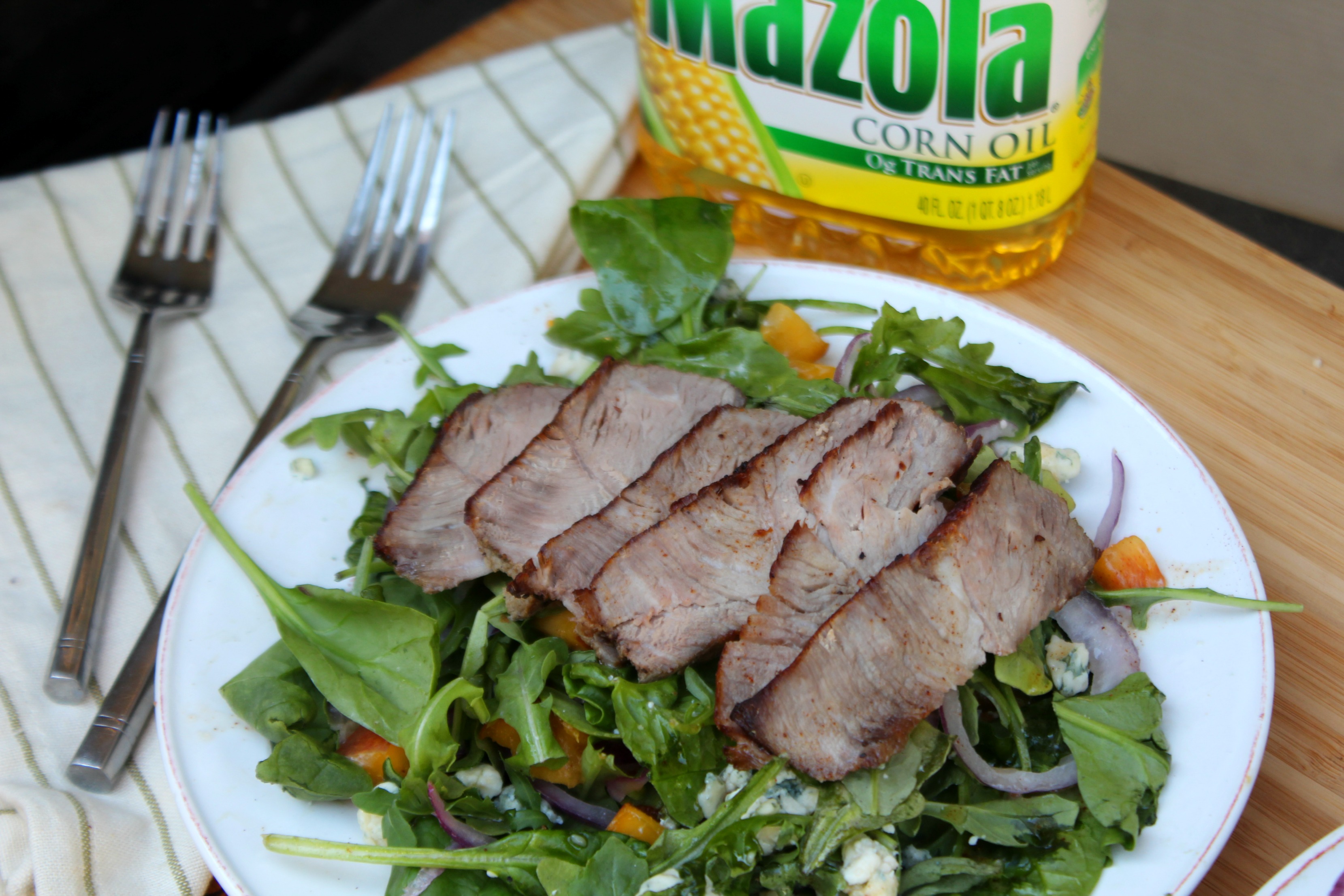 Ingredients
1 pound USDA choice beef petite sirloin steak

5 ounces of organic baby spinach and arugula

3 ounces of your favorite blue cheese

1/2 large red onion

1 nectarine

1/3 cup of Mazola Corn Oil

1/4 teaspoon paprika

1/4 teaspoon garlic powder

2 tablespoons honey

juice from 1/2 a lime
Instructions
Sear and cook the steak in a frying pan until well done.  Set aside to cool.
Thinly slice the red onion and dice the nectarine.  Place in a large bowl along with spinach and arugula. Crumble blue cheese and combine.
In a small bowl whisk together the Mazola Corn Oil, honey, paprika, garlic powder, and lime juice.
Just befor serving add vinaigrette to the salad and toss together until combined. Plate the salad and top with thinly sliced steak.
Enjoy!
What are your favorite salad flavors? Do you make any of your own vinaigrettes? Next time pick up a bottle of Mazola Corn Oil and see just how delicious your dressing will be!
~Melissa
(Visited 602 times, 1 visits today)