This big game treat shop has been compensated by Collective Bias, Inc. and its advertiser. All opinions are mine alone.#BigGameTreats #CollectiveBias
Hi everyone! I can't believe it's been so many days since I stopped in to say "hello" on here. Last week I worked full time hours at my other job and was busy training someone for the position – and it seemed like I didn't have much time for anything else! I don't know how you full time workers can find the time to blog full time too!
Luckily for me this week should be a bit more fun. Emma's birthday is Wednesday and her party is going to be next Sunday at the aquatic center – so I'll be getting ready for that. I'm just working from home this week as well, so I'll have more flexibility.
Last night was the first evening that we all got to stay home and relax in a couple weeks, so we invited some of our friends (who are more like family) over to watch a game/play games and nibble on the mass quantity of goodies I created.  I think it's great to have spreads for Big Games, but so often it's geared towards 'the guys', so I thought it would be fun to create a dessert table full of treats that everyone – including kids would love.
Saturday morning I made a big Chocolate Football Pinata cake which was really fun! It was filled with Skittles® for a little surprise. I also tried my hand at Deep Fried SNICKERS® Bars which were a huge hit, and then we all had a little fun together experimenting and making our own Starburst® ice cream.
Chocolate Football Pinata Cake 
2 Packages of your favorite cake mix (I used a baker's
quality mix)
2 containers of your favorite chocolate frosting
Chocolate sprinkles
1 14 oz package of Skittles
White icing for decoration
Coconut (for decoration)
Green food gel
Bake the cakes according to instructions. I poured the batter into three 9 inch cake pans. After the cakes have cooled completely, cut each cake in half. Arrange one cake so it's slightly off centered, to create more of a football shape. Frost and add second layer on top. Carefully scoop out center of the middle cake layer and replace with Skittles until it's completely full. Top with last cake layer and trim edges until you have your desired football shape. Cover the entire cake with frosting.
Pat chocolate sprinkles on top of the frosting and then using a pastry bag pipe the football lines on with the white icing.  In a separate bowl, pour desired amount of coconut and green food gel and mix until the coconut is completely covered. Use as a grass decoration around your football cake.
The Deep Fried SNICKERS Bars were actually easier than I thought –
1 package of 12 SNICKERS fun-sized bars
1 cup of flour
2 tsp sugar
1 cup of milk
¼ tsp baking soda
¼ tsp salt
Oil for deep frying
Candy sticks
Powdered sugar for garnish if desired and/or caramel sauce
Insert candy sticks into the SNICKERS bars and place them in the refrigerator for 30 minutes.  In the meantime, heat up oil in a deep pan, and mix all of the batter ingredients until there are no lumps.
After thirty minutes, dip each SNICKERS bar into the batter, and fry in oil once the oil reaches 390 degrees. Cook for 1-3 minutes until the outside is golden brown. Transfer the bars to a plate covered with paper towels and then dust with powdered sugar and/or drizzle with caramel.
These are best served hot, but the kids loved them cold too!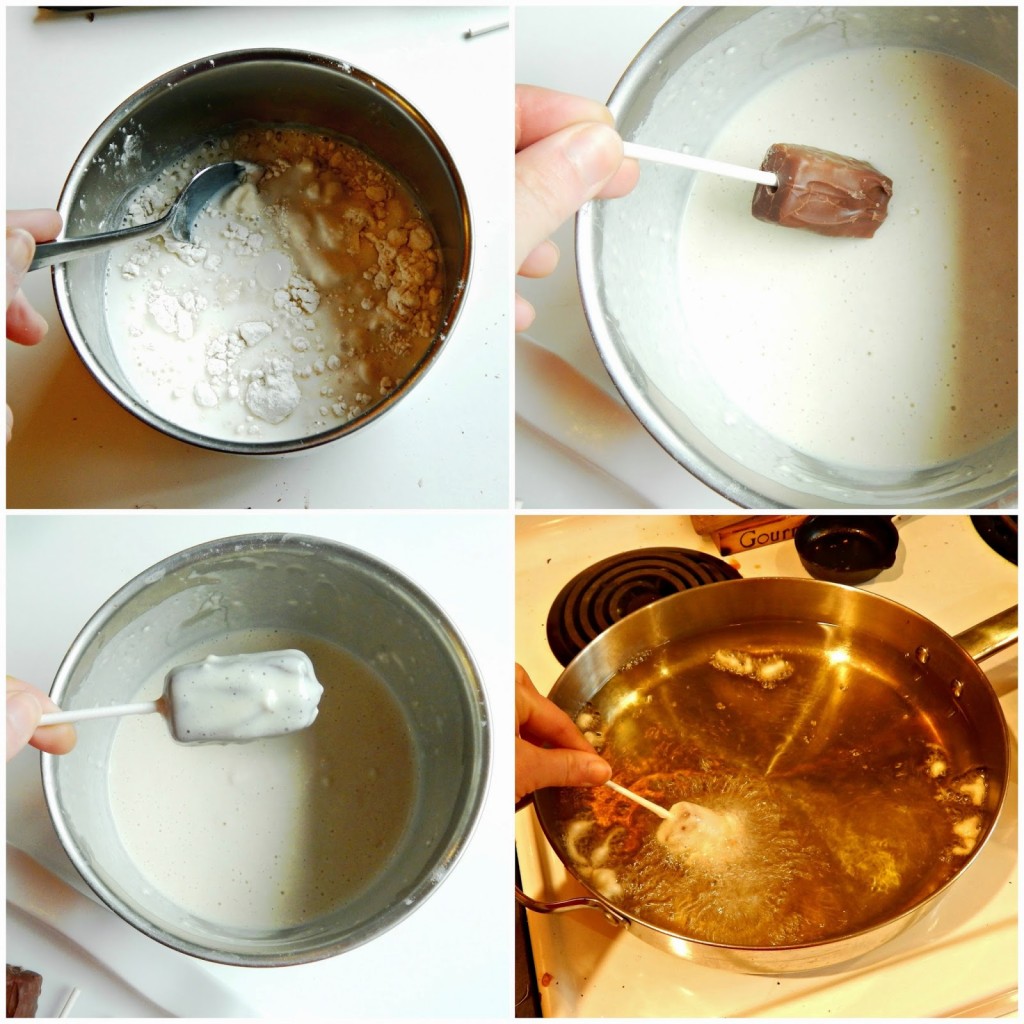 Lastly, our Starburst ice cream that we created together was such a big hit that we ate it faster than we could make it! It's got a nice lightly sweet Starburst flavor and is very creamy. Anytime I can incorporate the kids into creating with me I will – it just makes days like this more memorable for them.
Starburst Ice Cream
¼ cup of granulated sugar
1 ¾ cups of milk
½ cup of cream
7 ounces of Starbursts (1/2 a package)
Candy thermometer
Ice cream machine
First, chop Starburst candies into quarters, set aside ¼ of them. Place the rest in a cooking pot and pour in the milk and cream. Heat over medium high until the candy is completely dissolved, stirring continuously.
Remove from heat and set aside until slightly cooled. In a separate bowl, beat the sugar and eggs until well mixed. Slowly pour the candy mixture in and once it's all blended place the entire mixture back on medium high heat and stir until the temperature reaches 195 degrees.
Pour mixture into a shallow baking dish and place in the refrigerator until completely cooled.  After it's cooled pour into ice cream machine for approximately 30 minutes or until the desired consistency is reached.
Make approximately ¼ of a gallon.
I even made one more treat yesterday, created with Life Savers® gummy candies, but I think I'll have to wait and share that recipe tomorrow – this post is already much longer than I intended! All of the candy can be found at Walmart in the candy aisle, where there was a big selection for the kids and I to choose from! I decided to decorate the table, using tissue paper to create pom poms , craft paper to make a triangle banner, poster boards for a backdrop, and lots of green because aren't green and brown the un-official colors for a game day?
After the game was over, we played some board games, caught up on what was new in each other's life's and just spent a few hours relaxing at the house while the kids all played.
This was a great way to start out our year of celebrations! Have you ever created a Big Game dessert table before? What did you include?
(Visited 811 times, 1 visits today)