This shop has been compensated by Collective Bias, Inc. and its advertiser. All opinions are mine alone. #CreateWithOil #CollectiveBias
You guys! The countdown is on here in Oregon – there are only 1 1/2 more days of school left before summer break officially occurs. Tonight Anika has her 8th grade promotion and she'll officially be a highschool student afterwards!
This last weekend flew by; I turned 32 on Thursday, went out for pedicures with the girls for the first time as a trio, had a family dinner at a local brew pub, worked, participated in my first painting-party class, Noah took me out to Sunday brunch, then I took Anika dress shopping for her promotion!
After dress shopping, we did some chores around the house and I decided to make dinner a little bit different. In celebration of summer I made some fair-themed food for everyone! Homemade corn dogs, corn, mini elephant ears, baked beans, fruit, and cotton candy were all placed out on the back deck table and we devoured it while listening to a local country radio station – because summer a fair food also reminds me of country concerts at the fair. 😉
Creating a Fair Themed Dinner + Homemade Corn Dogs
I've made homemade corned dogs a few times in the past. They are actually really easy to make. When making them, I always choose a good quality hot dog – because it really enhances the flavor. I'll also use peanut oil to fry them in because peanut oil has a high smoke point, which creates a surface seal that locks the foods natural moisture allowing the steam to cook the food from the inside out. This results in a delicate, golden crispy outside and a juicy, tasty inside. LouAna makes a great Peanut Oil  that gives the corned dogs a nicely crunchy coating; LouAna is the #1 Brand of Peanut Oil in the country! You can find LouAna Peanut Oil at your local Fred Meyer.

The mini elephant ears were also easy to create. I combined 2 cups of all-purpose flour, 2 teaspoons of baking powder, 1 teaspoon of salt, and 1 teaspoon of cinnamon. I then added 2 tablespoons of cold butter cubed and blended it in. After that, add 1 cup of water and then let the dough set for 10 minutes or so. Pinch off pieces of the dough and flatten in your hands before adding to the pre-warmed LouAna Peanut Oil. Fry for 3-4 minutes then place on a napkin and sprinkle with cinnamon and sugar.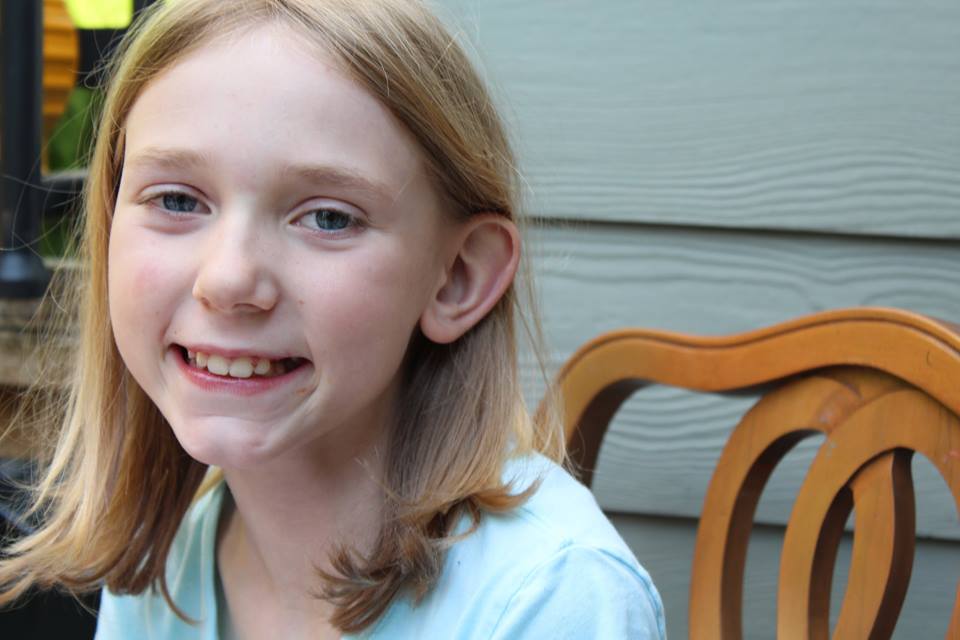 Since I didn't do any cooking outside for this meal, I decided to just boil the corn on the cob and then inserted the sticks. I then rolled them in sour cream and cotja cheese and topped them with a few cilantro pieces for garnish.
About LouAna:
Lou Ana was born in Opelousas, Louisiana in 1820, a place where the food is an elemental expression of love, flavor and family. With over 14 different types of cooking oil, LouAna has the perfect oil for all of your cooking needs whether it's sautéing, deep-frying or baking, LouAna helps every type of cook put the best dish on the table each and every time.
More Fair themed ideas:
If you have a cotton candy machine – use it! Anika got a small one for Christmas one year and always have fun making the sugary treat.
What other fair themed foods can you think of? Perhaps peanuts, popcorn, chilli fries, or other things that are deep-fried like pickles, candy bars, etc? The options are almost limitless when hosting a fair themed dinner!
~Melissa
Ingredients
8 hot dogs

3/4 cup corn meal

1/4 teaspoon salt

1/8 teaspoon pepper

3 tablespoons white sugar

1/2 cup flour

2 teaspoons baking powder

1 egg

1/3 cup milk

1/2 gallon of LouAna Peanut Oil

8 skewers
Instructions
Pour the LouAna Peanut Oil into a large cooking pot and place on the stove on medium heat. Cover.
In a large mixing bowl, combine the corn meal, flour, sugar, salt, pepper, and baking powder.
Add the milk and egg. Pour in a shallow pan.
Place the skewers in the hot dogs.
Test the oil; when it's reached 375 degrees roll one hot dog into batter and place into the cooking pot.
Cook for 3-4 minutes or until golden brown.
Place corn dog onto a napkins to absorb some of the oil.
Enjoy with ketchup or mustard!
(Visited 971 times, 1 visits today)