Who has plans for this weekend? There are so many fun excuses to celebrate – Cinco de Mayo, The Kentucky Derby, springtime + sunshine, baseball, pre-Mother's Day weekend… if you can't think of a reason to get out and do something well, that just makes me sad! What will I be doing this weekend? Unfortunately, what I seem to do best lately – work. But, then I'll have a bunch of days with a flexible schedule again to make up for it.
Whenever we are hosting a gathering or even just relaxing at home, I like to set out some snacks for everyone. Often times it's simple and nothing spectacular, like chips and dip. Most of the time it's store-bought dip, but occasionally I'll get brave and make some myself.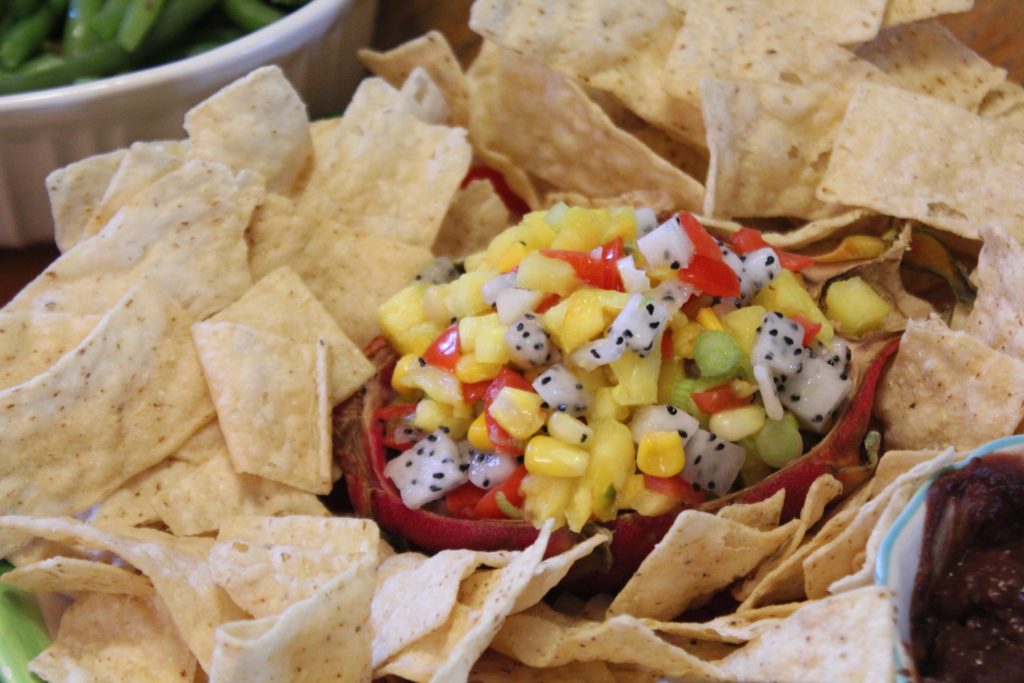 A couple of months ago I was on this fresh fruit kick where I was purchasing 'exotic' fruits for the kids to try, and dragon fruit (or Pitaya) was one of them. The texture is similar to kiwis and their flavor is very mildly sweet. They have become popular in smoothie bowls and cocktails.
I decided why not add them into a salsa.
Dragon Fruit Salsa:
Ingredients
1 cup of fresh corn

1 cup of diced pineapple

1/2 dragon fruit

1/3 cup sliced green onions OR diced red onion

1/2 cup chopped cherry tomatoes

1 sprig of cilantro (optional)

Juice from 2 limes

3 TBSP honey

1 tsp garlic powder

1/8 teaspoon of salt
Instructions
Mix corn, pineapple, dragon fruit, onions, and tomatoes in a mixing bowl.
In a separate small bowl combine lime juice,  honey, garlic powder, salt, and chopped cilantro (optional).  Pour into fruit mixture and toss. Pour salsa into dish or into a scooped out dragon fruit half.
Serve with tortilla chips and enjoy!
It turned out good and the best part of making salsa is how easy it is to tweak ingredients and amounts around to your liking. In the above photos I have green onions in my salsa, however red onions are delicious too! My suggestion is to use this recipe as a base to experiment and make your own kick ass version of dragon fruit salsa this weekend! If you do don't forget to share it with me! Tag me in your photos on social media (@melissakaylene) so I can share, and Pin the image below for later!
~Melissa
(Visited 2,810 times, 1 visits today)