This shop has been compensated by Collective Bias, Inc. and its advertiser. All opinions are mine alone. #ScrubSeason #CollectiveBias
It's been a busy weekend with family in town and lots of activities, but that doesn't stop me from beginning holiday festivities and preparations. 🙂 Saturday morning before heading off to basketball games and work Anika and I decided to team up in the kitchen and bake some quick cinnamon rolls – and played around with some flavors and created some pumpkin hazelnut cinnamon rolls with a pumpkin cream cheese frosting. We spread all of the ingredients and utensils out on to the kitchen table and began measuring and mixing ingredients. The rest of the family slowly gathered around to watch our creative minds in action – and to get first in line for a fresh warm cinnamon roll.
After we were done mixing and rolling out the dough we ended up making quite a big mess. Flour covered a large surface of the table and several bowls and measuring cups needed to be washed. Part of holiday baking is holiday clean up, so I enlisted Anika's assistance again and we got it cleaned up quickly with Scotch-Brite™ Brand Sponges.
I've used Scotch-Brite sponges for as long as I can remember and have stocked up this time of year because I know I'll be using them frequently. You can find Scotch-Brite Sponges at your local Walmart in 3, 6, or 9 packs.  There are Scotch-Brite sponges for every surface – when you go shopping you will see both green and blue sponges. The green is the Scotch-Brite® Heavy Duty Scrub Sponge, and the blue is the Scotch-Brite® Non-Scratch Scrub Sponge. I scrubbed the table clean with my blue Scotch-Brite sponge while Anika washed the bowls with the green sponge.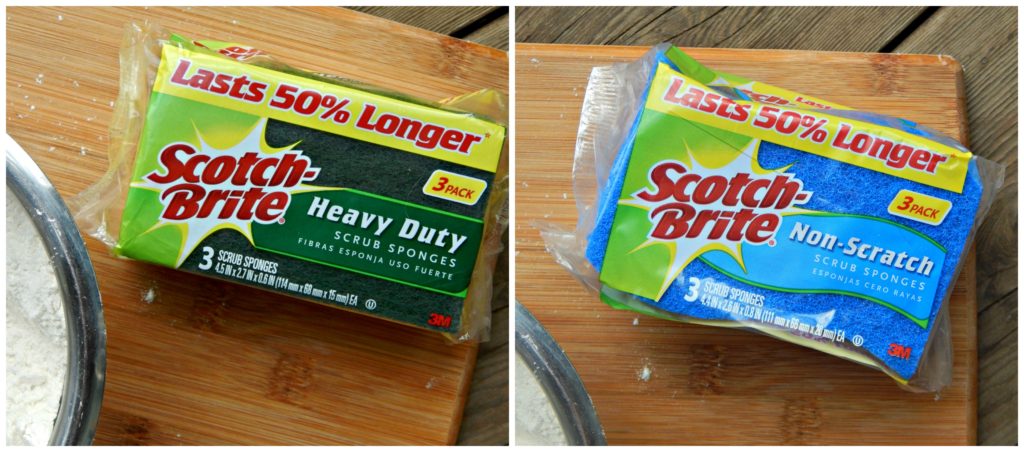 Cleaning up is so much quicker when using Scotch-Brite sponges. By the time we were done the first set of cinnamon rolls were out of the oven and ready to slightly cool and frost.
Quick Pumpkin Hazelnut Cinnamon Rolls
What you need:
For the cinnamon rolls:
1 egg
3 Tbsp sugar
3 Tbsp softened butter
2 1/2 Cups flour
1 Teaspoon Salt
1 Teaspoon baking powder
¼ Cup of milk
½ Cup of pumpkin filling
For the filling:
1 Teaspoon of cinnamon
1 Cup of chopped hazelnuts
3/4 Cup brown sugar
1/4 Cup pumpkin filling
For the icing:
1 Tablespoon pumpkin filling
6 ounces cream cheese
1 Cup Powdered sugar
1 Teaspoon vanilla extract
1/2 Teaspoon Cinnamon
Combine the butter , sugar, and egg in a large bowl. Add in the milk and pumpkin filling and stir until smooth. In a small bowl mix the flour, salt, and baking powder. Slowly add into the wet mixture. Roll onto a floured surface until ¼ inch thick. ( I separated the dough into two rolls so I could roll one out and my Daughter could roll the other half out. )
Mix the brown sugar, pumpkin filling, and cinnamon into a bowl. Spread onto the dough, leaving ½ inch uncovered on all sides. Sprinkle the hazelnuts on top, then carefully it up and slice 1 inch thick slices.
Place the rolls on a non-stick pan and bake in a 400 degree oven for 25 minutes.
Using an electric mixer, combine the cream cheese, pumpkin filling, and powdered sugar. Place in the refrigerator until needed.
Let the cinnamon rolls cool and top with cream cheese icing.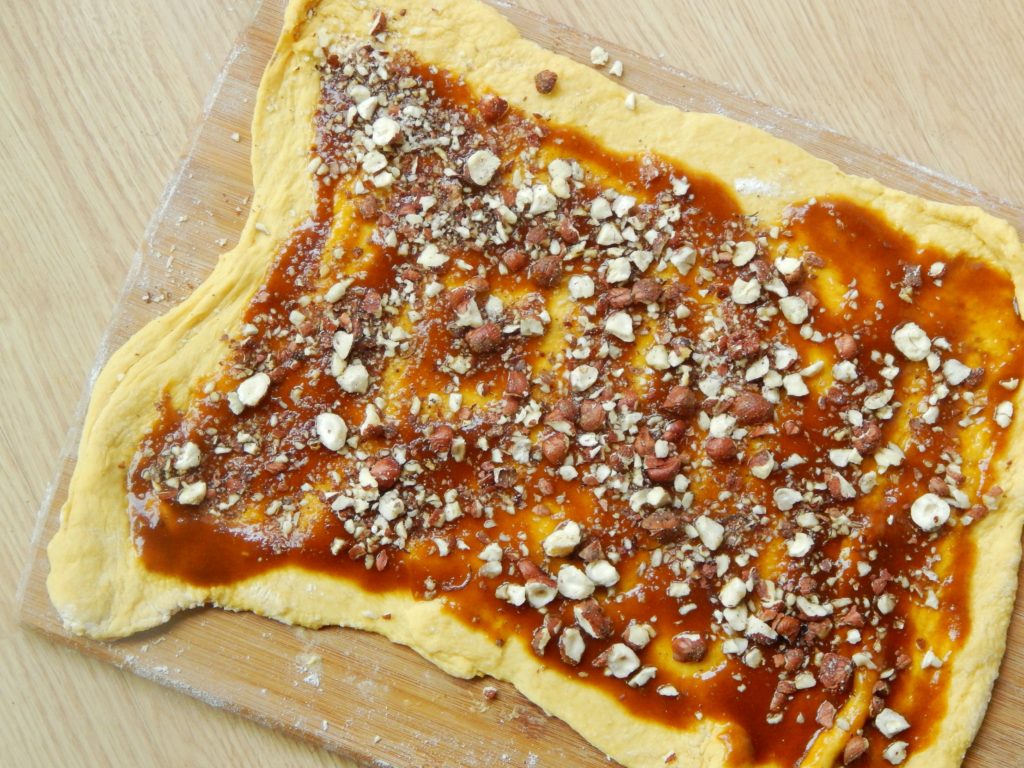 Optional: sprinkle shaved chocolate on top for a little extra flair.
Everyone enjoyed the Pumpkin Hazelnut Cinnamon rolls so much that I should have made a double batch. 😉  Right now you can save $1 on any two Scotch-Brite Products (Scrub Sponges, Lint Rollers and Scrubbing Dish Cloths).

Make sure you check out this site to see more cleaning inspiration!
~Melissa
(Visited 333 times, 1 visits today)