Looking for a tasty cake recipe? Check out this Strawberry lemonade cake!
 Happy Monday my friends! I feel as if I have left you hanging for a week – and I guess it's been nearly that long. I spent half of the week working at my on-call nursing job and I always seem to struggle with keeping up the website when my hours are devoted there…..I'm trying to get better at that though.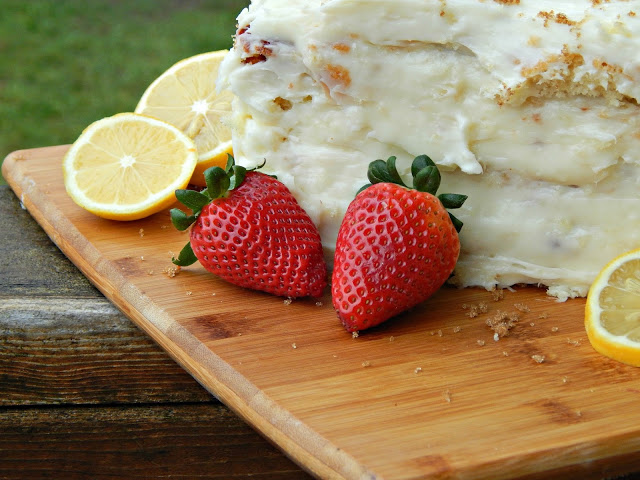 I have some really for posts that I want to share with you soon – but today I wanted to give you this recipe that I modified for Emma's 8th birthday cake that I made last month. She wanted a homemade cake and decided on strawberry lemonade flavors. It turned out really dense and delicious.
4 cups of all-purpose flour
2 teaspoons salt
4 teaspoons baking powder
1 cup of butter
21/2 cups white sugar
6 eggs
2 tsp vanilla extract
2 cups milk
4 tbsp fresh lemon juice
2 tsp grated lemon zest
For the filling:
16 ounces of strawberry jam
For the icing:
8 cups of confectioners' sugar
1 cup butter
4 tsp fresh lemon juice
2 tsp grated lemon zest
4 tbsp. milk
Fresh strawberries lemon for garnish.
Preheat the oven to 350 degrees. Grease two 8 ½ x 11 inch baking pans (it will take 4 8 ½ X 11 inch cakes in total to create the tiered layers).
Mix the flour, salt, and baking powder. In a separate mixing bowl, cream the eggs, sugar, and butter together. Stir in the vanilla. Alternate pouring in the flour mixture and the milk until everything is combined. Add lemon juice and zest.
Pour ½ of the batter into the 2 8 ½ x 11 inch pans. Bake for 35-40 minutes. Cool on wire racks before removing the cake from the pans. Repeat with the last ½ of batter.
Next, make the lemon buttercream frosting by combining the confectioners' sugar, butter, lemon juice, lemon zest, and milk.
Level the tops of the first two cakes, then using a serrated knife, slice horizontally. Fill each level with strawberry jam and layer all four layers together. Frost the top and slides. Place 4 ½ diameter in. wooden dowels into the center of the cake to stabilize it.
Take one cake and level it, then cut into 2 pieces. Slice each piece horizontally and layer on top of the bottom cake, adding jam between each layer. Frost.
Take the last 8 ½ x 11 inch cake and level and cut in in half. Set one half aside (this is extra) then cut in half again. Repeat steps from previous layers add to the top of the cake. Garnish with fresh strawberries and lemon slices. I also sprinkled a small amount of cane sugar on top of mine.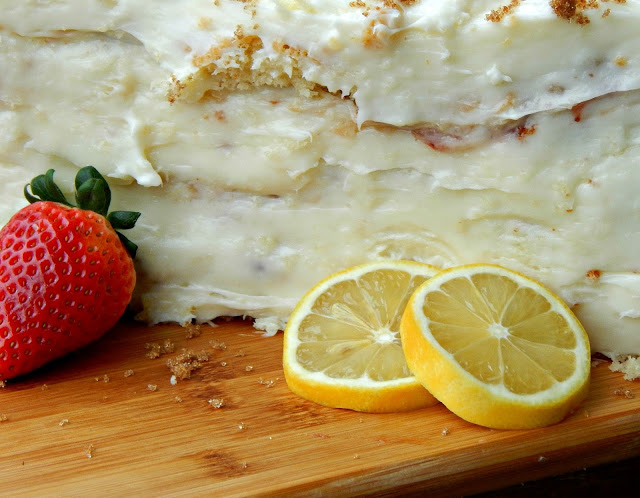 And there you have it! Mine wasn't perfect, it was a little lopsided, but it made my little Emma very happy, and in return makes me happy that I can create something special that she will remember for birthdays to come.
~Melissa
(Visited 483 times, 1 visits today)