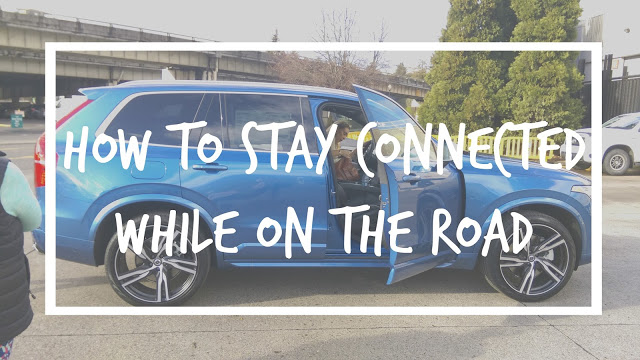 A few weeks ago I attended an event with AT&T, during which we visited the Portland Auto Show and got to drool over all of the amazing new vehicles and all of their cool features.
Up until recently I haven't kept up very well with the latest trends in autos – probably because I spent the last decade of my life with a baby or toddler by my side. Now that the kids are getting older I've been interested in learning more about the latest technology – in and out of cars. With a growing family I have to keep up with the kids so they don't surpass me on the tech knowledge. 😉
I've learned that one of the coolest things happening in vehicles right now is either buying them
"connected"
, and converting older vehicles as well. AT&T has connected over 7 million cars and has the fasted growing connected car business of any wireless provider in the U.S.
AT&T Drive is the company's connected car platform – a modular, global solution that allows automakers to pick and choose what services and capabilities are important to them in order to differentiate their solutions in the marketplace.  From connectivity and billing solutions to data analytics and infotainment, AT&T Drive will allow partners to develop their own innovative and customized connected car solutions, now and in the future.
AT&T joined forces with Volvo at the Portland International Auto Show and showed us how the Volvo Sensus Connect can:
Remote start your engine – the air conditioning or heater starts too, following your pre-set instructions. Pre-heat in winter, cool down in summer – it's easy with the Volvo on Call app on your smartphone
Receive and listen to text messages hands-free with Text to Voice.  Incoming text messages get displayed on screen and with one press of the OK button; they're read aloud by your Volvo
Turn your car into a Wi-Fi hotspot with the ability to connect multiple devices, including tablets and laptop computers. Your car becomes a business center on the way to an important meeting or an entertainment center for the kids on a long drive.
Easily search via voice commands for restaurants, historical landmarks, available parking and places of interest. Wireless connectivity brings a vast internet database of local and far away points of interest to your car.
One way that I think is pretty cool to ease into the 'connected world' is through a Vehicle Wi-Fi Hotspot. We were given the
ZTE Mobley
device to try in our vehicle (I drive a 2002 Expedition – not new by any means!) With the ZTE Mobley device all you do is activate it on to your account and then plug it into your vehicle's on-board diagnostics and then your vehicle will become a Hotspot whenever it's running. You can share your data with up to five devices, and it's always charged since it's plugged into your vehicle.
Happy kids? Check. Road trips are going to be a lot more fun when they can stay entertained by streaming games and movies from their devices – and I can stay connected and get some work done as well.
Installation was incredibly easy and we've already used it numerous times on short car rides.
Little things in life like Wi-Fi in the car make life a whole lot easier.
~Melissa
(Visited 159 times, 1 visits today)