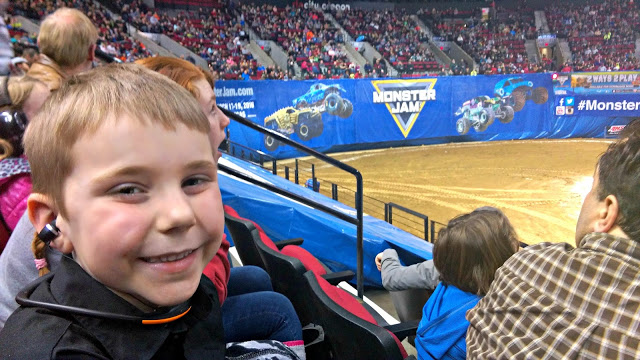 Last weekend we did something that for some might seem a little unusual for Valentine's weekend – we went as a family to see Monster Jam®.
It just so happens to roll into Portland during Valentine's weekend every year, yet despite the holiday weekend plenty of folks show up to see this exciting event. The girls and I had personally never attended a Monster Jam® before, but Wayne and Noah went last year when it came to Oregon.
The Monster Jam® is a live motor-sport event tour and television show, and during the event monster trucks face off in different competitions: racing and freestyle. They had a wheelie competition, donut contest, and freestyle driving. I was surprised by how much fun I had, and all of the kids loved it. During the wheelie competitions, one monster truck
got stuck sitting straight into the air
and had to be pulled back over, and another one ended up
breaking an axle and had a tired slowly rolling down
the dirt pathway.
In addition to the monster trucks there was also ATV races, speedster races, and obstacle courses. The event lasted approximately two hours with one intermission in between. They also had a 'pit party' afterwards where you could line up with the drivers for photos and autographs.
The Monster Jam® tour ends every year with the Monster Jam® World Finals down in Las Vegas, where top drivers compete for the Double Down trophy.
The show was very entertaining and went by very quickly! We had wonderful seats and I would just recommend bringing good earplugs for everyone as it gets pretty loud in an indoor arena.
Have you ever been to a Monster Jam® before? My son is already asking me if we can go back next year when it comes back to town. 🙂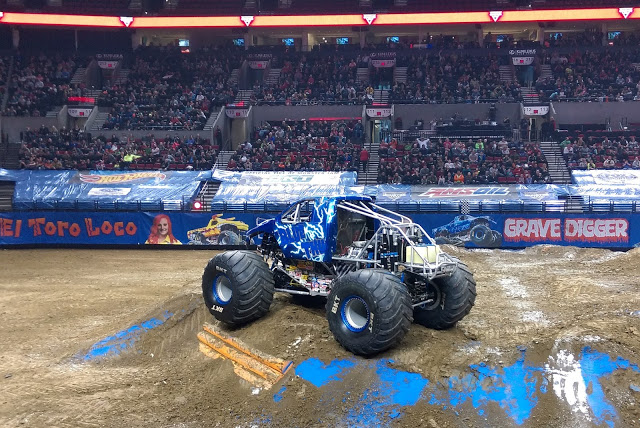 For more information about Monster Jam®, visit their website at
MonsterJam.com 
~Melissa
I am a Feld Family Ambassador, and in exchange for my time and efforts in attending shows and reporting my opinion within this blog, as well as keeping you advised of the latest discount offers, Feld Entertainment has provided me with complimentary tickets to Feld shows and opportunities to attend private Feld pre-Show events.
(Visited 634 times, 1 visits today)