This Snickers Blitz Dip shop has been compensated by Albertsons. All opinions are mine alone. #GameDayMVP #Albertsons #CollectiveBias
We just got back from a quick overnight trip to Mt. Hood for Emma's birthday – we had tons of fun snow tubing and exploring in the snow. I will have lots to share soon, but today I wanted to share this tasty Snickers® Dip recipe that can be found on the Albertsons website. It's a fun sweet dip that can be served at any gathering or party. It's on my list to make for our Big Game viewing in a couple of weeks. Of course I had to test it out ahead of time, you know, to make sure it had everyone's approval. It did.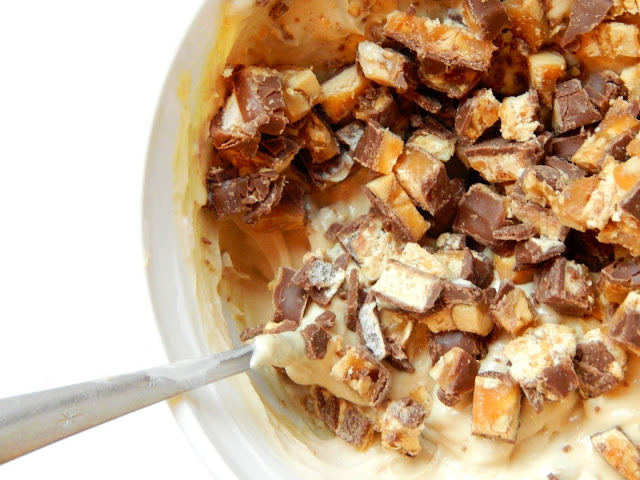 I stocked up at Albertsons before our trip for not only road trip snacks, but also for some Big Game treats. Of course I have to hide everything so it won't get eaten prior to the Big Game. I have good hiding spots. 🙂
In addition to the Snickers® Blitz Dip I bought some apples, graham crackers, mini chocolate chips, and vanilla Greek yogurt and Skittles for extra sweet dipping spreads, and we all snacked on them while we packed for our trip. I placed the Skittles in a zip sandwich bag and them smashed them with a hammer, crushing them into little bits and pieces to coat the yogurt after the apples or crackers were dipped in it.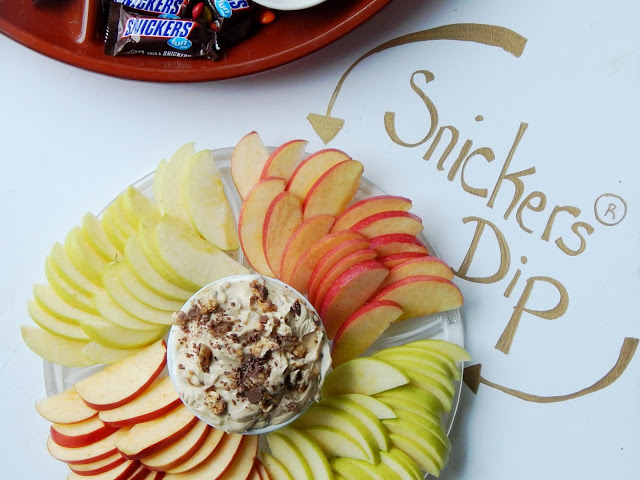 Snickers® Blitz Dip
Source: Mars®
Ingredients
1 cup vanilla Greek yogurt

1/2 cup crunchy peanut butter

1/2 cup chopped Snickers® bar

Optional:

Apple slices for dipping
Instructions
Whisk together vanilla Greek yogurt and peanut butter. Stir in chopped Snickers®. Additional chopped Snickers® can be added to the top for garnish, if desired.
Serve with apple slices.
Nutritional Information:
Servings Per Recipe: 14, Serving Size: 2 tablespoons
Calories 96.2, Total Fat 6.0 g, Saturated Fat 1.5 g,
Polyunsaturated Fat 0.0 g, Monounsaturated Fat 0.0 g, Cholesterol 2.1 mg,
Sodium 55.4 mg, Potassium 0.0 mg, Total Carbohydrate 7.3 g, Dietary Fiber 0.9
g, Sugars 4.9 g, Protein 4.6 g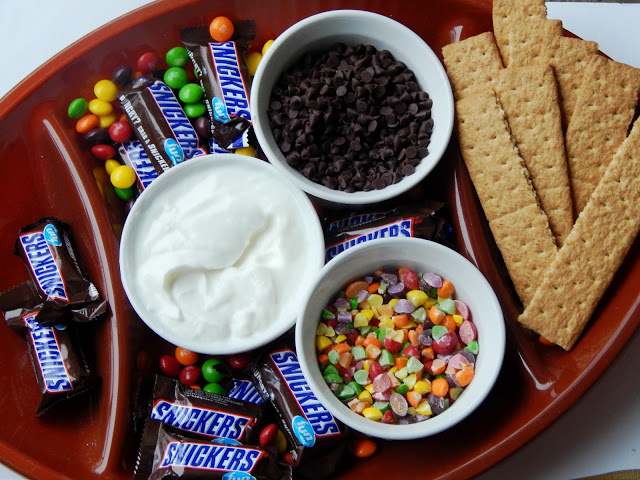 I have lots more sweet treat recipe creations to share with you over the next couple of weeks. In the meantime try this recipe out and let me know what your family thinks!
You can find all of the ingredients plus more snacks at your local Albertsons store!
~Melissa
(Visited 564 times, 1 visits today)