I'm excited to take the kids to see The Monster Jam® next month! The Monster Jam® tour is heading to Portland at the Moda center on
February 13th and 14th 2016!
The Monster Jam® show is a fun-filled and actioned packed live motorsport event tour that is a must see for anyone who loves to be entertained. This year the Monster Jam tour is delivering even more things that fans want to see, including more trucks, more racing, more freestyle, more donuts, more wheelies, and more action.
The East and West tours will test the versatility of the athletes as they go head-to-head in seven different competitions driving three different vehicles – Monster Jam Trucks, Monster Jam Speedsters, and Monster Jam ATVs. These athletes will battle for points in challenging racing and freestyle events that push themselves and their machines to the limit.
If you've never attended a Monster Jam® Arena Tour this is the perfect year to go! Head over to Twitter or Instagram and check out all of the images from others by using the #MoreMonsterJam hashtag!
Monster Jam Teams

Grave Digger®:  Morgan Kane

Max-D®:  Colton Eichelberger

Scooby-DooSM:  Bailey Shea

El Toro Loco®:  Kayla Blood

Monster Energy:  Coty Saucier

ZombieSM:  Tyler Groth

New Earth AuthoritySM:  Travis Groth

Blue Thunder®: Tyler Menning
As always, Monster Jam provides unparalleled fan access with the two "Party in the Pits" pre-show experiences in Portland for die-hard fans to come to the arena early on either Saturday or Sunday afternoon to view their favorite trucks up-close, meet the star athletes for autographs and take photos!  Pit Pass required for entry; purchase price $10 each for all ages
What: Monster Jam® Arena Tour
When: Saturday, February 13 (2:00pm & 7:00pm)
    Sunday, February 14 (2:00pm)
Where: The Moda Center (1 N Center Court)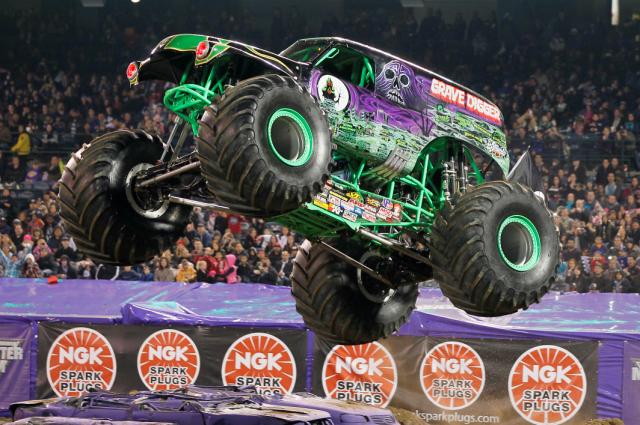 For more information on Monster Jam, please log onto www.MonsterJam.com.
I am a Feld Family Ambassador, and in exchange for my time and efforts in attending shows and reporting my opinion within this blog, as well as keeping you advised of the latest discount offers, Feld Entertainment has provided me with complimentary tickets to Feld shows and opportunities to attend private Feld pre-Show events.
(Visited 548 times, 1 visits today)