Oh my food-loving friends. If you ever get the chance to head up to Portland do it in September when the entire town is all about Feast. I'm sure you've heard me talking about Feast before – after all, I've attended 4 out of the 6 years that it's been around. 🙂 Feast is THE food and drink event (or events rather) in Portland where not only can you sample amazing things from chefs all over the country, but can attend fun classes, dinners, + more. Feast Portland isn't just for fun either, it's for a good cause. Net proceeds from this year at Feast will go to  Partners for a Hunger-Free Oregon.
This year's Feast was better than ever as I had an opportunity to attend #TrailstoFeast – a pre-Feast press trip down to my old stomping grounds: Southern Oregon. I'll share lots more on that soon.!
Immediately after returning from our trip Feast began! I attended the media breakfast which is always delicious, then headed over to a class hosted by Health-Ade to learn how to make kumbucha. I left with everything I needed to try to make my own!
Grand Tasting
Following the class I attended the Grand Tasting, where I had the opportunity to sample many tasty treats. Some of my favorites included:
This blueberry basil shaved ice from Wailua Shaved Ice.
Salt & Straw always has amazing treats.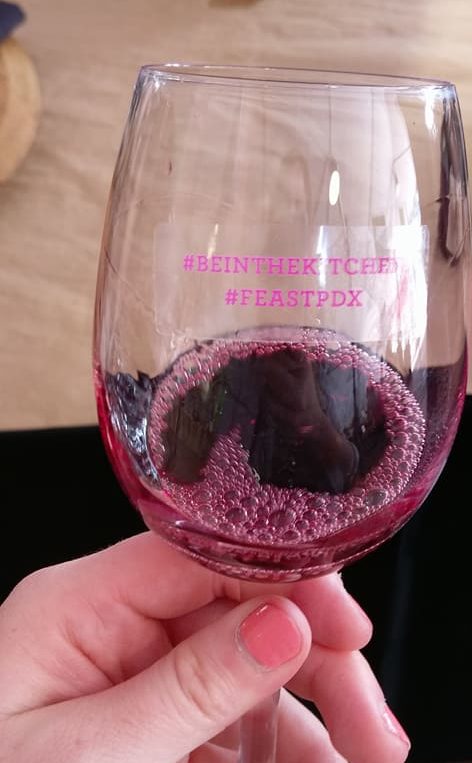 There is always an abundance of Oregon wines to taste.
While I was invited to attend many after parties (there are actually after, after parties too!) I chose to stay in every night except for Saturday – and I headed off to the Bollywood Theater for an after party hosted by Washington Wines and Eater. It was a VERY lively party with lots of wine, cocktails, bites to nibble on, music, and dancers!
Brunch Village
The next morning I went to my last Feast event of the year – which turned out to be my favorite: Brunch Village. This wasn't my first time at Brunch Village and certainly won't be my last. If you like anything boozy or brunch-y this is the event to go to. The food was amazing and the bloody mary line never slowed down!
Some of my favorite foods from Brunch Village were:
This Coffee-Rubbed Blackberry BBQ Lamb Biscuit with Okra and Smoked Black Pepper Cheddar by Mae.
 Corned beef Hash, Swiss, Tomatillo Relish on Brioche with Brown Butter Fried Egg Sauce by Meat, Cheese, Bread.
Breakfast Fruit Crisps with Granola Crumble and Yogurt Clabber Cream by The Country Cat.
Triple C Spritz from Clear Creek Distillery.
Flint Corn Brioche with Sweet Cream Cheese and Venus Grapes from Little T Baker.
Feast Portland was another fun whirlwind of a weekend and I can't wait for next year! Be sure to mark your calendars for the seventh year of Feast Portland, September 13-16, 2018! 
~Melissa
I attended the Feast Portland events in this post courtesy of a blogger pass. As always, all opinions and photos are my own.
(Visited 161 times, 1 visits today)