For the past few years my family has attended a show that has no other word to describe it except fun. The Monster Jam® is returning to Portland again on February 24th and 25th for the action-packed motorsport show!
What is Monster Jam®?:
If you are unfamiliar with the Monster Jam® Triple Threat Series™, it's a live competition with motorsports, where Monster Jam trucks, Monster Jam Speedsters, and Monster Jam ATVS all battle for points in challenging races and freestyle events. It's an event full of action including: racing, freestyle, donuts, wheelies, + more!
The Moda Center is transformed into a huge indoor dirt track that is created with the sole purpose of pushing all of these trucks to their limit. Monster Jam is one of the only sports where males and female world-class drivers (and some generational rivals) are equals competing for the same championship track.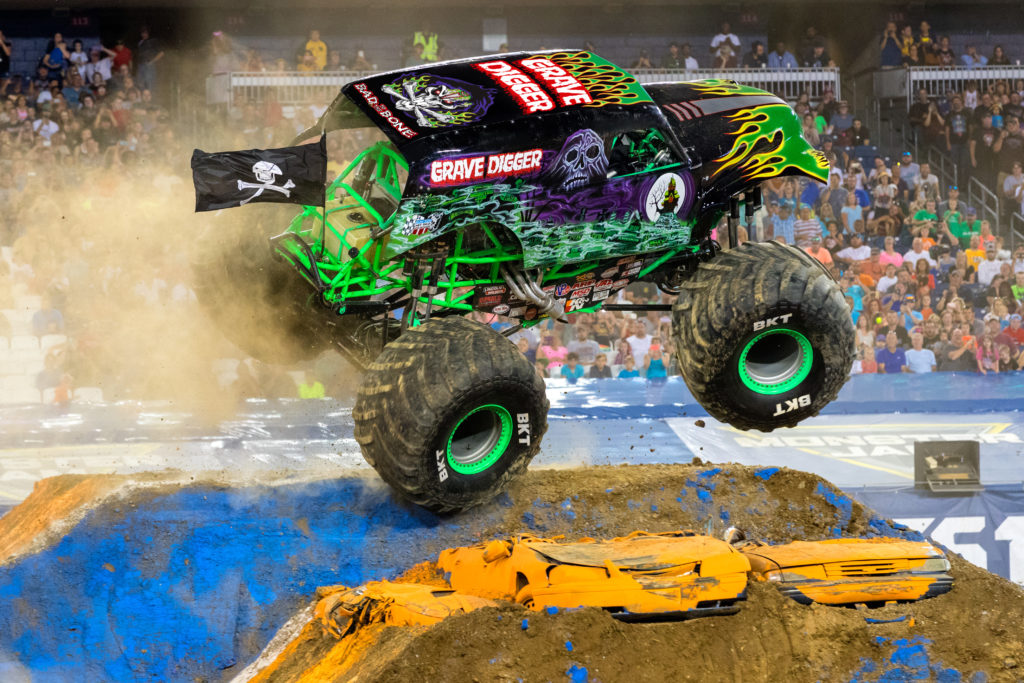 What's New This Year?:
This year there will be 4 new trucks making their way to Portland: the menacing giant shark Megalodon, along with construction crew themed EarthShaker™, Alien Invasion™, and Pirate's Curse™. Also, crowd favorite, the Grave Digger® will be driven by Krysten Anderson – the first ever female Digger driver. Krysten is also the 4th Anderson legacy family member to drive Digger (how cool is that?).
Also, new for 2018 across all Monster Jam events, fans have the change to vote for the truck winner in the donut, wheelie, and freestyle competitions by real-time, in-arena fan voting on their smart phone!
Times & Tickets:
In addition to the event, fans can also come to the arena early prior to both competitions for the Monster Jam® Pit Party. It's a fun experience where you have the opportunity to see the trucks up close, meet the athletes, get their autographs and take photos!  You will need to have a Pit Pass required for entry, which you can purchase for $10 (all ages).
WHEN:
Saturday, February 24, 2018
Pit Party open from 10:30 AM–12:00 PM
**Saturday 1PM event ticket & Pit Pass required for entry
Event Times – 1:00 PM & 7:00 PM 
Sunday, February 25, 2018
Pit Party open from 10:30 AM–12:00 PM
**Sunday event ticket & Pit Pass required for entry
Event Time – 1:00 PM
WHERE:
Moda Center
– One Center Court, Portland OR 97227
TICKETS:
Tickets are affordably priced for the whole family with seats starting at just $20 each*
Pit Passes available to purchase for $10 each
Tickets now available for purchase online at Ticketmaster.com, charge by phone by calling 800-
745-3000 or in-person at the Rose Quarter Box Office.
*ticket prices subject to change – additional venue/ticketing fees may apply
~Melissa
(Visited 170 times, 1 visits today)