This shop has been compensated by Collective Bias, Inc. and its advertiser. All opinions are mine alone. #SweetenTheSpread #CollectiveBias
Have you ever thought there was a way you should be doing something (to maintain traditions, etc.) and then thought, 'what the heck, I'm going to do it my way' and did? Good – me too. I had to work last night at my other job, but that didn't stop me from having a fun morning with the kids creating some tasty treats for them to enjoy while my husband watched some games on TV.
Why not create crazy powder puff pink decorations and sugary treats in lieu of lunch? After all, you only live once.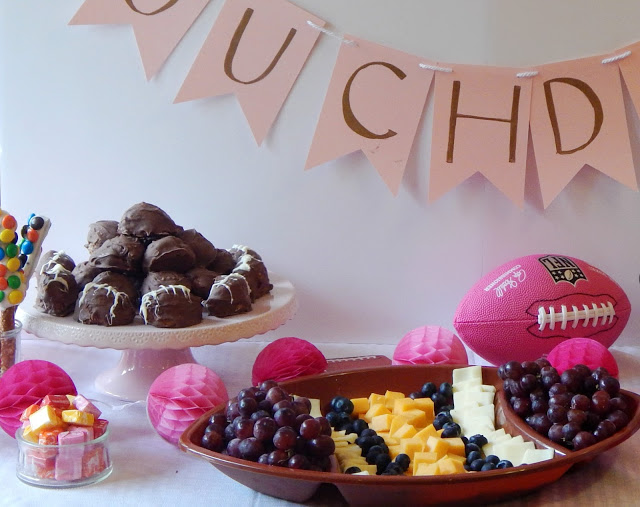 Sometimes instead of keeping up with the Jones and making everything and every event; the way that you think it's supposed to be – celebrate your quirkiness and create whatever you darn well please. Most likely it will make for a much more memorable day for your family.
This year, why not create something sweet for the Big Game, and incorporate your favorite colors? Just because it's a sports game, doesn't mean you can't make it cute! Here's what we made for our game day treats:
No-Bake Snickers Peanut Butter Balls
What you need:
1 cup of creamy peanut butter
1 cup of oats
2 tbsp. sweetened cocoa mix
2 tbsp. flour
12 Fun sized Snickers Bars
1 12oz milk chocolate chips
Melt the chocolate chips over a double broiler and keep
warm.
In a large bowl mix the peanut butter, oats, and cocoa mix
in a bowl until combined.
Knead in the flour into the mixture.
Cut the Snickers Bars into two pieces.
Roll the peanut butter mixture by hand, and place a Snickers
piece in middle.
Dip the peanut butter balls into the melted chocolate and
cool on a sheet of parchment paper.
*Tip*: You can form the peanut butter balls into football shapes and top with melted white chocolate for even more game day fun!
We also made a little fruit and cheese platter and dipped some pretzel rods in white chocolate and coated them with M&Ms. Then we attempted something I've never done before: a Skittles Cheesecake. It turned out pretty tasty, and the Skittles flavored the cheesecake and made a chewy layer on top of the graham cracker crust.
Skittles Cheesecake
What you need:
For the graham cracker crust:
2 cups of graham crackers crumbs ½ butter, melted
For the cheesecake filling:
2 8oz packages of cream cheese
½ cup sour cream
3 eggs
¾ granulated sugar
1 tsp vanilla extract
1 cup of original Skittles
Mix the graham cracker crumbs and butter in a large bowl. Press into the bottom of a spring form pan and set aside.
In a separate bowl, beat the cream cheese with an electric mixer. Add in the eggs, one at a time, followed by the sugar, vanilla, and sour cream.
Layer skittles in the bottom of the pan, on top of the crust. Pour in the cheesecake mixture until the Skittles are covered and then add one more layer of skittles. Pour remaining cheesecake batter on top and bake in a 350 degrees oven for 45 minutes.
Cool completely before serving.
We also attempted to make a Starburst Milkshake, which turned out to be my favorite creation of the morning! We melted the Starbursts before mixing in with the ice cream, so it really made it taste just like a Starburst!
Starburst Milkshake
What you need:
½ cup of Starbursts – you favorite flavor
¾ cup of whole milk
3 cups of vanilla bean ice cream
Place ¼ cup of the milk and Starbursts into a double broiler and melt over medium heat, stirring continuously. The Starbursts will break down and liquefy – but there will be some small pieces remaining (that's ok!).
In a blender, add the remaining ½ cup of milk and 3 cups of vanilla bean ice cream. Pour in the Starburst mixture. Blend until combined and pour into three glasses. Top with whipped cream and diced Starburst pieces for
a garnish. Serve immediately.
What kinds of unique treats do you like to create for parties in your home? At Target you can find everything you need to make a tasty sugary spread! Also, check out TargetYourSweetTooth.com for more fun sweet treat party inspirations and the Target Cartwheel Collection  for Super Snack offers!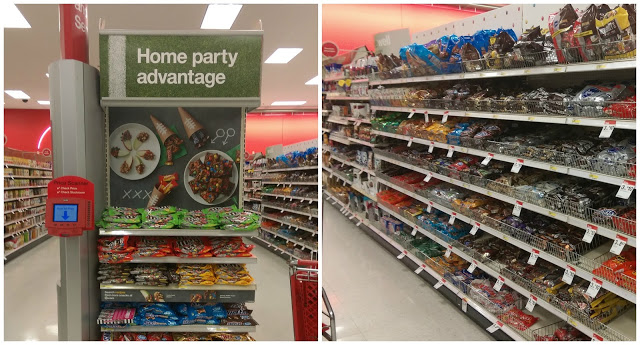 ~Melissa
(Visited 517 times, 1 visits today)