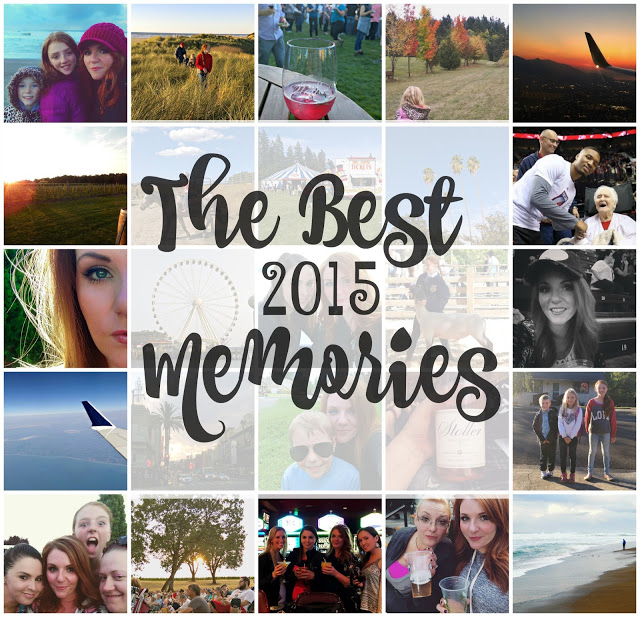 This year has flown by SO quickly! It always amazes me now that I'm well into adulthood just how fast each year flies by. It makes me want ensure that my kids have as many wonderful childhood memories as possible.
Last year
I reflected back on the year and did a round up of my favorite moments, and I wanted to go back and do the same thing this year and some of my personal best memories. It was hard for me to narrow it down because I have many fond memories with my children, but mostly I wanted to highlight things that I wrote and shared with on here.
In no particular order:
Broadway performances with family and friends
2015 was definitely the year that I fell in love with Broadway performances. I was initially contacted by their media to review the performances, and I couldn't resist the opportunity. The first performance I saw was 
Cinderella 
 with Emma and it was one of my favorites. Throughout the year I had the opportunity to take family and friends with me to see 
Wicked
, I LOVE LUCY,
The Phantom of the Opera
,
Beauty and the Beast
 and several more.
In February Wayne and I stayed the night in downtown Portland and this trip was so special mainly because of the outstanding dinner at the
Ringside steakhouse
, where I feasted like a queen. It was one of the only times the two of us stayed overnight solo this year.
I booked a long weekend getaway south of Lincoln City where we stayed in a condo overlooking the beach. We played games, cooked meals, walked on the beach, visited the
Oregon Coast Aquarium,
and explored sand dunes. The weather was gorgeous as well.
Overnight Seattle "Business" trip
In April I received a scholarship to head up to a one blogging conference in Seattle. Never one to turn down a fun opportunity, I invited a friend to meet me up there the day before the conference, and we broke out our tourist hats and road the Ferris wheel, took selfies at the gum wall, and checked out a few fun eating establishments.
Need I say more? Other than I saw the legendary singer not once, but TWICE in one week! I had never seen him perform before and I was more certainly not disappointed. I would go see that man in concert again any day.
Then after Garth Brooks came Luke Bryan. My dear friend bought tickets for us to see him at the Tacoma Dome for my birthday, so we rode the train up and stayed the night. It was a great quick getaway to prepare me for my 30th. 🙂
A small town old fashioned circus 
In our small town, big things don't happen very often, so when you hear a circus is coming to town all the kids get excited. One of the things that made this so special was the face that it was literally right in our back yard; held in the field behind the grade school which is just a soccer field away from our house. The old fashioned show was entertaining and made for a really fun family evening.
Raising a lamb, the Yamhill County Fair, and front row JOE NICHOLS
This year Anika raised her lamb again, and while I never got around to writing about it on here, this time it was certainly another memorable week at the fair. She did amazing and got one of the highest prices per pound at the auction. It was also one of the hottest summers we've had with every day being approximately 103 degrees.
It also must have been my summer for country concerts because I met up with my friends and we all (my entire family included) went and saw Joe Nichols at the county fair. We had a blast and was able to go right up front to the stage while he performed, and my two daughters caught a little bit of country fever that night. They even brought home his guitar pick as a souvenir.
A little Shakespeare in a vineyard
Traveling to Corning, New York and the Wine Bloggers Conference 
For the past five years I have been holding on to my last of everything; last baby in a stroller, last preschooler, and now last 5 year old and Kindergartner. To top it off Oregon passed a law that all Kindergarten was to be full day in public schools, so there was no easing the last year here – he started full day school this September with his big sisters, but he was ready. He loves it, and as for me….I'm adjusting.
 Seeing Sea Otters at the Beach in November
 A weekend in Hollywood & seeing a live taping of FULLER HOUSE
Another last minute decision happened and I found myself in Burbank for the weekend at a blogging conference, during which I took a quick walk on Hollywood BLVD, saw the Dancing With The Stars Pilot being filmed on the BLVD at night, and was able to squeeze in a taping of the new Netflix show "Fuller House". I'm pretty darn excited for those to be released.
#HelpMerleMeetLillard at the Blazers game
As I look back I think that this was most certainly a year of opportunity and risks. In many instances I could have said no, could have talked myself out of something because the timing wasn't right or it took extra work to make it happen, but you know what? If I would have done that I wouldn't have these amazing memories to reflect back on today.
Thanks for sticking around for the past 3 years – I'm excited to share all of the great things I have in store on here as this little online space begins it's 4th year this spring.
(Visited 388 times, 1 visits today)