This shop has been compensated by Collective Bias, Inc. and its advertiser. All opinions are mine alone. #NuttyForTheHolidays  #CollectiveBias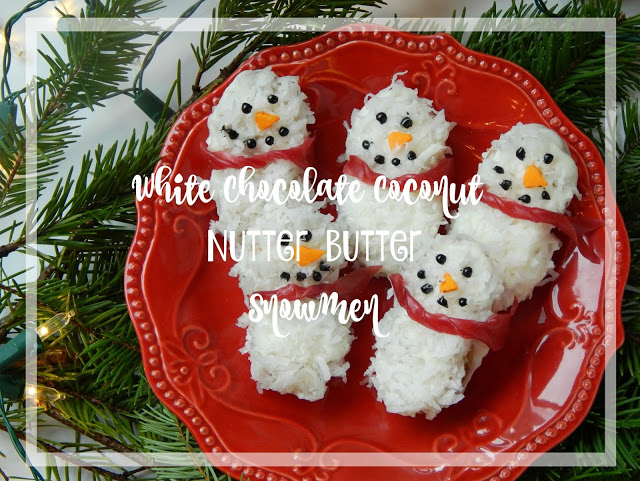 Yesterday I had multiple events (again) that I was invited to attend. This time of the year is just so much fun – and incredibly busy.
We got done watching a wild middle school basketball game at 5pm and I was supposed to head off in one direction while Wayne took the kids to Noah's wrestling practice.
But I changed my mind.
Instead, I took the girls, drove home, finished cooking tacos for dinner and sat down and decorated cookies with them, and not just any cookie: Nutter Butter cookies.
I had seen some adorable creations using Nutter Butter cookies around the Internet and have always wanted to try something similar… and we came up with these really cute snowmen.
Noah was tired, yet happy to snack on our special dessert when he got home from practice, and cleaning up was super easy.
White Chocolate Coconut Nutter Butter Snowmen
What you need:
1 lb. of white chocolate bark
1 package (16 oz) of Nutter Butter cookies
Red rolled fruit leathers
Black icing
Candy corn pieces or orange candies
1 cup of coconut
1. Cover a cookie pan or a cutting board with parchment paper and set aside.
2. Melt the white chocolate bark according to the directions, either in a pot on the stove or in the microwave.
3. Dip the Nutter Butter cookies into the melted chocolate and set on the parchment paper. Continue to dip the cookies until you have the amount that you'd like to decorate.
4. Press coconut onto each cookie, covering the tops completely. Place the cookies into the refrigerator to cool and allow the chocolate to harden (approximately 10 minutes)
5. Cut the fruit leathers to your desired length, and cut orange candies down into the shape of a nose. (I used large circle party sprinkles).
6. Take the cookies out of the refrigerator and brush off any loose or excess coconut.
7.Twist the fruit leather piece and press onto the snowman. Attach the nose with a small dot of melted chocolate.
8. Pipe the eyes and mouth on with black icing.
Share with friends and family and enjoy!
Right now you can print a coupon off of Nutter Butter cookies that you can use at your next Walmart shopping trip.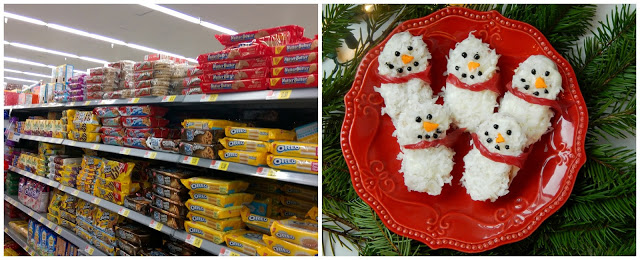 Sometimes life's just better when you cancel plans, throw on your comfy sweats, crank up the holiday music and create something together.
Have you ever decorated Nutter Butter cookies before? What other ideas do you have for decorating them? I have a bunch left over still. 🙂
~Melissa
(Visited 671 times, 1 visits today)