This shop has been compensated by Collective Bias, Inc. and its advertiser. All opinions are mine alone. #QuakerRealMedleys #CollectiveBias
Breakfast time – the time of the day most of the year that I'm rushing to get everyone fed. Even though we haven't needed to do that too much lately, I've been working day shift a couple of days a week this month – which means getting up at 5 am (eek!). Needless to say, I need something quick and easy – and lately, I've been eating these new Quaker® Real® Medley's Yogurt Cups. Walmart had a tasting demo last weekend and had samples to try. They are found in the dry cereal aisle and are super quick to make (all you need to do is stir in cold milk) and instantly you have a crunchy, cool, and yummy breakfast!
They also happen to go really well with some tasty breakfast muffins – I like most flavors that you find in the store: blueberry, banana nut, etc., but I also like making them sometimes – and getting creative with what I add in them. Since raspberries are in season now, I have been making these raspberry nut buckwheat muffins that are great to serve with breakfast – or snacks:
Raspberry Nut Buckwheat Muffins


What you need:1/2 Cup buckwheat flour
1/2 cup quick oats
1/2 cup cream cheese
1/2 cup whole milk
2 Eggs
1 Tbsp. honey
1/2 cup granulated sugar
1/2 cup nuts (either chopped walnuts, pecans, or slivered almonds
1 Tsp. baking soda
1 Tsp. baking powder
1/4 Tsp. salt
1 1/2 cups of fresh raspberries
1/4 cup butter, melted
1. Combine all of the dry ingredients and mix well.
2. In a separate bowl, add the melted butter, softened cream cheese, eggs, milk and sugar, and stir well.
3. Mix the dry and wet ingredients together, then add nuts, honey, and lastly the fresh raspberries.
4. Pour into into a lined cupcake tin, filling 3/4 full.
5. Place in a 350 degree preheated oven and bake for 20 minutes. Optional: drizzle additional honey or cream cheese on top of the warm muffins and enjoy! Makes approximately 12 muffins
The muffins go great alongside with the Quaker Real Medley's Granola & Yogurt Blend!
If you are interested in trying the Quaker Real Medley's yogurt cups before you buy them – Walmart will be having more demos again in August – Check out this page for all of the times and locations!
You can also download the Blippar app from your Apple or Android store to scan your package and receive information tutorials on Quaker® Real® Medley's Yogurt Cups.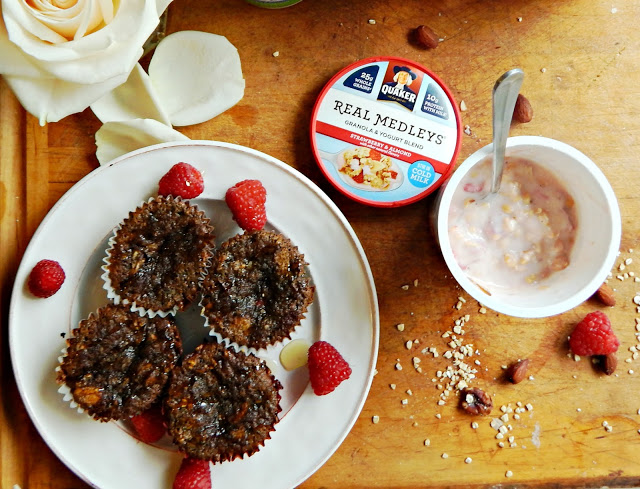 Be sure to check out more delicious recipes with Quaker Real Medleys Yogurt Cups at QuakerRealMedleys.com. I'd love to hear your favorite!
(Visited 582 times, 1 visits today)