This post is sponsored by Foster Farms®, the opinions expressed are my own. 
I love the beautiful weather that we've been having here in Oregon lately! It seems that it's been such a long time since we've seen the warm sun and it's one of those things that you don't realize just how much you've missed it until it's came back to visit again.
Last weekend after Anika's soccer game and Emma's softball practice we planted some vegetables in our little garden and then I made dinner on the grill and we all enjoyed dinner outside on the back deck.
I decided to make a salad with some of the ingredients I had picked up at the farm stand which is just down the road from us. I had bought some spinach and strawberries (among other things) and decided that I would make a tasty salad. The early strawberries can sometimes be a little watery, however with the weather we've had this year the first crop of strawberries are very tasty and flavorful.
You can't have an entrée salad without a good meat, – so I took out some Foster Farms chicken breasts to throw on the grill. Whenever possible we buy Foster Farms. Foster Farms Fresh chicken is 100 percent natural (minimally processed with no additives or preservatives, steroids or hormones) and are packaged with no added sodium. Their chickens are American Humane Certified, and grown locally!  (From CA, OR, and WA)
The Simply Raised line is knew and that means that the chickens were raised without antibiotics. I love buying local whenever I can, and buying products that have had no antibiotics administered, ever. Life is all about balance and I do my best to keep our life's (and meals!) that way.
The kids actually enjoyed this salad and we had a nice dinner together! I hope that someday the kids will look back at all of the meals we had together and appreciate the moments that we shared.
Here's the salad recipe that I made – the flavors are a classic together that never get old.
Strawberry Chicken Salad
What you need:
4 cups of torn spinach leaves
½ cup diced strawberries
2/3 cup of Queso cheese
½ cup bacon, crumbled
¼ cup roasted red onion (approx. ½ an onion)
2 Foster Farms Simply Raised Thin-Sliced Boneless Skinless Breast Fillets
½ cup chopped pecans
Poppy seed dressing
1.Grill the chicken until cooked thoroughly. Slice red onion and place on the grill.
2.Cook the bacon (I used a cast iron pan on my grill); after the bacon is cooked toss in whole pecans in the same pan and sauté for approximately 5 minutes. Set aside.
3.Rinse the spinach and tear into pieces, dividing into 2 plates. Sprinkle cheese on top.
4.Dice the strawberries and add them to the salad. Chop the grilled onions and add to the plate.
5.Chop up the pecans and bacon and divide evenly to the two plates.
6.Top with the grilled Foster Farms chicken breast and drizzle with poppy seed dressing.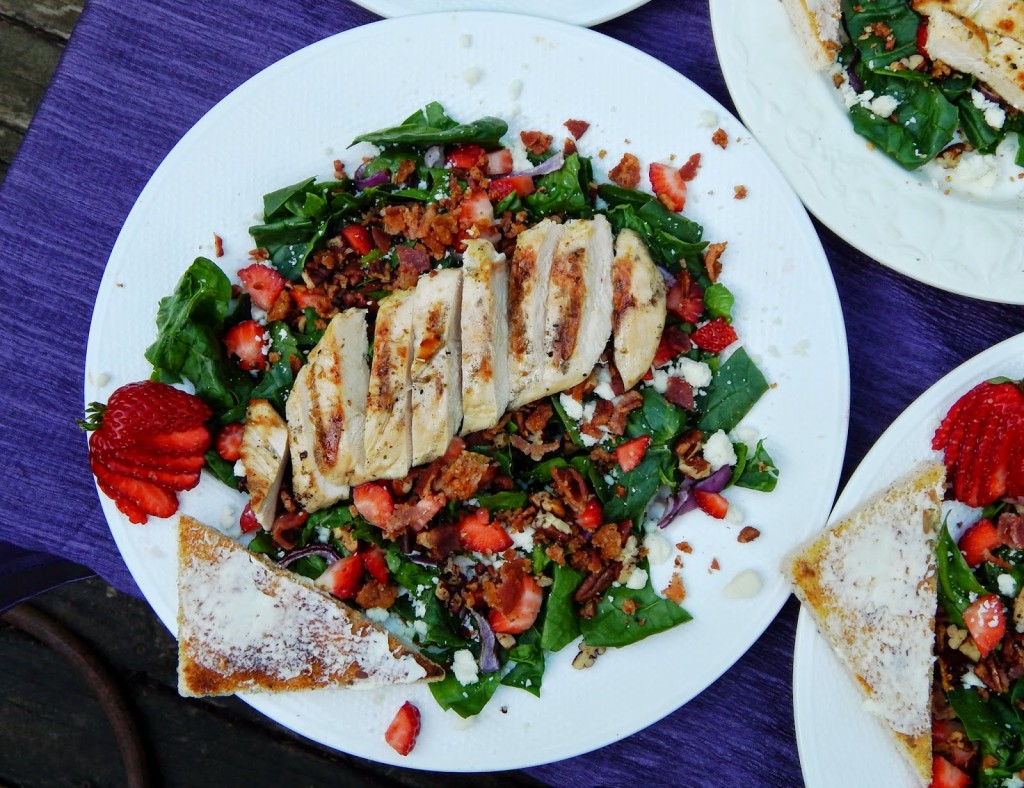 Enjoy!
Makes two entrée sized servings.
What are you favorite back yard meals to have with your family? What dinners scream spring to you?
This post is sponsored by Foster Farms®, the opinions expressed are my own. 
~Melissa
(Visited 1,070 times, 1 visits today)