This cheese themed big game snack ideas shop has been compensated by Collective Bias, Inc. and its advertiser. All opinions are mine alone. #BigGameSnacks #CollectiveBias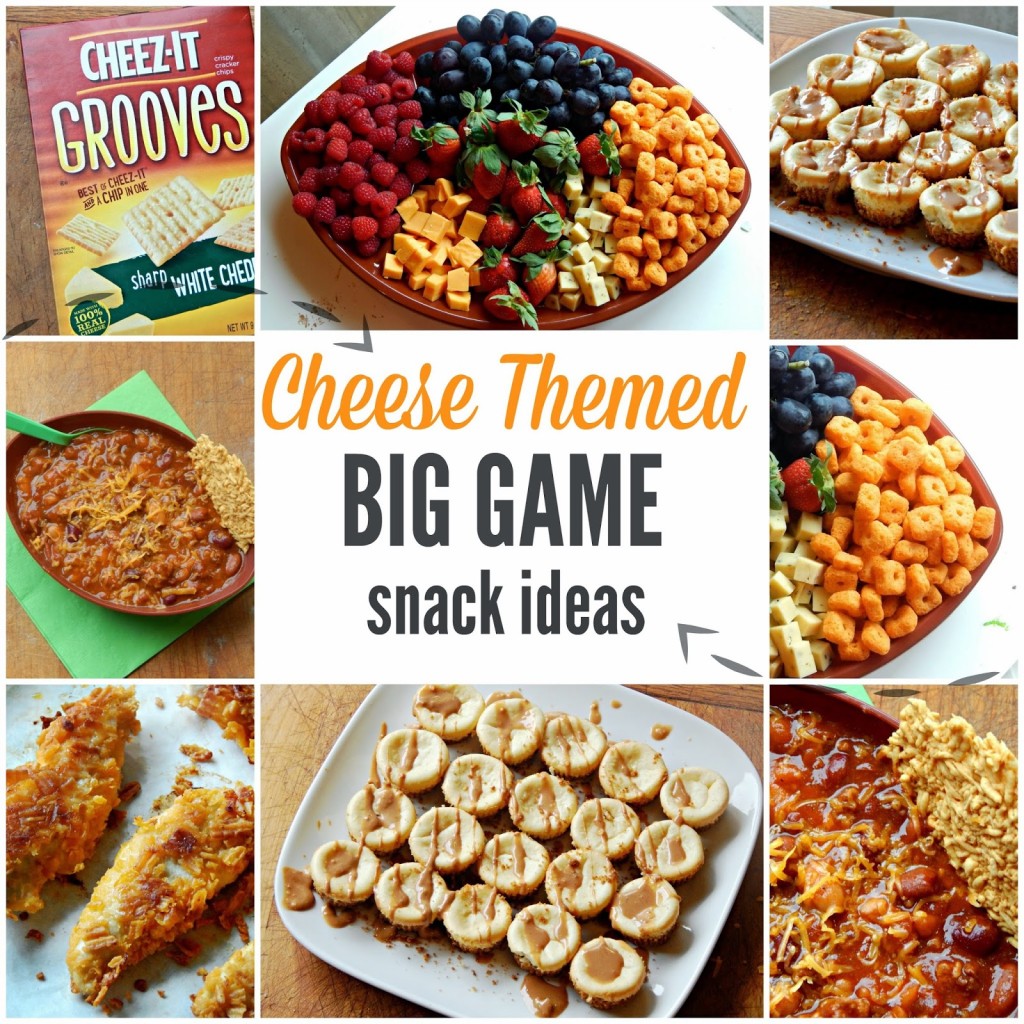 Hey everyone! This week has definitely been all about celebrations around here! In addition to Emma's birthday party yesterday, there has happened to have been a couple big games that were played this weekend too – leading up to the really Big Game in a couple of weeks!
Today I wanted to share some cheese themed big game snack ideas with you! My Dad and his wife came up for Emma's birthday party this weekend (they live in Canyonville – 3 hours away) so I decided to not only have the birthday party, but to also have a little themed meal while we all watched the game together!
I was shopping at Walmart for snacks last week and I saw some new Cheez-It products and instantly thought of what I would be creating: cheese themed snacks for everyone, because, well, we are kind of cheese addicts. Cheez-It has these new Cheez-It Grooves which are pretty tasty (and found in the snack food aisle) as well as Cheez-It Crunch'd, which are a completely new product that I found in a middle aisle display case. Crunch'd is Cheez-It's first-ever crunchy puff made with 100% real cheese, and they are delicious!
Cheese Themed Big Game Snack Ideas
To start with our cheese themed big game snack ideas I found a few football shaped serving dishes and bowls and began creating. First I made a fruit and cheese platter with strawberries, raspberries, grapes, two different kinds of cheeses, and the Cheez-It Crunched – everything was for finger foods.
Next I made some Cheez-It Chicken Fingers with The Cheez-It Grooves, and all I have to say is that I should have made twice as much! They were really easy to make too!
Cheez-It Chicken Fingers
What you need:
2 cups of Cheez-It Grooves Cheddar Flavor
1 pound of chicken tender strips
1 cup of shredded cheddar cheese
2 eggs
Salt and/or Pepper for taste.
Place Cheez-It Grooves into a large zip up plastic bag and crush into small pieces using a rolling pin. Add cheddar cheese to the bag and shake until mixed.
Meanwhile in a bowl beat two eggs, then dip chicken strips into egg mixture and place one strip at a time into coating mixture. Shake until completely covered then place onto a greased cookie sheet.
Top the chicken strips with any additional Cheez-It Grooves mixture and / or salt or pepper if desired.
Bake at 425 degrees for 20-25 minutes or until internal temperature of chicken is 165 degrees. Serve alone or with your favorite dipping sauce!
To keep along with the Cheese theme I made a big batch of homemade chili. I hadn't made it in a long time and forgot how easy it is to make, and how much better it tastes!
To go along with the chili I made some Parmesan crisps.
If you haven't made them before they are literally the easiest things to create, and can be used for a variety of appetizers as well as fun little scoops for chili!
All you do is grate the desired amount of parmesan that you would like, and then place them onto a parchment lined cookie sheet and broil them on low heat until the cheese is melted and slightly browned.  If you like multiple things to scoop your chili with, I've found that Pringles work really well too – and come in a large variety of flavors! It definitely makes the meal more fun for the kids. (Okay and the grownups). 🙂
Last but not least to finish off my cheese-themed snacks I had to make a treat – and what is more cheese themed than cheesecake? I decided to make them fun finger food bites for the game drizzled with a caramel sauce! This cheesecake recipe is really easy to make.  I did cheat a bit and bought one of the ice cream toppings that hardens when you pour it for the caramel so they wouldn't be as sticky – and they tasted so good!
Mini Cheesecake Bites
2 packages (8 oz each) of cream cheese, softened
½ cup of sugar
2 eggs
1 tsp vanilla extract
Caramel ice cream topping (optional)
Crust:
1 ½ cups of graham cracker crumbs
¼ cup of sugar
6 tablespoons of melted butter
Mix the graham cracker crumbs, sugar and melted butter together. Then press into the bottom of a mini muffin pan lined with mini cupcake papers. Set aside. In a mixing bowl combine cream cheese, sugar, eggs, and vanilla and beat with a hand held mixer until combined. Spoon the mixture into the mini muffin pan on top of the crust. Bake at 350 degrees for 25-30 minutes or until lightly browned on top and when toothpick is inserted it comes out clean.
Cool slightly and then pour caramel sauce over the top if desired.
I kept the decorations pretty simple for our Cheese themed party, and just set out a thick green fabric along with some brown paper bunting and mini football cut outs. It's nice to be able to just throw something together for everyone and have a fun time.
Have you ever had a cheese themed big game day meal before? I'd love to hear more ideas for food themes!
(Visited 1,193 times, 1 visits today)