This is a sponsored post written by me on behalf of PAM Cooking Spray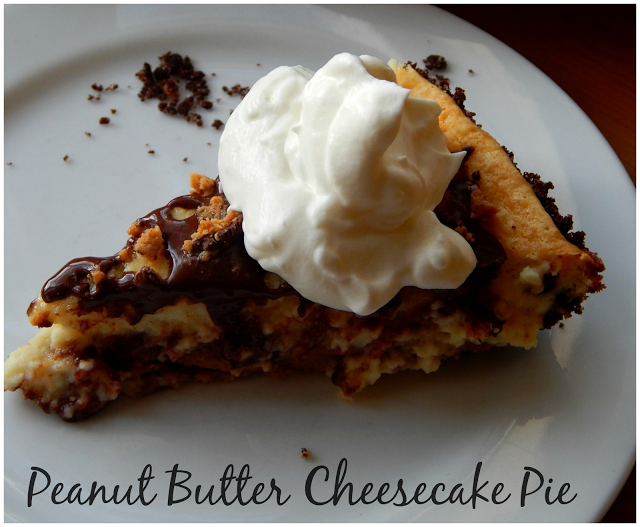 I played around and created a new recipe for Thanksgiving this year, and it must have been good because it was devoured very quickly. It's actually really simple to make and has just enough chocolate with the peanut butter to be noticeable, but not overpowering with the already rich cheesecake.
I learned a long time ago to spray everything with PAM Cooking Spray before cooking, because it saves so much time with cleanup, plus everything comes out super easy and doesn't stick. I hadn't used the PAM Baking Spray before but decided to give it a try with this recipe. It turned out beautiful. The PAM Baking Spray uses real flour, so you don't have to worry about anything sticking. Do you remember having to butter and then flour pans before baking? To be honest, I had only done that a couple of times. Of course, I'd make sure that it was oiled, but there's something about the flouring that our grandmas did that worked really well, and seems to not happen as much anymore.
Peanut Butter Cheesecake Pie
Ingredients:
For crust:
1 1/4 cup of chocolate graham crackers crumbs (approx. one package)
1/4 cup of sugar
1/4 cup of butter; melted
For peanut butter filling:
1/2 cup creamy peanut butter
2/3 cup powdered sugar
1/4 cup brown sugar
For the cheesecake filling:
2 8oz packages of cream cheese (room temperature)
1 cup of sugar
1/4 cup of heavy whipping cream
2 large eggs
For topping:
1 cup chopped mini peanut butter and chocolate candies ( I used dark chocolate)
Directions:
1. Preheat oven to 325 degrees
2. Place chocolate crackers in a bag and using rolling pin roll into fine crumbs. Pour crumbs into mixing bowl with sugar and melted butter and combine. Spray pie pan with PAM Baking Spray and then pat crumb mixture into pan until even.
3. Bake in the oven for 8 minutes.
4. Meanwhile, mix peanut butter, powdered sugar, and brown sugar until combined. It will turn into a thick dough. Roll out on cutting board until large enough to fit in the bottom of the pie pan.
5. In separate bowl mix cream cheese, sugar, heavy whipping cream, and eggs with mixer until smooth.
6. Take the crust out of the oven and let cool slightly. Turn the oven temperature up to 350 degrees. Once cooled, gently press peanut butter mixture into the bottom of the pie pan, then pour cheesecake mixture on top.
7. Bake for approximately 35-40 minutes, until browned on top.
Let the cheesecake cool for ten minutes, then add chopped up peanut butter candies to the top. You can also make some whipped cream to add to the top.
Cleanup was a breeze afterward because with the PAM Baking Spray the pie came out perfectly and didn't stick at all. I read online that PAM Cooking Sprays leave up to 99 percent less residue buildup than margarine or bargain brand-cooking sprays – and they are super easy to use.
But Noah doesn't care what I use to make clean up easier. All he knew was that his mouth had been watering for an hour waiting for that delectable piece of the pie. I think these pictures of his first bites are worth a thousand words.
~Melissa
This is a sponsored post written by me on behalf of PAM Cooking Spray. For more information, visit http://www.pamcookingspray.com.
(Visited 844 times, 1 visits today)