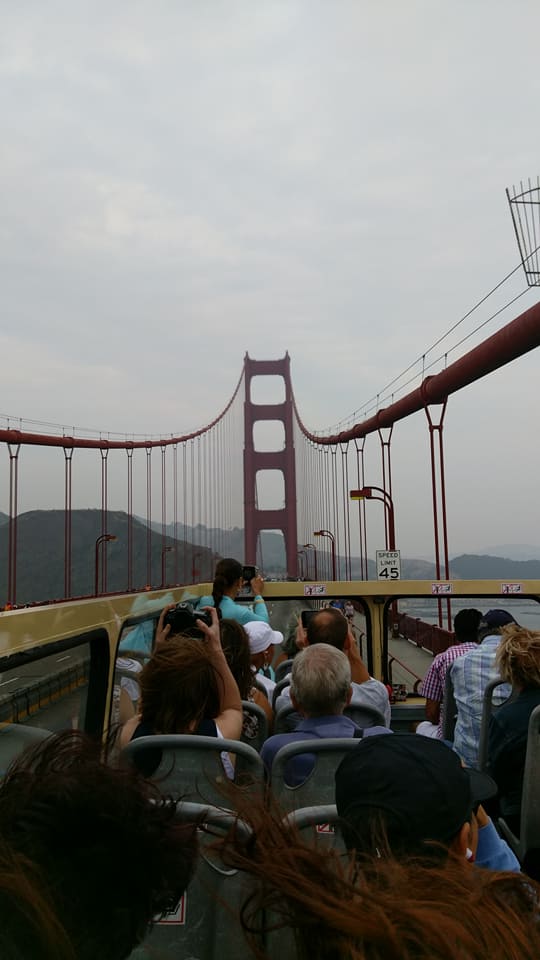 We recently visited San Francisco for the first time. It's a place that I've always wanted to visit, and living in Oregon it's a quick flight down there. Wayne and I spent two nights there for our anniversary. We left early on a Monday morning and returned back in Portland late Wednesday evening.
I spent quite a bit of time planning it all out – checking out hotels, activities, restaurants, and transportation. Many people advised to take advantage of the public transportation options that San Francisco offered because they were easy to use and affordable. We decided to give it a try.
We landed early Monday morning in SFO and made our way to the BART transportation system. The train made a stop only a couple of blocks from our hotel on Powell street. We stayed at The Herbert Hotel. It's a quaint historic hotel right in the heart of the union square district (aka, the place to go for shopping).
The BART system was very easy to ride from the airport, and only cost about $9 each.
After we settled in we decided to begin our exploration of the city by taking one of those very touristy tours on a double-decker bus. We hopped on The Big Bus tour and spent the next 2 ½ hours hearing about the different districts and history of the city. The Big Bus tour makes frequent stops at each one of the districts. It allows passengers to hop off and explore for as long as they'd like, then catch another bus and carry on with the tour. We decided to stay on the one tour bus and just get a feel of the city layout. It turned out really helpful and was a great way to familiarize ourselves.
Following the tour we returned to our hotel to unpack a bit and stock up on some snacks and drinks. Right next door from The Herbert Hotel you'll find a Walgreens which has literally everything you'll need for your trip.
That evening we walked around and explored the downtown area. We made it back to our hotel and found a restaurant just around the corner called Johnny Foley's Irish Pub & Restaurant. It was moderately priced with a fun atmosphere and live music. I would have loved to have stayed longer that evening and enjoyed the nightlife after dinner, however we were just too tired after our long day.
The next morning we woke up bright and early to catch one of the infamous San Francisco cable cars down to Fisherman's Warf. The cable cars are a popular attraction often with long lines waiting to hop on, but we lucked out and had perfect timing. Rides are normally $7 each, however we both had a CityPass booklet which includes a 3 day pass for any downtown transportation.
The reason for heading towards the wharf was to visit the infamous Alcatraz prison, along with a tour of Angel Island. I purchased tickets to the combined tour well in advance, as they sell out quickly.
We first cruised out to Angel Island which is a State Park. There we took one of the Segway Tours around the island, learning the history and the many different uses the island once held. On the island is one restaurant, and there are camping options, picnic tables, and plenty of places to bike or walk around and explore. We only had two hours to spend on the island with one of them spent on the guided tour, so we didn't have much time to explore. If you're into history and or nature, Angel Island would be a fun place to spend a day.
After Angel Island we took the ferry over to Alcatraz. Upon arrival we were given a brief overview of the island. We explored around the prison, and participated in an audio tour unlike any I have done before. The audio tour is an individual tour that 'guides' you throughout the prison with an engaging narrative. The audio tour really made the history come to life.
We spent a good three hours on Alcatraz before returning to the mainland. Afterwards we walked around Pier 39 before catching our next evening event : a romantic evening sail from Adventure Cat Sailing Charters. It was a 90 minute ride which included a small snack buffet and 2 beverages (additional could be purchased separately). There were approximately 20 of us sailing that evening, and 3 amazing crew members who made the experience fun. There were jackets available for whomever got cold, and the crew happily took photos for couples as we sailed underneath the Golden Gate Bridge during the sunset. Sailing underneath the bridge at dusk was a unique experience and made for some great photos.
Later that night we visited a restaurant in the financial district called BIX restaurant, a classy 1930's themed supper club hidden down a tiny road  with nightly music. We didn't get there until pretty late, so unfortunately it wasn't as lively as I'd hoped, however the American food was delicious and service was wonderful. It had a great ambiance. If you go there try their Chia Creme Brulee – made with Figs, Pistachio Streusel, and Fig Leaf Sherbet. It was like nothing I had ever tasted before.
Wednesday we explored a little more. We checked out some shops and the Maritime Museum before packing our bags for the airport.
I could have spent twice as long down in San Francisco exploring.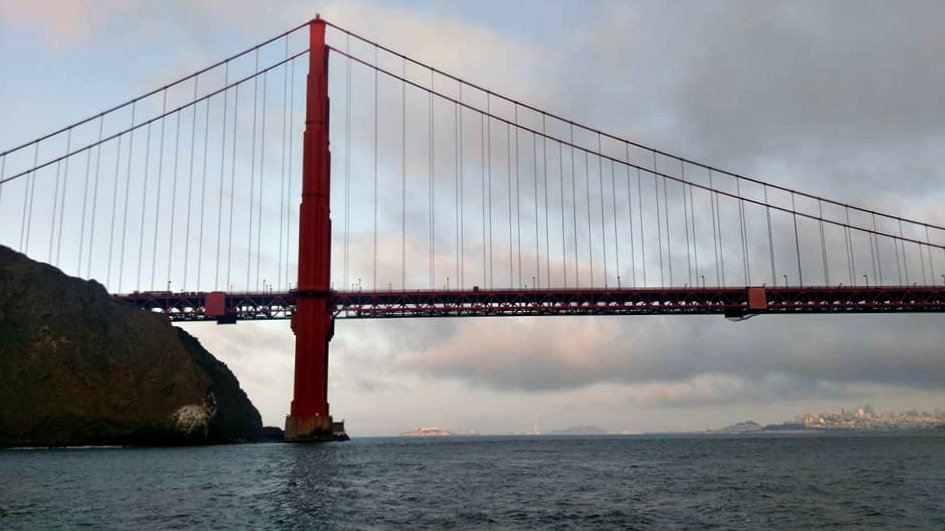 Thinking about visiting San Francisco? Here are my tips:
Plan your trip ahead of time, but leave room for some down time
Stay in a hotel close to public transportation
If you are going to visit Alcatraz, buy your tickets well in advance
Plan a budget and stick to it
Enjoy the experience!
~Melissa
(Visited 343 times, 1 visits today)