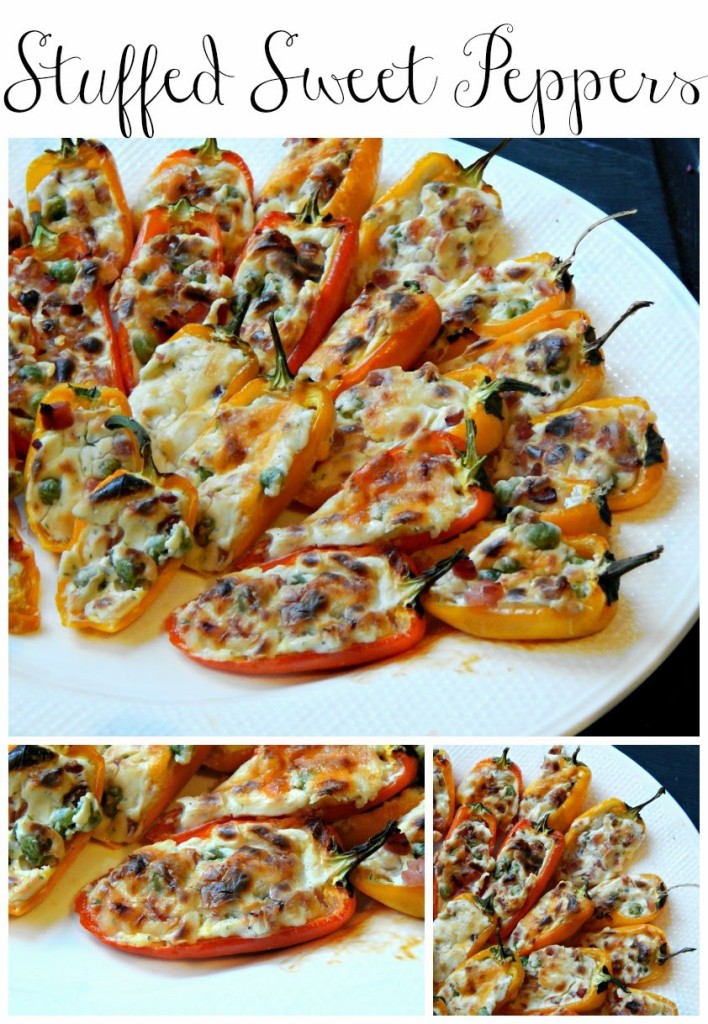 If you know me at all, you know that I love to celebrate. Whether it be for birthdays, holidays, or my own created excuses for get-together's, I'm all about having family and friends over…and that means making lots of food. Sometimes the things I make are a big hit, sometimes it takes my not-so-adventurous guests a little more warming up to try something new, but in either case the creation and though process behind the menu is something that I really enjoy. Today I'm going to share one of my favorite appetizer recipes: stuffed sweet peppers.
A couple of Christmas's ago I had bought a big bag of mini sweet peppers and knew that I wanted to use them in something because they were so colorful. Well, low and behold I ended up stuffing them with a variety of flavors and baked them until everything melted and browned.  The stuffed sweet peppers were delicious.
Every once in a while I'll buy a bag and make some for a little family appetizer. The best thing about this 'recipe' is that you can pretty much mix up anything in cream cheese and create your own version!
Here is my recipe:
Stuffed Sweet Peppers
What you need:
A bag of mini sweet peppers (can be found at many grocery stores)
1 package of cream cheese
1/2 cup of frozen peas
1/2 cup diced prosciutto, bacon, or ham
1/4 cup Boursin Garlic and Herbs

(spreadable cheese)
1/4 cup shredded Parmesan cheese
1 Tbsp freshly chopped chives
Instructions:
1. slice peppers in half lengthwise, and then using a spoon scoop out the seeds. Place face up on a cookie sheet.
2. Mix cream cheese, Boursin cheese

, Parmesan cheese, prosciutto, and peas together.
3. Spoon cheese mixture into peppers, and then top with chives.
4. Place pan into a preheated oven at 350 degrees for 15-20 minutes or until golden brown. Occasionally I will place the peppers under the broiler for the last minute to brown them more.
You can use any variety of cheeses with the cream cheese, as well as other ingredients, I like mixing the Boursin flavored spreadable cheese with it because it just adds more flavor.
And that's just one of the simple appetizers I make from time to time. Next time I'll have to show you the pickle roll ups that are always a huge hit.
~Melissa
(Visited 65,258 times, 1 visits today)