Looking for some celebration inspiration? Today I'm sharing photos from my daughter's low key surf and turf birthday.
I'm sure if you've followed along on this website for any length of time you'll have noticed that I like to share photos and ideas from the birthdays in our family. What a better way to make fun memories? This month my eldest, Anika, turned 17 years old. How that is already possible is beyond me. She was just 8 years old when I began this website! The past couple of years we've done some pretty fun stuff. We did a backyard glampout and movie night for her 15th, and last year was the epic 80's dance party for her sweet sixteen.
This year, like most people's celebrations, was a little different. With COVID 19 we've had to be a little more creative for our birthdays, like Noah's 10th In-N-Out themed party we held in May. Anika's been working a lot, so she didn't have a lot of suggestions for her birthday. When she suggested that she stay the night at the beach with her friend for her present, I got created and dubbed this year's theme surf and turf.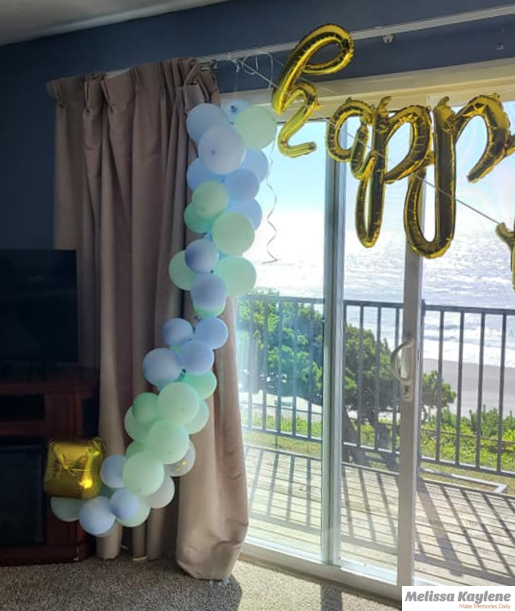 Surf and Turf Birthday
Two days before her actual birthday we drove to Lincoln City, where I had decorated the room before they arrived. She and her friend and a low key relaxing evening on the beach eating Chinese takeout and watching reality TV. The next morning I got up and made the girls some brunch before checking out.
On Anika's actual birthday I invited her Aunt, Uncle, and Grandparents over for a cozy dinner for 9. They are all fans of crab. I'm a huge fan of filet mignon. So, surf and turf was the perfect theme. I purchased 5lbs of snow crab, and 10 filet mignon steaks (on a side note, Costco had them on sale this last month for 10.99 a lb! Such a good deal!) To go along with the entree I made garlic mashed potatoes, corn on the cob, green beans, and cornbread. Anika made beach themed cupcakes for dessert.
We all enjoyed the leisurely meal and celebrated the birthday of the girl that blessed us with her presence seventeen years ago.
With all of the negativity and sadness in the world right now, it really makes me cherish simple things even more. Like sharing dinner together around the table.
What kinds of things are you doing to celebrate birthdays this year?
(Visited 468 times, 1 visits today)