Hello dear friends. It's been a while. This summer was rather challenging for me as I tried juggling several jobs, the kids schedules (plus them home all day) and some health related stuff. I'm happy to officially be in a new season. I'm ready for a good routine, all things fall, and a fresh start.

The last grand thing we ended up accomplishing this summer was Anika's 15th birthday party. She was very indecisive on what she wanted to do for her birthday this year! She finally chose a backyard party less than two weeks before her big day. Her and I both quickly began preparations for what we decided to call a backyard movie glamping party.

She had a vision – and we tried to implement it the best that we could on a budget.
Two weeks before the glamping party:
I created a Facebook invite and she sent out invites to her other friends via Snapchat (because apparently Facebook is for us older folks and not all teens use it! Ha!)

She knew that more than anything she wanted to have a backyard movie on a projector, with lots of theater-related snacks and a cozy 'glamping' feel.
First thing I did was order a projector and screen online. That was going to be our large purchase, so she knew between that and food our decor was going to have to be inexpensive and creative.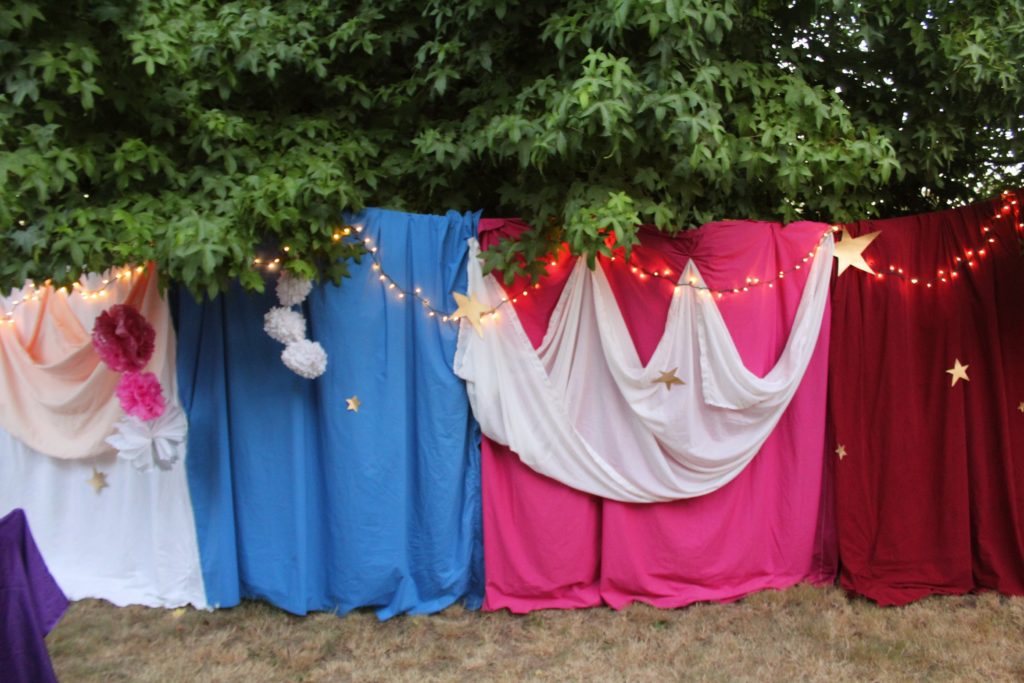 She wanted a kind of bohemian vibe, so we dug through the house and brought out every kind of sheet, blanket, pillow case, etc. that we owned and assessed what we had to see what we needed. We then made a trip to Goodwill and had great success finding the rest of what we needed. We found an amazing outdoor rug, a few throw pillows, and a couple more blankets for less than $50.
Two days before the glamping party:
We began prepping our backyard a couple of days prior to the party. We hung rope around the perimeter of the yard – sectioning off exactly where the party was to be held. This worked great because we didn't need to tidy up out entire yard that way. We made sure to keep the rope nice and taught, as we were going to be hanging blankets on it, which would also weigh it down.
After the rope was hung we safety pinned sheets across the area. When the entire area was covered we went back through and added a few sheets on top of the others diagonally, giving the background a more three-dimensional feel.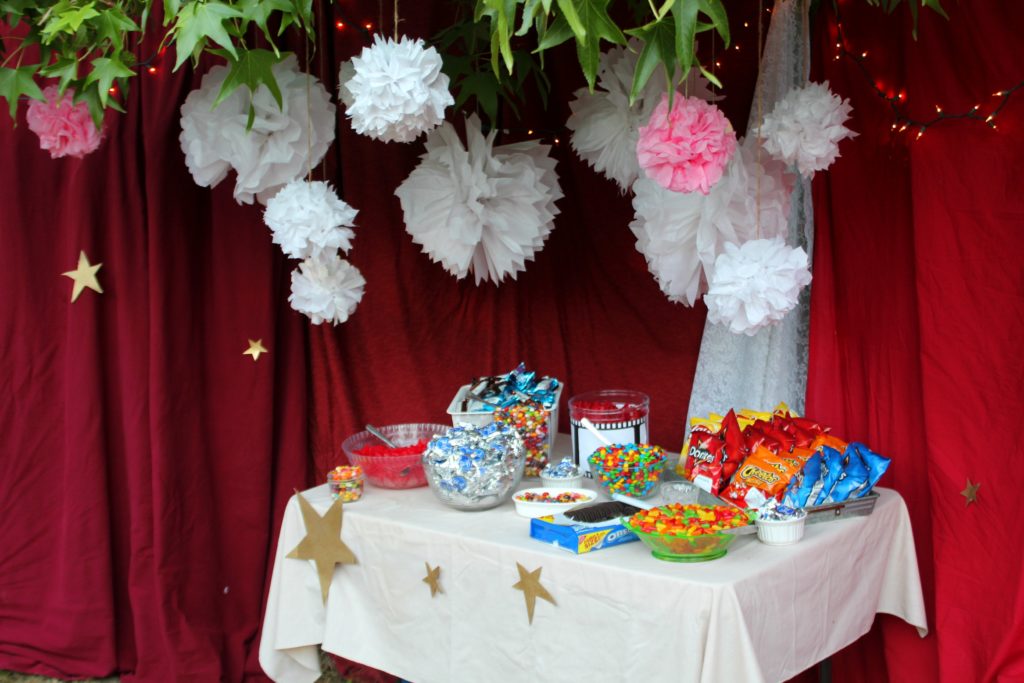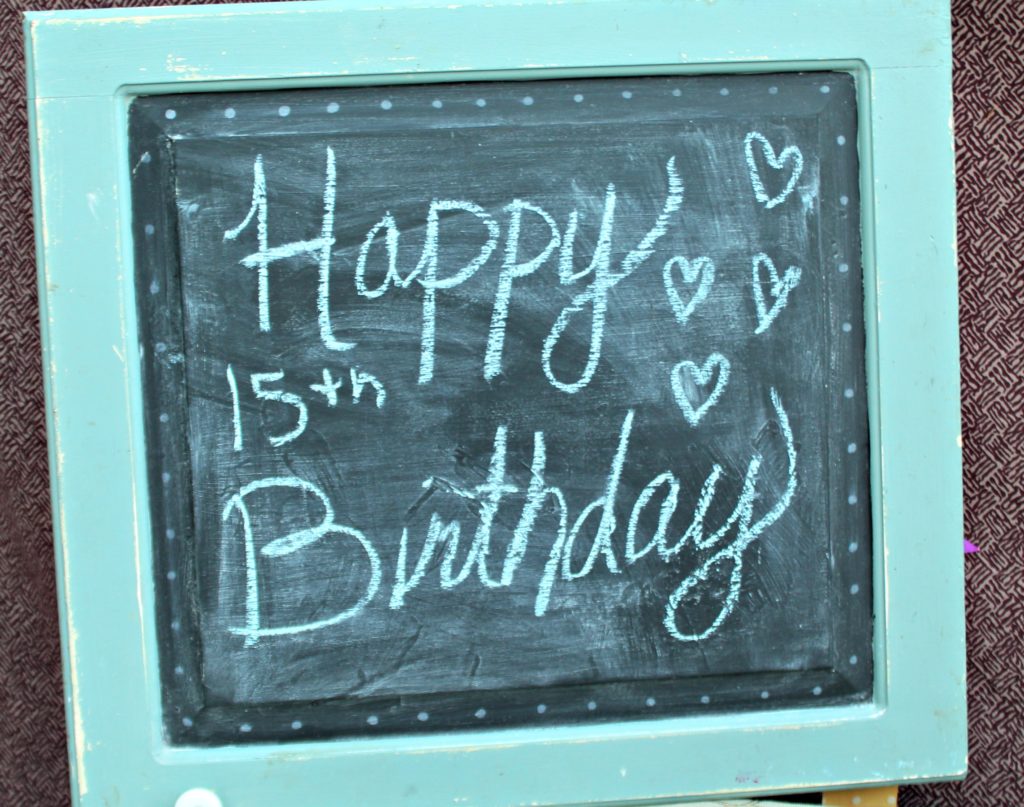 I have outdoor patio lights hung up year 'round, however for her party we needed more in the backyard to give light, and create a glamping feel. I took out all of the white Christmas lights I had and we then strung them along our sheet walls.
We created tissue paper pom-poms, which is a cheap way to decorate for a party. We also took scrap cardboard and cut out stars, then spray painted them gold.
I also made my first attempt at a balloon backdrop – which turned out pretty good! I wish I would have taken some more pictures of it to show you. I basically blew up a bunch of white balloons all different sizes, then carefully attached them to my photo backdrop with safety pins. I then filled in the gaps with greenery from our backyard. ***Tip: This won't hold up so well in heat/extreme weather. Our party began in the evening, so I made sure not to take the backdrop out until just before the party began.***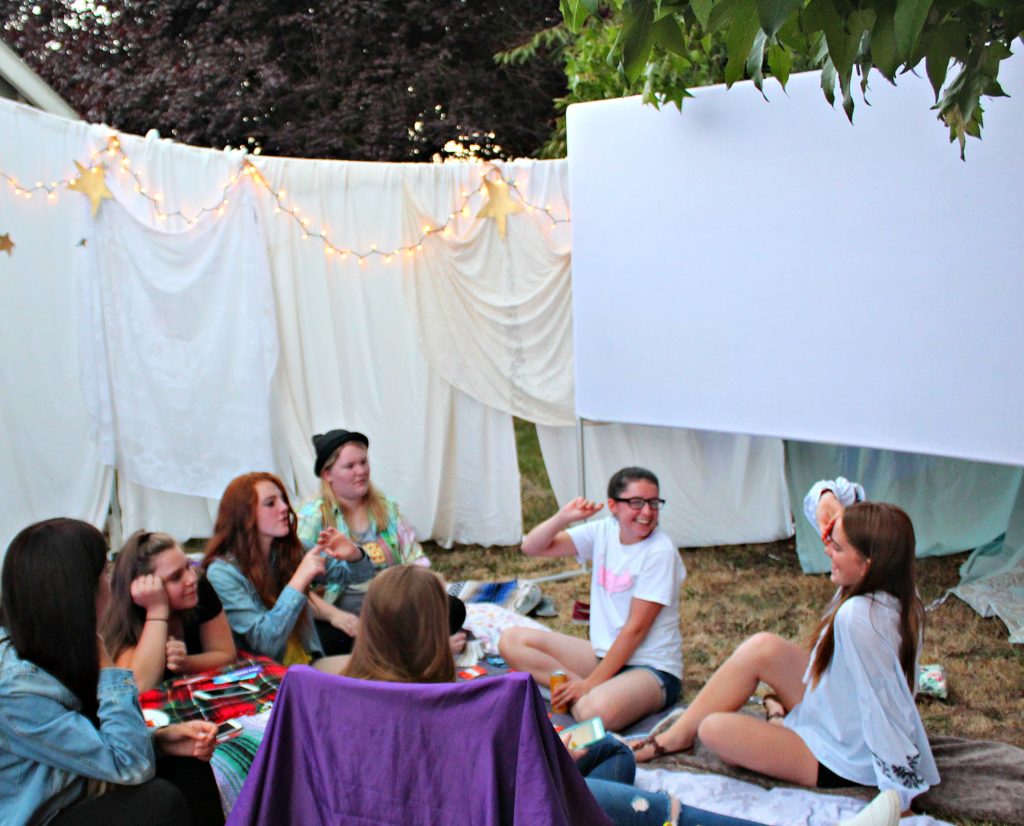 The day before the glamping party:
The day before the party I made a trip to Costco, where I purchased way too much candy. I also picked up several pizzas that we could quickly put in the oven, some popcorn, chips, and drinks. Anika kept busy at home creating these adorable popcorn cupcakes. She made the cake from scratch and colored mini marshmallows for the popcorn look.
The day of the glamping party:
The day of the party we finished setting up. We put up the projector and screen, hung all of the decorations, and arranged our seating area. We have a blow up mattress for camping, so we placed that outside (we put a tarp underneath it to keep it safe).
The party start time was 7pm. The girls played games, ate pizza, sang happy birthday, and then at 9pm
as the evening got dark, we began the movie. Anika chose "I Feel Pretty". It was a great choice given the theme of her party.
Some girls left after the movie; some stayed over. I hope all had fun. I know Anika did.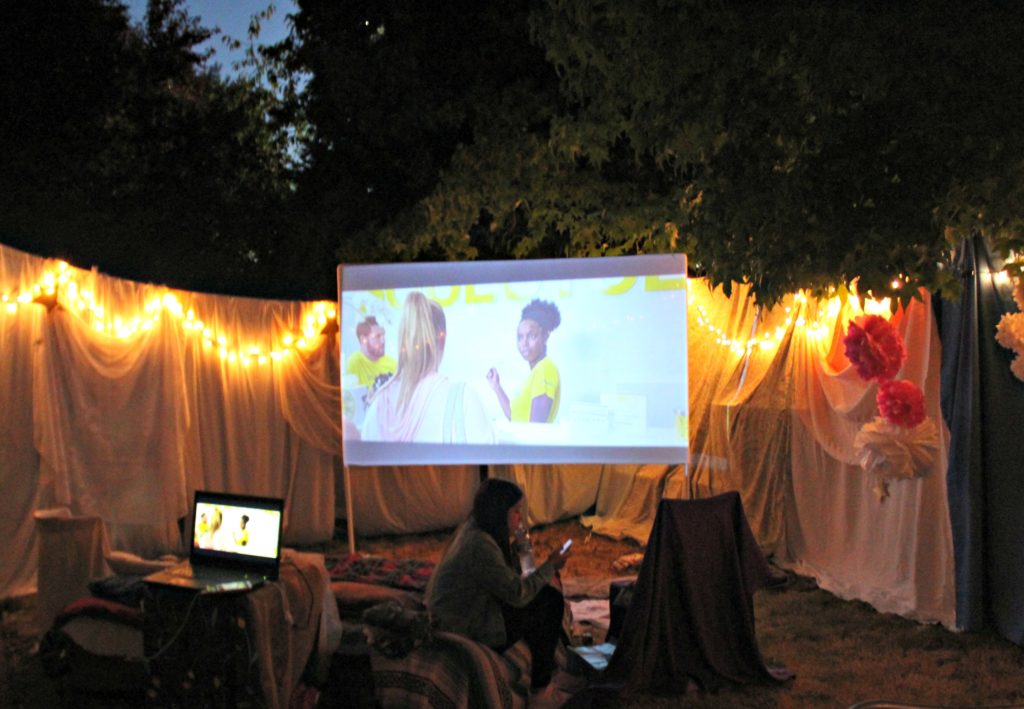 She's already decided the theme for her sweet sixteen: 80's dress up party.
~Melissa
This post contains affiliate links. 
(Visited 634 times, 1 visits today)