This week I'm keeping my 9-year-old up past bed time.
Wednesday Emma and I are going to see Matilda The Musical which is making it's premiere in Portland this week! Named TIME Magazine's #1 Show of the Year, Matilda the Musical will be at the Keller Auditorium from Tuesday, February 28th – Sunday, March 5th.
If you aren't familiar with the story, Matilda The musical is based on the novel by the best-selling author Roald Dahl (Charlie and the Chocolate Factory, Fantastic Mr. Fox) It's the story of an extraordinary girl who dreams of a better life. Matilda is armed with a  vivid imagination and a sharp mind and dares to take a stand to change her destiny. It's the winner of 70 international awards including 4 Tony Awards® and a record-breaking seven Oliver Awards® including Best Musical.
Emma is so excited.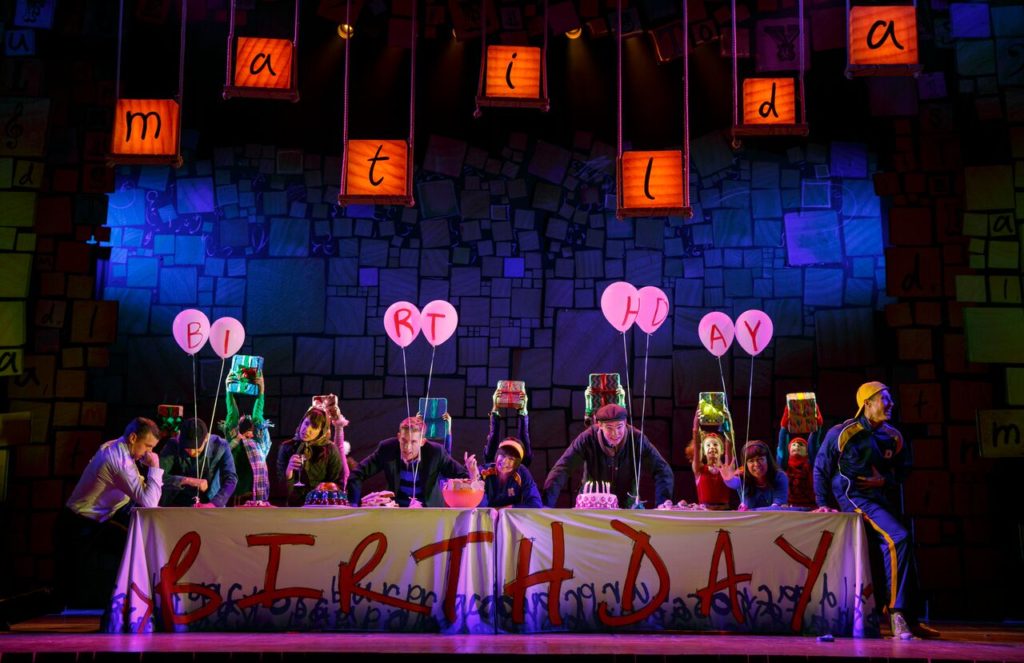 Broadway performances are an amazing experience to take children to – it opens up their natural imagination and lets them see so many different cultures in life. I try to take each one of my children to a performance once a year that I think is one that they will enjoy. Have you been to a Broadway performance recently? Have you ever taken your children?
  MATILDA THE MUSICAL TICKET AND PERFORMANCE INFORMATION
Tuesday, February 28th     7:30pm
Wednesday, March 1st     7:30pm
                                                           Thursday, March 2nd        7:30pm – ASL interpreted Performance
                                                            Friday, March 3                 7:30pm – Audio Described Performance
                         Saturday, March 4             2:00pm and 7:30pm
 Sunday, March 5               1:00pm
         6:30pm – Open Caption Performance
Wheelchair seating is available at all performances.  For information on ADA seating, please call the Portland Opera Box Office at 503-241-1802, email boxoffice@portlandopera.org or visit the Portland Opera Box Office in person (Monday – Friday, 9:00am – 5:00pm)
 Purchase Your Tickets At:
www.BroadwayInPortland.com
Portland Opera Box Office: 503- 241-1802 or toll-free at 866-739-6737
Portland'5 Box Office: 800-273-1530, All TicketsWest locations
For More information, visit:
www.matildathemusical.com/tour
www.facebook.com/MatildaOnBroadway
 ~Melissa
(Visited 163 times, 1 visits today)