This shop has been compensated by Collective Bias, Inc. and its advertiser. All opinions are mine alone. #StirUpTheFun #CollectiveBias
Let me begin this post by saying that I've been loving Asian-inspired cuisine lately. I've eaten at a couple different restaurants this month and wanted to create a themed meal at home last weekend, so on Saturday I did.
We ended up all having the day off together on Saturday. We decided to go bowling in the afternoon and then went home for a relaxing evening. I stopped by Safeway on the way home and purchased a few items to make a meal for everyone, including chicken breasts, Minute® Rice ( the Multi-Grain Medley ), Sugar Snap peas, Romanesco, Onion, Dole® Pineapple in 100% Pineapple Juice, and Kikkoman® Soy Sauce, Sweet & Sour Sauce and Teriyaki Sauce.
I knew I wanted to make a chicken and rice dish, so I got creative with an easy meal idea – sweet and sour chicken skewers with a vegetable rice medley.
We love cooking with Minute Rice because it's quick and easy to prepare and has delicious flavors. Minute Rice has three varieties, including Whole Grain Brown Rice, White Rice, and Multi-Grain Medley. The Multi-Grain Medley is the newest product from Minute Rice. It's a blend of long grain brown rice, Thai red rice, wild rice and quinoa that easily cooks in 10 minutes. It also comes in packaged pre-portioned bags.
I used the Dole® Pineapple Chunks in my skewers because they can quickly transform any chicken, rice or salad dish by giving it lots of flavor,  plus they are naturally fat and cholesterol free and rich in vitamin C.
Sweet and Sour Chicken Skewers with a Vegetable Rice Medley 
What you need:
For the Chicken Skewers:
1 Can of Dole Pineapple Chunks
1.5 pounds of chicken breasts
1 large onion
1/3 cup of Kikkoman Sweet and Sour Sauce
1 red pepper
1 orange pepper
10 Skewers
For the Vegetable Rice Medley:
1 Box of Minute Rice Multi-Grain Medley
1 cup of sugar snap peas
1/2 cup onion, diced
1 romanesco
2 tablespoons olive oil
salt
Directions:
Chop the chicken breasts into 1 inch squares. Place the chicken into a resealable plastic bag and pour in the Kikkoman sweet and sour sauce. Place the chicken into the refrigerator to marinate for approximately 20-30 minutes.
While the chicken is marinating chop the onion and peppers into 1-2 inch-sized pieces. Set aside.
Chop the romaneso and place onto a baking sheet along with the sugar snap peas and 1/2 cup diced onion. Coat with olive oil and season with salt.
Remove the chicken from the refrigerator and create the chicken skewers by layering the Dole Pineapple, Onions, Peppers, and Chicken onto the skewers. Place the skewers onto the baking sheet and place the skewers and vegetables into a 375 degree oven for 30 minutes (or until cooked thoroughly)
While the chicken and vegetables are baking, cook the Minute Rice Mult-Grain Medley according to the instructions on the package. Use two rice pouches.
Enjoy! Serve with additional Kikkoman Sweet and Sour Sauce for dipping and Kikkoman Soy Sauce for the rice.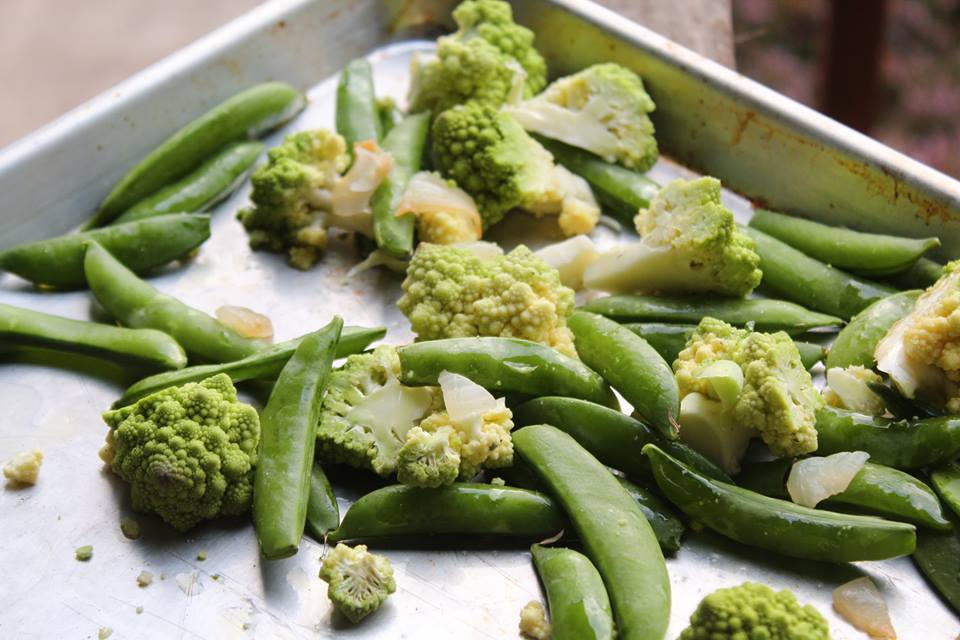 I actually made two batches of chicken, half marinated with the sweet and sour sauce, and the other half with Kikkoman Teriyaki Sauce. Both were delicious so I'd definitely recommend trying the chicken both ways!
You can find all of the ingredients to make this dish at your local Safeway.
Do you have any tasty skewer recipes? Or recipes that use pineapple? Comment below and share them!
For more creative ideas, visit KikkomanUSA.com.
~Melissa
(Visited 420 times, 1 visits today)