This shop has been compensated by Collective Bias, Inc. and its advertiser. All opinions are mine alone. #LeanCuisine #CollectiveBias
Life! It just doesn't slow down, does it? I've said before that this year I plan on at least learning how to take more time for myself and how to manage the busy a little better than I did last year. I think a lot of that entails saying no to more things and planning ahead for busy weeks.
My schedule at my "other job" isn't too bad. I only work 1/2 time – pretty much every other weekend and two days during one week which equals 5 shifts in a two-week period. What's great is that I do all of my shifts in a 7 day period, which means I essentially work full-time one week, then have 7 days off in a row afterwards. One extra busy week, one slower week where I can focus more on the kid's schedules and my writing.
Since I work evenings I need to plan ahead even more – prepping dinner for the family and food for myself. I'll normally make a wrap or take something like LEAN CUISINE® Marketplace Vermont White Cheddar Mac & Cheese or a LEAN CUISINE® Marketplace Sesame Chicken to work with me for my lunch break. Lean Cuisine has some pretty tasty and bold dishes that have great flavor and no artificial preservatives. It's great because I can keep them in the freezer at work until I'm ready to microwave them.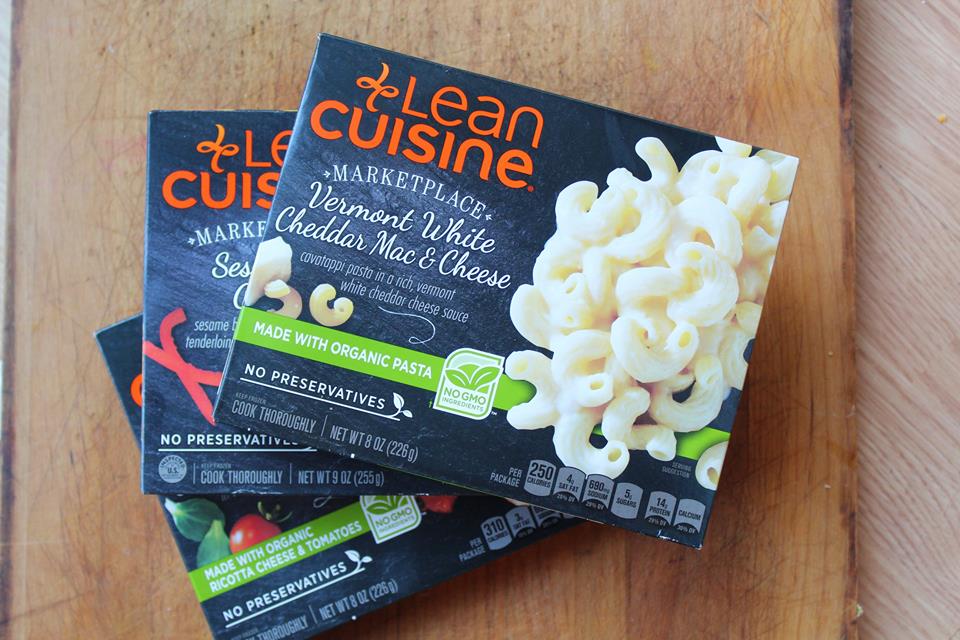 Some delicious flavors are:
Vermont White Cheddar Mac & Cheese
Sesame Chicken
Spicy Penne Arrabiata
I don't just eat Lean Cuisine while at work though – I often eat something also with it. Last week I made a parmesan zucchini fritter recipe up ahead of time and took a couple to work with me. All I needed to do was reheat them in the microwave for 15 seconds and then enjoyed them alongside my Lean Cuisine. They are really simple to make and hold up well in the refrigerator:
Parmesan Zucchini fritter Recipe:
What you need:
1.5 pounds of zucchini (makes approximately 2 cups after grated and drained)
1/4 cup of shredded onion
1 egg
1/4 cup flour
1/4 cup grated parmesan cheese
2 tsp salt
pepper
garlic powder
olive oil
Finely shred the zucchini and place in a colander over the sink. Sprinkle one teaspoon of salt in the mixture and let it drain for 10-15 minutes.  Meanwhile coarsely shred the onion and add it to the zucchini.  Grate the parmesan cheese (or purchase it already grated) and set aside.
Press the zucchini in the colander, removing any excess liquid. Lay several paper towels down on a cutting board and spread half of the zucchini onto the paper towels. Press with paper towels until the moisture is all absorbed. Place into a medium mixing bowl and repeat with the second half of the zucchini.
Mix in the flour, egg, and parmesan. Add as garlic powder and pepper to taste.
Pour olive oil (about 3 tablespoons) into a fry pan and warm on medium heat. Using a tablespoon, scoop the zucchini mixture and place it in the frying pan. Press down until a thin fritter is formed. Cook for 3-5 minutes until golden brown, then flip them over and repeat on the other side. Remove from the heat and sprinkle with salt ( I coarsely ground some pink Himalayan salt on top of mine).
Serve with greek yogurt or sour cream if you'd like – or enjoy them plain!
To store in the refrigerator, wrap the leftover zucchini fritter in a paper towels and place in a resealable sandwich bag.
Lean Cuisine Deal: 
Right now you can stock up for them at your local Target. From 1/1 – 1/31 they are only $1.99 each! (Normally $3.00) You can find them in the frozen foods aisle.
~Melissa
(Visited 1,777 times, 1 visits today)