The Company of The Wizard of Oz in "Merry Old Land of Oz." PHOTOGRAPHY: © DANIEL A. SWALEC
Next week the U.S. Bank Broadway in Portland series is presenting the North American tour of the new stage adaptation of
The Wizard of Oz
! It is playing at the Keller Auditorium on March 8th – 13th.
I'm excited to see this production of one of the most classic stories around. This production is developed from the popular MGM screenplay and shares everyone's favorite characters including the Scarecrow, Tin Man, Lion, Dorothy, and Toto. We will follow along with the iconic moments we love as they journey through the magical Land of Oz to meet the Wizard, plus there will be a few new surprises along the way, including new songs from Tim Rice and Andrew Lloyd Webber.
 You know that I fell in love with Broadway productions after
seeing my first performance
last year, and I'm looking forward to experiencing The Wizard of Oz live for the first time!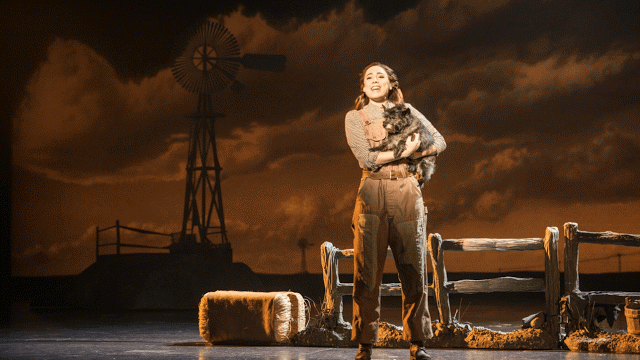 Sarah Lasko as Dorothy and Nigel as Toto in "Over The Rainbow." PHOTOGRAPHY: © DANIEL A. SWALEC
Tickets are still available for the eight performances. The schedule for the Portland engagement is:
Tuesday, March 8:
7:30pm
Wednesday, March 9:
7:30pm
Thursday, March 10:
7:30pm
Friday, March 11:
7:30 pm
Saturday, March 12:
2:00pm & 7:30pm
Sunday, March 13:
1:00pm & 6:00pm
For information on ADA seating, please call the Portland Opera Box Office at 503-241-1802 or email
boxoffice@portlandopera.org
Tickets can be purchased:
~Melissa
(Visited 293 times, 1 visits today)