Thank you to Foster Farms® for sponsoring this recipe for cranberry cream cheese turkey roll ups!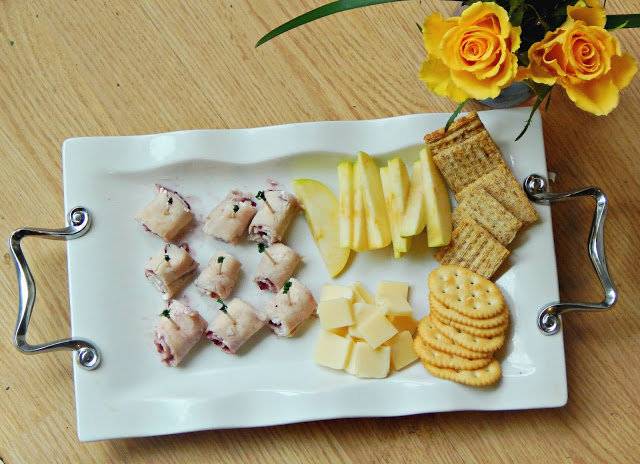 Fall is fast approaching and I'm incredibly excited about the cool evenings, soccer, football, new routines, sweatshirts, and all things pumpkin! But there is still a little part of me that misses the ease of summer time food. I love making quick salads, BBQs, and tasty appetizers.
Even though summer is gone, it doesn't mean all foods have to be tedious to make or hearty.
You all know by now that I love Foster Farms products. I have been buying their All Natural Sliced Turkey for a while now, not just for sandwiches, but even for after school snacks and appetizers. Foster Farms All Natural Sliced Turkey premium lunchmeat is made naturally with 100% turkey breast meat and has no chemicals, preservatives, artificial colors or added nitrates/nitrites which are why it is perfect for this fun snack.
Cranberry Cream Cheese Turkey Roll Ups
What you need:
6 ounces of cranberry sauce
6 ounces of whipped cream cheese
2 packages of Foster Farms All Natural Sliced Turkey
First, spread and even layer of the softened cream cheese onto the Foster Farms turkey slices. Next spread a thin layer of cranberry sauce on top of the cream cheese and then carefully roll the turkey slices tightly and slice into desired sizes.
Foster Farms All Natural Sliced Turkey is available in two delicious flavors: Slow Oven Roasted Turkey Breast and Honey Roasted and Smoked Turkey Breast.
The mix of an easy, cold appetizer with fall flavors is a nice change! Kids and adults love to snack on them for most any occasion!
Foster Farms All Natural Sliced Turkey premium lunchmeat is available now at retailers throughout California and the Pacific Northwest including Safeway, Vons, Raley's, and select Albertsons. If you'd like more information, including nutritionals and money-saving coupons, visit TheBestTurkey.com!
Do you have a fun snack or appetizer idea that I could create with the Foster Farm's All Natural Sliced Turkey? I' would love some more ideas!
~Melissa
This is a sponsored post written by me on behalf of Foster Farms All Natural Sliced Turkey.
(Visited 543 times, 1 visits today)