Compensation was provided by ConAgra RO*TEL via Mode Media
You might remember by now that I've been attempting to do a themed dinner once a month with the family – it's something that I thought I'd do to make mealtimes a little more memorable, and last week I made a simple Zesty Taco dinner party with all of the fixings, black beans, cheese, lettuce tomatoes, and RO*TEL'S Rockin' Guac. There's just something about a fun little table spread that makes mealtime so much more exciting.
In addition to the taco fixings, I also had a delicious fruit torte that I purchased as well as beverages like Bud Light's Lime-a-Ritas. Right now, more than ever, since it's springtime and nearly Cinco De Mayo, I love big and bright colors so I placed a black tablecloth on and let all of natural ingredients take center stage with their beauty.
A few weeks ago I made RO*TEL's Rockin' Guac for the first time and the family loved it – they ate it up pretty quick (we are big snackers around here!) I also found out that Emma LOVES avocados – she can sit there and eat a whole one by herself!
Taco Dinner Party Rockin' Guac recipe:
To make RO*TEL's Rockin' Guac all you need is:
3 pitted and peeled avocados
1 can of zesty RO*TEL Original Diced Tomatoes and Green Chilies, drained
½ cup chopped onion
A squeeze of lime juice
All you do is:
Mash the avocados in a bowl, stir in remaining ingredients, then season with salt and pepper. The recipe can also be found on the RO*TEL website, which has a how-to video and other great tips!
RO*TEL's Rockin' Guac is great to use for a dip, as a spread on sandwiches, or to top off tacos!
Sometimes little things like taking ten minutes to set up a table before a meal can really make a big difference as well as a lasting impression on friends and family. They will remember the extra love you used to create not only a tasty meal but a fun atmosphere as well.
Life is meant to be celebrated – what are you going to do this week to celebrate yours?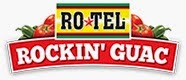 ~Melissa
Zest up your fiesta with RO*TEL's Rockin' Guac and Bud Light's Lime-a-Rita. Bud Light Lime-A-Rita® is a registered trademark of Anheuser-Busch. ConAgra Foods, Inc. All Rights Reserved.
(Visited 584 times, 1 visits today)