This shop has been compensated by Collective Bias, Inc. and its advertiser. All opinions are mine alone. #ArtOfEntertaining #CollectiveBias The following content is intended for readers who are 21 or older.
Can you believe that Valentine's Day is nearly here? 2015 is flying by already and I'm not mentally ready to say hello and goodbye to another holiday already! Do you go out on Valentine's Day or stay at home? I've actually never been out at a restaurant for Valentine's Day before! We've always just had the kids, and most years finding a babysitter on February 14th is just about the most difficult evening of the year to do so! We've always just chosen to stay in and celebrate with some wine and the pick another night in February to go out.
That doesn't mean we don't celebrate though. In fact that's quite the opposite – I've always tried to make the evening special, and I do it on more nights than just Valentine's Day! I think it's really important to have a date night in every now and then. Ideally it would once a week, but even once a month is better than nothing at all.
When we have a date night at home I do two things. A.) Make the kids something fun and special for dinner and then B.) Put them to bed before we eat our meal. Family dinners are always important to us and we eat meals together 99% of the time, but when we do have a date night we split it up. Wayne and I will still sit with the kids and have a snack, but won't begin preparing our meal until after they've gone to bed.
Often times when I plan a date night in I'll have a meal plan (one of my favorites has always been a bacon wrapped filet Mignon!) but other times I'll create an array of snacks and appetizers for us to nibble on and enjoy and have a wine tasting party for two in the living room.
Last week we did just that and paired some tasty treats while pouring three different varieties of Estancia Wine: their Chardonnay, Pinot Noir, and Cabernet Sauvignon.
Whatever you like to snack on is fine really, I'm not going to get into wine pairings too much, because sometimes you just have to made appetizers with what you have around the house already – which is exactly what I did. I had some meats, cheeses, fruit, crackers, nuts, and ingredients for a chocolate mouse and I just threw everything together onto platters and set them out for us to enjoy. The most essential part of the evening is the wine and ambiance!  Light some candles, turn some classy music on, and really try to re-create the atmosphere that you might find in your favorite restaurant – you want to enjoy every moment of the evening.
I wrote out little menu cards and placed them in Estancia Wine corks by carefully cutting into the cork part way. I also took out our fold up table and used two large white sheets (that I only use for props and tablecloths) and positioned them so they weren't perfect – so they were loose and flowing.
The anti-pasta platter was easy to create. I sliced some Romano and Parmesan cheese, cubed some Colby and Swiss cheese, and placed them with grapes, a roasted pear, salamis, roasted sweet peppers and placed some nuts in the center.
Next I made some prosciutto wrapped asparagus with a mustard whip to dip them in, and did something I've never done before – grilled them on the waffle iron! Here's what I did:
What you need:
Fresh Asparagus
Oil
Prosciutto
Course ground sea salt
Black pepper
Red onion (optional)
1 ounce of Dijon mustard
½ cup of sour cream
Pre-heat the waffle iron (you can also just grill them if you'd like!) Snap the asparagus so that it fits into the waffle iron. Grill Red onion if desired. Place asparagus onto grill and drizzle a small amount of oil onto them. Grill For 5 minutes, turning them every minute so they cook evenly. Sprinkle with salt and pepper, and then wrap a slice of prosciutto.
To make the mustard whip, I used Dijon mustard, but you can use whatever flavor you prefer, and just blend it with sour cream until combined – it makes a tasty little dip that you can use for the asparagus as well as cheese, crackers, etc.
I also made some simple Sweet and Savory Pecans – and all I did was toss pecans with a mixture of chili powder, sage, paprika, salt, pepper, cinnamon, bacon crumbs and an egg and broiled them until they browned!
Then, I used some of the same ingredients that I had on my anti-pasta platter and made little meat and cheese skewers for us and added a garlic stuffed olive on the end. I love finger food!
Lastly I created some seriously easy chocolate mousse, made from some heavy whipping cream and dark chocolate cocoa powder.
What you need:
1 pint of heavy whipping cream
¼ cup of dark chocolate cocoa powder (sweetened)
Pour whipping cream into a large mixing bowl and beat with a mixer until soft peaks for. Pour the cocoa into mixture and fold it in with a spatula until blended. Refrigerate for 30 minutes and then serve! Makes approximately four servings. I also like to top them with homemade whipped cream – it balances out the bitterness from the dark chocolate really well!
And that my friend was our little date night party in a nutshell. I encourage you to surprise your significant other with a wine tasting date night – it's easy to throw together a great way to celebrate and create a memory! Here are a few last minute tips for you:
How to have a wine tasting night at home:
1. Find a brand of wine you'd like and buy a couple wine varieties. You never know what you will fall in love with if you never taste it – then take notes! The most frustrating thing is when you find a great wine and then you forget which one it is!
2. Pick a fun menu or create an appetizer table – just decided on what you will be eating. Set the mood – create a relaxing atmosphere to enjoy yourselves.
3. Find some conversation cards – sometimes with date nights at home it's hard to get your mind off of household things, so keep a box of fun conversation cards to lighten up the evening.
4. Look online for more inspiration. I'm always looking at fellow bloggers ideas, along with the wine company's website to learn more! Often times they will have pairing suggestions or extra tips right there on their site!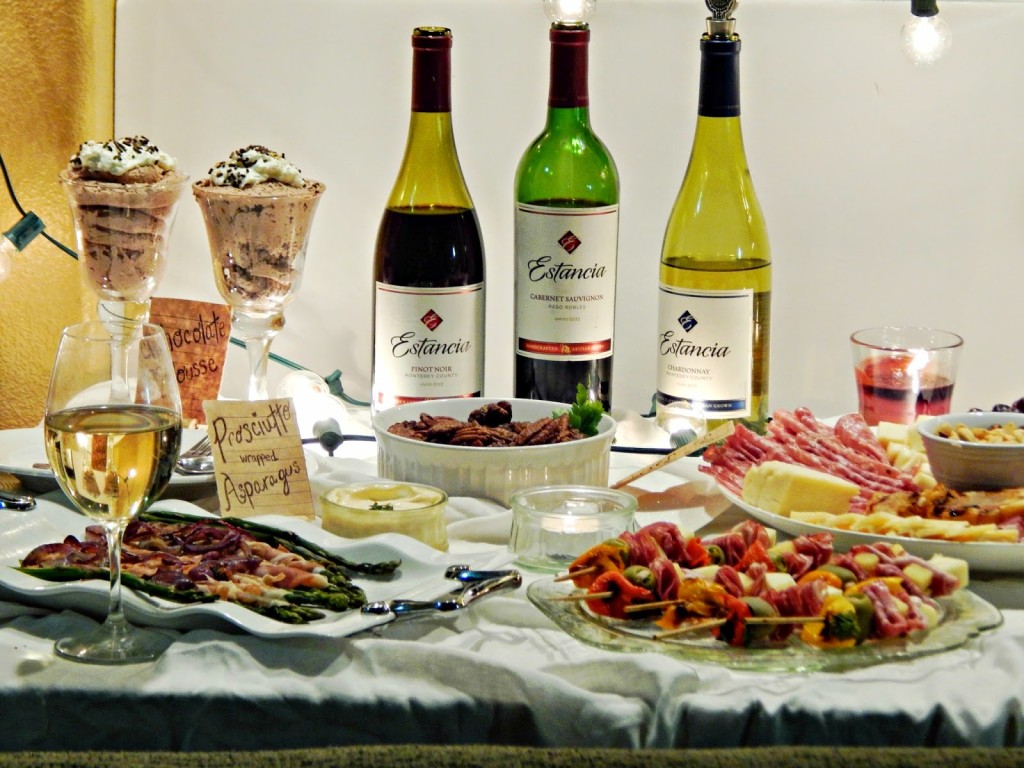 ~Melissa
(Visited 7,651 times, 1 visits today)