This red velvet brownie cupcake shop has been compensated by Collective Bias, Inc. and its advertiser. All opinions are mine alone. #RedVelvetLove #CollectiveBias
As promised yesterday – the recipe that Anika and I created – red velvet brownie cupcakes! We love to take a recipe that we already have used, then change it up and make it our own. For this particular recipe we changed the chocolate morsels, opting for dark chocolate instead of milk, we used coconut oil, and then used a red velvet flavoring along with M&M's®Red Velvet candies – we pretty much-changed half of the old recipe I had originally written down from some magazine article years back. 🙂
Anika wanted to help make something that was "her very own" creation to give her friends on Valentine's Day this year. That's why we spent the afternoon brainstorming together different ideas that she could do. We ended up making the brownies, and then placed them in individual bags and topped them with a variety of different icings, sprinkles, M&M's® and more. We then tied each brownie up with some curling ribbon. It was a very successful (and delicious!) practice run. I think it's going to be a great homemade gift to give her friends this Valentine's Day.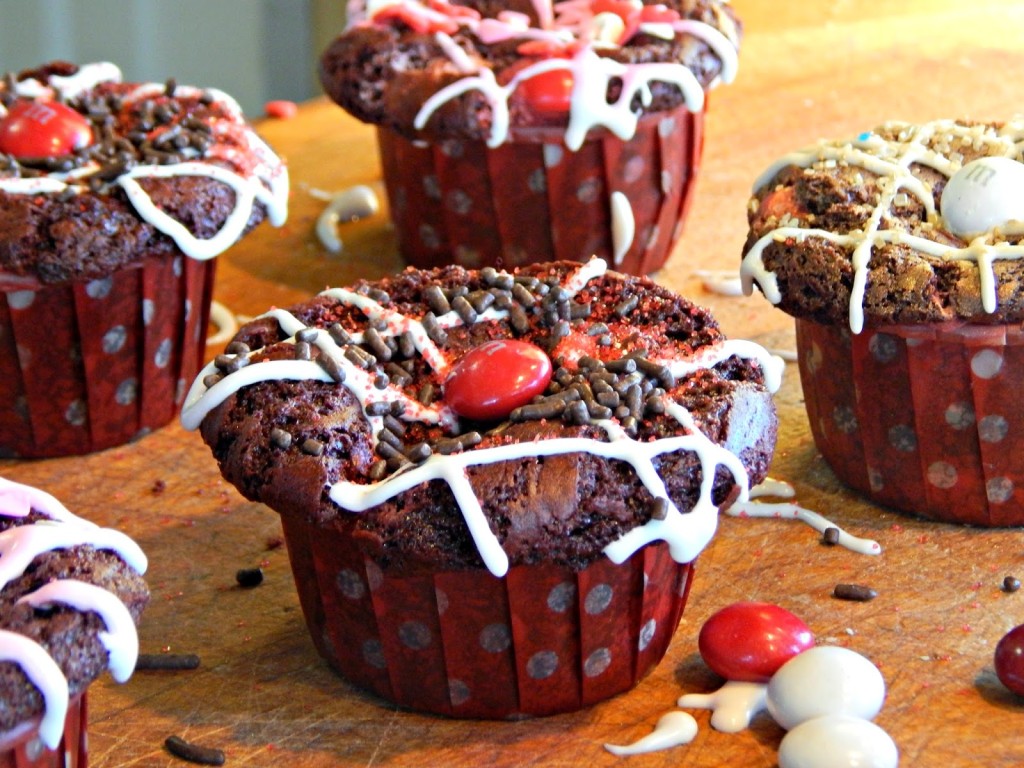 The recipe below will make about two dozen brownie cupcakes. You can easily double it (or cut it in half) to adjust the amount that you will need.
Red Velvet Brownie Cupcakes
Ingredients
1 ½ cups of flour

1 tsp of salt

½ tsp baking soda

1 ½ cups of sugar

1 cup of coconut oil (in liquid form)

2 tsp of Red Velvet flavoring

4 eggs

2 cups of dark chocolate chips, melted

2 cups of M&M's® Red Velvet candies

24 cupcake liners

Clear treat bags

Curling ribbon

Variety of M&M's®, sprinkles, candies, and icings to

top
Instructions
To begin, preheat the oven to 325 degrees.
In a large bowl, add the flour, salt, and baking soda until combined and then set aside.  In a separate bowl, mix the eggs, sugar, oil and red velvet extract until smooth. Slowly add into the dry mixture until completely mixed.
In a small bowl, melt the dark chocolate chips in the microwave, stirring every thirty seconds until they are melted. Slowly pour into the batter and mix. Add M&M's® Red Velvet candies and then spoon mixture into a paper lined cupcake pan.
Bake for 30-35 minutes and then allow the brownies to cool completely over a wire rack.
Then, have fun! Drizzle the brownies with icing, food color spray, sprinkles, and candies – whatever you'd like! Then place the brownies into individual bags and add a few more M&M's® for treats before sealing the bag with curling ribbon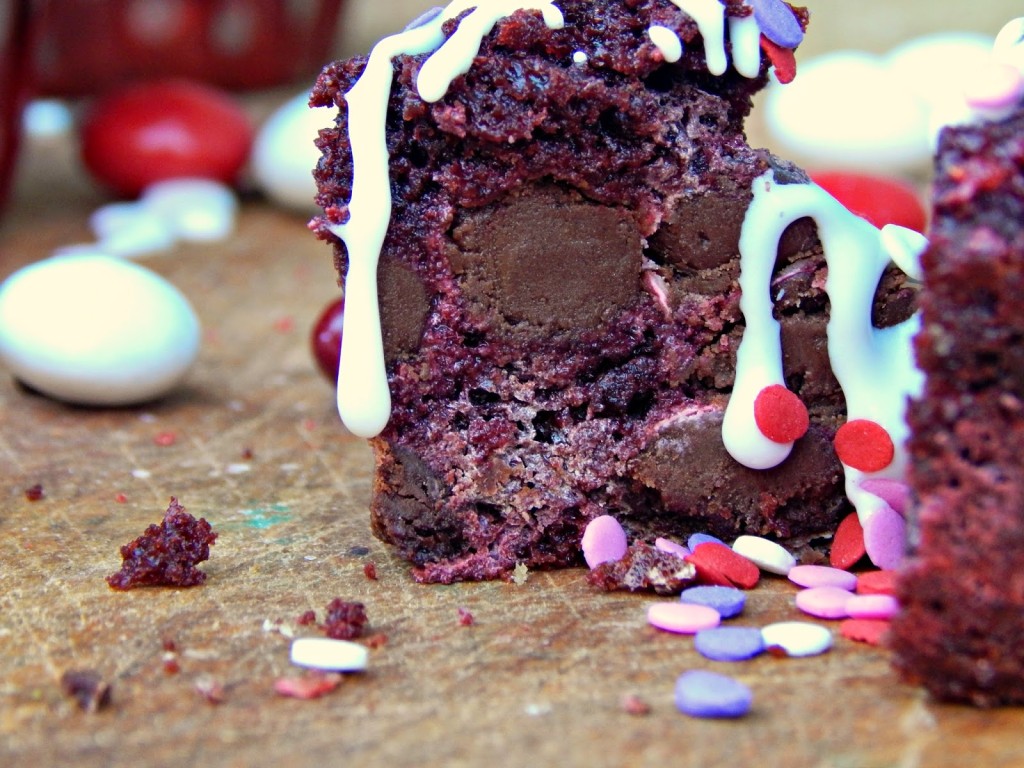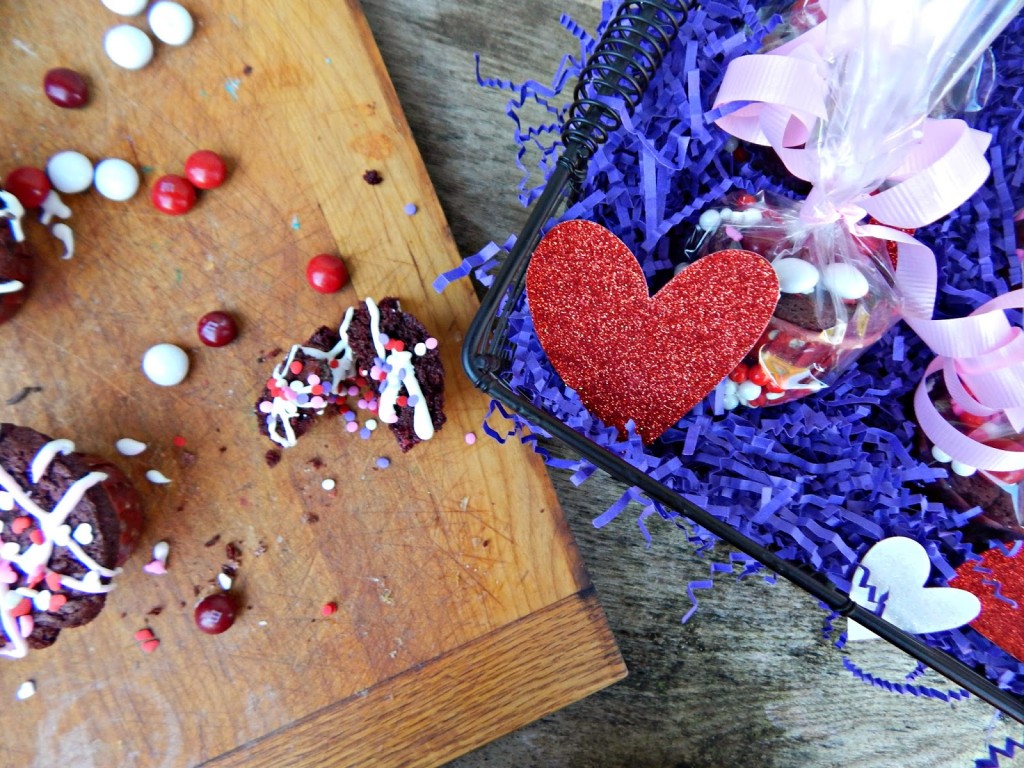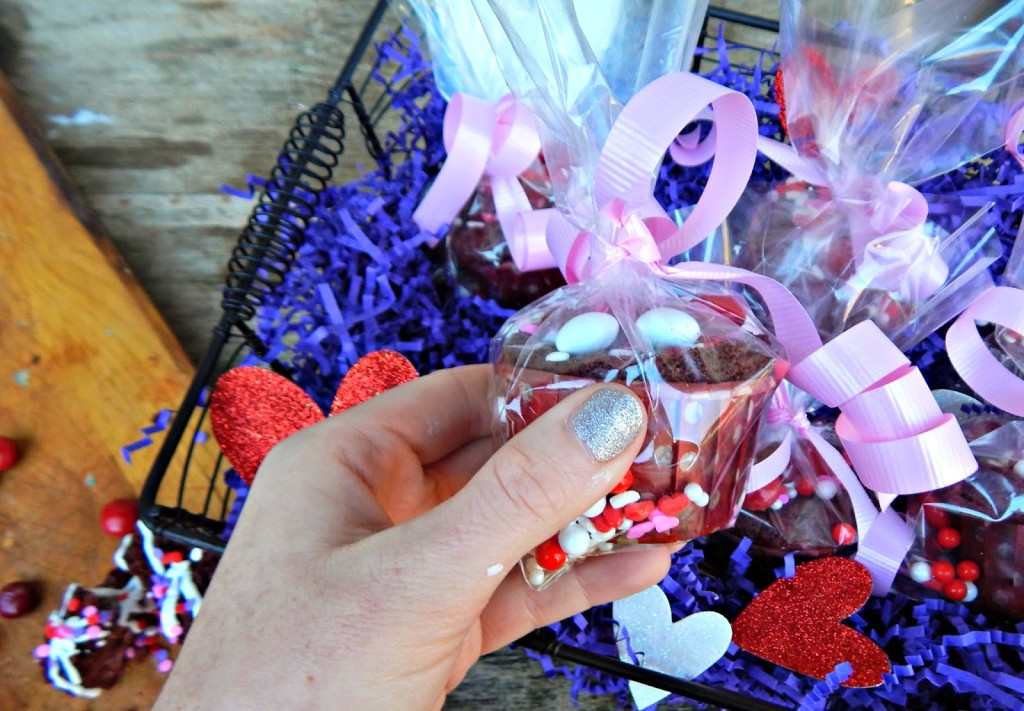 You can find the M&M's® Red Velvet candies as well as original M&M's® at Walmart in the candy aisle as well as the Valentine's Day aisle and displays!
For more M&M's® Red Velvet inspiration, be sure to visit the Red Velvet Love Recipes page.
See more great M&M's® Red Velvet recipe and party ideas at myconfectioncorner.com/valentines-day where you can also download a coupon to save on your M&Ms ® purchase.
~Melissa
(Visited 621 times, 1 visits today)