I am a member of the Collective Bias® Social Fabric® Community. This shop has been compensated as part of a social shopper insights study for Collective Bias and its client.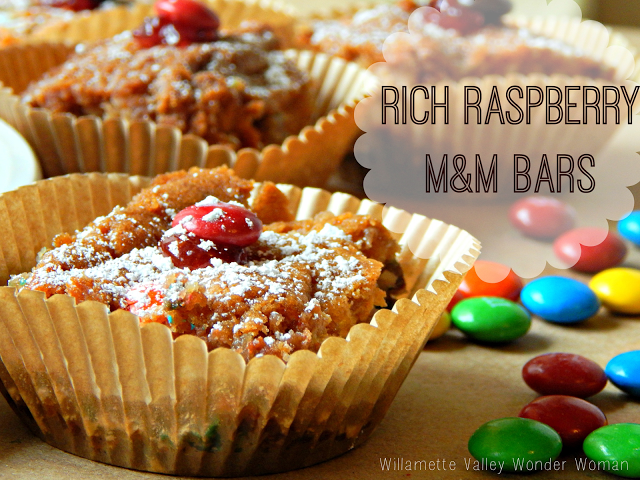 Every year my work picks a certain age group of medically ill children to donate toys to. These kids are children that most likely will not be at home for Christmas, but in the hospital. This year it was decided that besides toy donations, we were also going to hold a bake sale at my work and all the money earned would go towards purchasing toys as well, that way everyone could have a chance to contribute.
Well, a few of us are a little competitive when it comes to things like that and so we all were probably racking our brains to come up with some creative delectable treat – and I came up with these: Rich Raspberry M&M Bars. I have always loved baking with M&Ms because they are so versatile, and don't melt all over the place while you're trying to cook!
Of course, leave it to the wonder woman to wait until the last minute and I found myself running to Walmart after working swing shift Wednesday night to buy the key ingredient! All morning long yesterday I mixed and baked and made my treats for the bake sale. I think they turned out pretty good, so here's the recipe if you'd like to try:
What You Need:
Ingredients:
2 cups of packed light brown sugar
1 cup of butter, melted
2 eggs
2 tsp. vanilla extract
2 cups flour
1 tsp. salt
1 1/3 c M&M's
1 cup raspberry preserves
Powdered sugar
Directions:
1. Heat the oven to 350 degrees and grease a 9×12 inch pan.
2. Mix brown sugar and melted butter together, then beat in eggs and vanilla.
3. Add flour and salt. Then add 3/4 cup of the raspberry preserves to the mixture and mix until well blended.
4. Stir in 1 cup of M&M's until blended. Pour mixture into pan.
5. Using a spoon, take the rest of the raspberry preserves (1/4 cup) and drop onto mixture, about one inch apart. Then using a toothpick drag across the top of the batter up and down to spread the preserves out. Then pour the remaining 1/3 cup M&M's on top.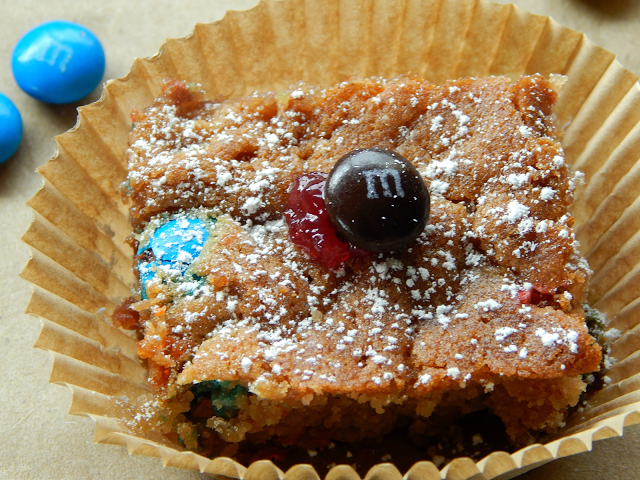 6. Place in oven and bake for 40-50 minutes until golden brown on top and a toothpick inserted in the middle comes out clean.
7. Let Bars cool then cut into squares and dust with powdered sugar.
Enjoy!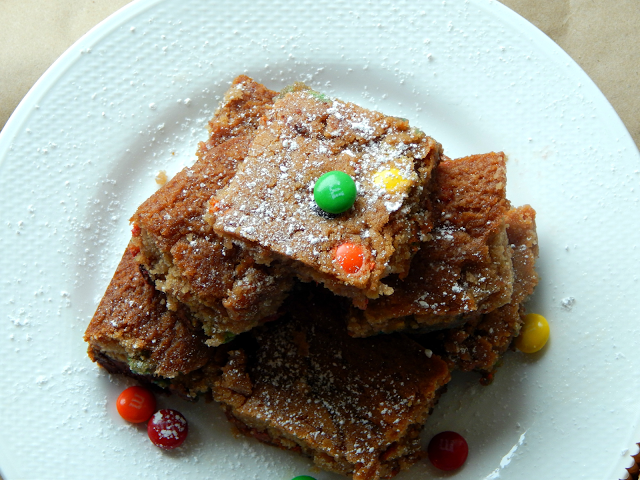 ~Melissa
(Visited 180 times, 1 visits today)