I am a member of the Collective Bias® Social Fabric® Community. This shop has been compensated as part of a social shopper insights study for Collective Bias and their client.
I have to admit, I'm not much of a fish person. I just don't care for the taste. I do have two exceptions though, smoked salmon and tuna. I guess that's because they are less "fishy" tasting to me! Normally I'll have a can or two of tuna in my pantry just in case I run out of lunchmeat or peanut butter for a quick sandwich at lunch for the kids. A couple of weeks ago I spotted Ocean Naturals Premium Wild Caught Tuna at Walmart and decided to switch to their brand. Their tuna is 'responsibly caught' which I am all for – and the price wasn't really any different then what I had been paying. You can even find out more on where your specific tuna can came from if you enter the code found on the can HERE
Well, this is where my two worlds collide. My strive for creating quick, flavorful good-for-you
meals – and my lack of enthusiasm for most things tuna. (Did I mention I personally am not a fan of mayonnaise either? That pretty much is included in most tuna recipes I know of)..
Well, I was going to make a stir fry and forgot I had run out of chicken in the freezer. I had steak, but it was frozen solid and I needed to get dinner done quickly.
So a light bulb went off in my head as I remembered the two cans of tuna I had in the cupboard and that's when I created stir fry tuna.
And oh my gosh…it was good. Plus it was good for us. The tuna has 90mg of Omega 3 Fatty acids, and 15 grams of protein per serving. I never would have even thought it was canned tuna I was eating if I hadn't made it myself because it tasted so fresh!
Ingredients:
2 cans of Ocean Naturals Premium Wild Tuna
1 cup of carrots, julienned
1 cup of mini sweet peppers, julienned
1 cup of sweet onion, julienned
1 cup of snap peas
1 can of baby sweet corn (8oz)
1 can of sliced water chestnuts (5oz)
1 package of stir-fry sauce
4 Tablespoons of olive oil
Optional: Wild Blend Rice
Directions
1. Open baby corn and slice into 1/2 inch pieces. Open water chestnuts and drain.
Open tuna and drain water.
2. In fry pan pour 1 tablespoon olive oil and brown tuna. Remove from heat.
3. In deep fry pan or wok, sauté vegetables with 3 tablespoons of olive oil until lightly crisp – approximately 10 minutes. Add tuna.
4. Pour in stir fry sauce and mix together.
5. Serve with wild rice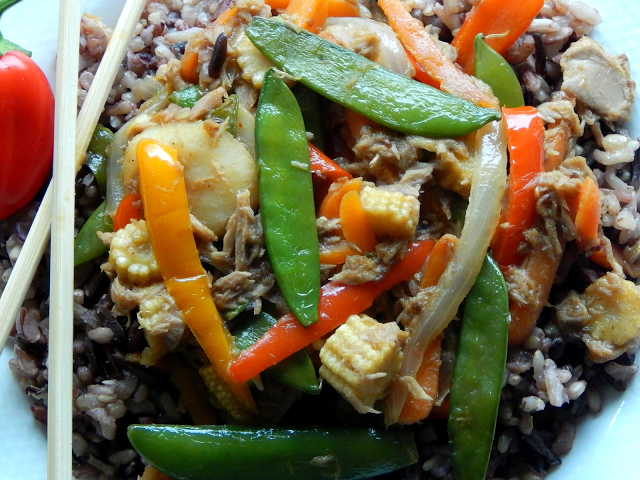 You should try it and tell me what you think! It's pretty tasty, and healthy too!
If you like Ocean Naturals on Facebook on Tuesdays they have giveaways to win free product too!
~Melissa
(Visited 225 times, 1 visits today)