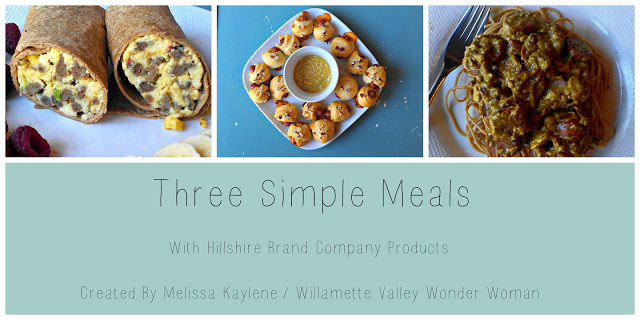 Today I'm going to share three simple meals for you. Life as a mom to three growing kids means there aren't very many dull moments around here, and some weeks are definitely more chaotic than others.
This week is one of those weeks.
I'm working a couple of night shifts, have to plan the agenda (and attend) our PTO meeting, Noah has a dentist appointment, and of course, I'll put on my chauffeur hat to take the little ladies to and from their soccer practices and games. To top it all off I'm letting the girls each have two friends over Saturday for a slumber party!
Knowing what this week entailed, I sat down Sunday evening like I usually do to plan out a meal menu and weekly shopping list. Planning ahead not only cuts down on prep time but also the temptation to grab food that we can't afford and isn't healthy.
I did my weekly shopping trip to Safeway in between preschool drop off and kindergarten pick up. They just happened to have Hillshire Brand products on sale with their Just For U program right now where you can Save $3 if you buy 3 products. If you know me, you know I love a deal, so I grabbed three items that I knew would come in handy this week to prepare three simple meals.
Most of the time breakfast is a rushed event in the morning, so I always keep breakfast bars or homemade breakfast burritos on hand. I often make up a big batch of them and freeze them for a week so we can have some ready to go.
Three Simple Meals :
Turkey Breakfast Burritos
Ingredients:
8 large eggs
1 cup Jimmy Dean Fully Cooked Turkey Sausage
2 Tbsp. green onions
1 small Roma tomato
1/2 cup whole milk
3/4 cup cheddar cheese
1/4 tsp. minced garlic
1/4 smoked Gouda cheese (or your favorite kind)
4 whole-wheat tortillas
Pepper and Salt (to taste)
Whisk eggs and add milk. Stir in the sausage, onions, tomato, garlic. Pour into greased sauté pan and cook over med. heat until eggs are scrambled. Add cheese and mix well. Warm tortillas one at a time over the sauté pan so they will fold well. Scoop in egg mixture, roll up and enjoy!
Makes 4 burritos.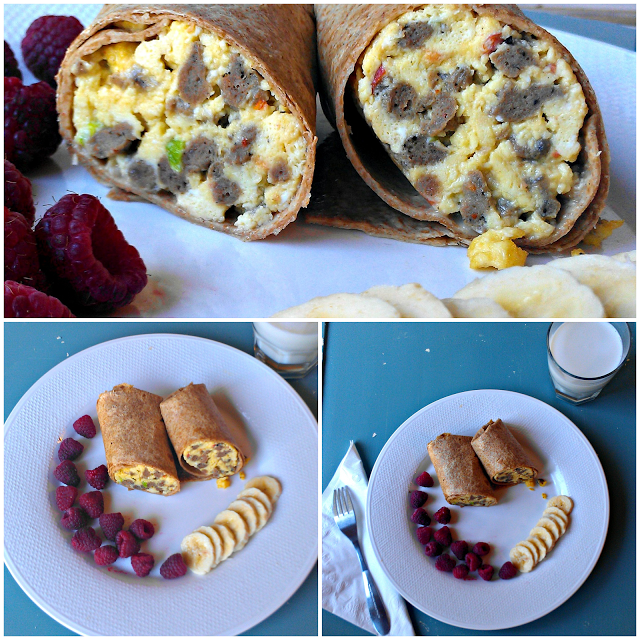 Both Emma and Noah are home in time for lunch, and one of their first requests are my Hillshire Farm Lit'l Smokies roll-ups. They never last long around here and I can even get them to help me make them!
Lit'l Smokies Cheddar Roll-Ups
Ingredients:
1 package Hillshire Farm Cheddar Lit'l Smokies
1 package refrigerator crescent rolls
24 .5″ x 2″ slices cheddar cheese
1/4 chopped almonds
Preheat oven to 350 degrees and grease cookie sheet. Unroll crescent rolls and slice each piece lengthwise into three pieces. Place a slice of cheddar cheese and Lit'l Smokie on and roll-up. Top with almonds.
Cook for 12-14 minutes or until roll-ups are slightly browned. Serve with your favorite dipping sauce or mustard for lunch or appetizers.
makes 24 roll-ups.
Lastly, the dinner dilemma. It seems like it gets here quicker everyday, but with a few simple ingredients I can make a nice meal that appears to have taken all day. The trick is using meat that is pre-cooked and flavorful!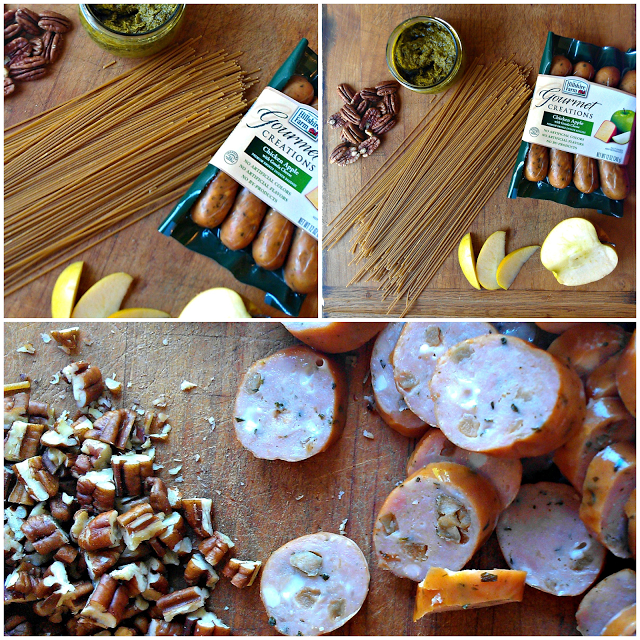 Chicken Apple Pesto Pasta
Ingredients:
1/2 lb. whole wheat spaghetti noodles
1 pkg Hillshire Farms Gourmet Creations Chicken Apple with Gouda Sausage
1 small apple
1/4 cups chopped pecans
1 cup heavy cream
3 Tbsp. Flour
1 Tbsp. Butter
1/4 cup pesto
Boil noodles until al dente; drain. Slice Sausage and peel/dice apple. Melt butter in a pan over medium heat and add Sausage, apple, and pecans. Add pesto and mix well. In a small bowl pour flour and just enough water to make a thickener (it should be the consistency of pancake batter, still able to pour). Slowly add flour mixture to pesto sauce and mix well until thickened. Take off of heat and spoon onto pasta and enjoy!
And those are thee simple meals that I make for my family during the busy week. The Hillshire Farm website also has some great recipes to inspire your creativity, and if you'd like to get the Just For U promotion at Safeway, simply sign up here. The Buy 3 Save 3 deal is available through 10/19!
Do you have any simple meals you prepare for your family that your kids absolutely love? I'd love to hear about them. 🙂
~Melissa
Follow Hillshire Farm on Facebook and Twitter for more great ideas!
(Visited 160 times, 1 visits today)