I am a member of the Collective Bias® Social Fabric® Community. This shop has been compensated as part of a social shopper insights study for Collective Bias and its client.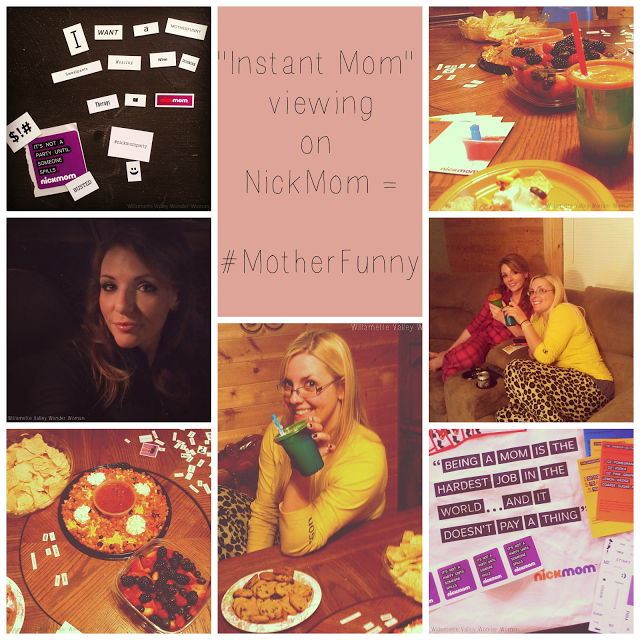 It had been way too long since I had the chance to catch up with my best friends. Being the busy moms that we are, our schedules always seem to conflict so our kid-free time together is few and far between.
I was determined to change that.
So I sent a little message out and told my two besties that its time! After all kids were tucked into bed last night we got together and snuck out the chips, cookies, and mommy beverages that had been carefully stowed away and threw on the comfiest clothes we could find!
We chatted and filled each other in with each of our life's chaos and then settled down to check out a new show on NickMom called Instant Mom. NickMom is what Nick Jr. magically turns into once the kids go to bed! (10 pm EST)
Instant Mom is a lighthearted comedy with Tia Mowry-Hardict playing the part of a young woman who marries an older man with three children, thus becoming an Instant Mom. As moms you know how hard it is and how many mistakes we've had raising our kids since birth, so the show gives you some great laughs as her character is thrown into learning how to parent kids that are old enough to pull out all those great manipulation tricks that kids have perfected! Instant Mom got us thinking about all of those things our kids say and do that in the heat of things aren't funny, but looking back is kind of hilarious!
What are some of your funniest mom moments?
NickMom airs new episodes of Instant Mom every Sunday, and re-runs them every night so you there will always be something to watch if you need a good laugh!
Thanks, Jessica and Carolyn for having a #motherfunny evening with me! 🙂
~Melissa
(Visited 203 times, 1 visits today)