This shop has been compensated by Collective Bias, Inc. and its advertiser. All opinions are mine alone. #CerealAnytime #CollectiveBias
Happy spring everyone! I hope you had an amazing weekend. This week the kids are all home for spring break and for the first time in quite a while I don't have any plans set up. I think between work, school schedules, and getting this site back up and running I kind of let it slip past me. I guess it looks like we'll be having a stay-cation. 🙂 We have plenty of things around here to keep us busy – from pools and park, movies and board games, cleaning up around the house and creating new recipes, I'm sure we won't get bored.
A couple of days ago I stopped at our local Wal-Mart and picked up some snacks and special foods for the kids this week. I grabbed some Berry Colossal Crunch cereal as well as Kung Fu Panda Power Crunch cereal. The kids really fell in love with the movies and I thought it would be fun to make a treat out of the cereal. In our household cereal isn't just for breakfast – you can have cereal anytime.
I was watching a food show several months ago and one of the chef's made a whipped cream and had infused cereal flavors into it. Ever since then I've really wanted to try to recreate that, so to start our spring break off right we decided to give it a try, and ended up making mini cereal muffin bites and homemade cereal flavored whipped cream. The kids went crazy over it! They turned out delicious! We used the Kung Fu Panda Power Crunch cereal, but you could also use the Berry Colossal Crunch cereal too.
Cereal Flavored Whipped Cream
What you need:
2 cups of heavy whipping cream
2 cups of Kung Fu Panda Power Crunch cereal
2/3 cup of powdered sugar
The first thing you need to do is soak some the cereal in heavy cream. Add the cereal and place it into the refrigerator for an hour to absorb the cereal flavors.
While the cereal is soaking, make the muffins.
After an hour, drain the cream from the cereal and discard the cereal. Add the powdered sugar and beat with a mixer until soft peaks form.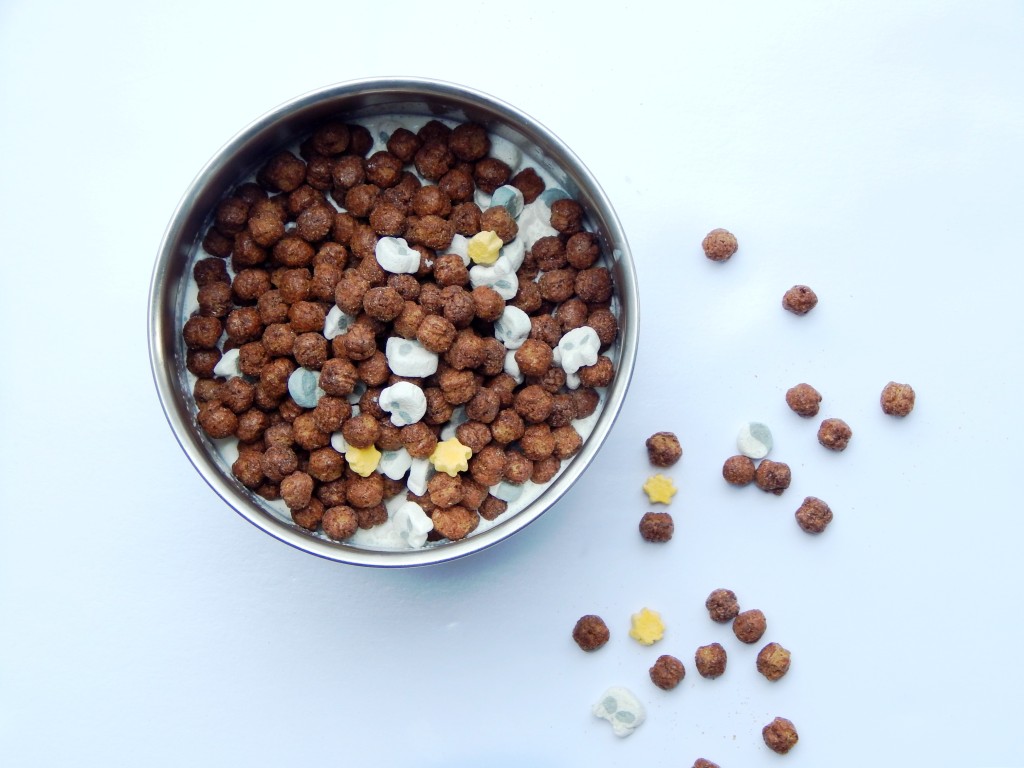 Kung Fu Panda Power Crunch Cereal Muffins
What you need:
2 Cups of flour
1/2 teaspoon of salt
1 tablespoon of baking powder
2 eggs
1 cup of sugar
1 cup of milk
1/4 cup of butter, melted 1 cup of crushed Kung Fu Panda Power Crunch cereal
Cream butter and sugar in a small mixing bowl. In a separate bowl, combine the flour, salt, and baking powder. Add the butter and sugar mixture, eggs, and milk and mix well.
Place the Kung Fu Panda Power Crunch Cereal in a zipped bag and then crush with a hammer into small pieces. Add to the batter.
Pour into paper lined mini cupcakes.
Place in the oven at 350 degrees and bake for 20 minutes.
Cool on a cooling rack.
Top with cereal whipped cream immediately before serving.
Makes approximately 4 dozen mini cup cakes.
They turned out adorable but unfortunately didn't last but a day in our house. I guess we're going to have to make another batch this week and try them with the Berry Colossal Crunch cereal next time!
All of the ingredients can be found at your local Wal-Mart, and the cereals can be found in the cereal aisles. The Kung Fu Panda Power Crunch cereal is a NEW product available at Wal-Mart so definitely check it out! Before you head out shopping you can also download a coupon from the Ibotta app HERE so you can save .50 cents off of your next Post cereal purchase.
What plans do you have going on this week?
~Melissa
(Visited 898 times, 1 visits today)