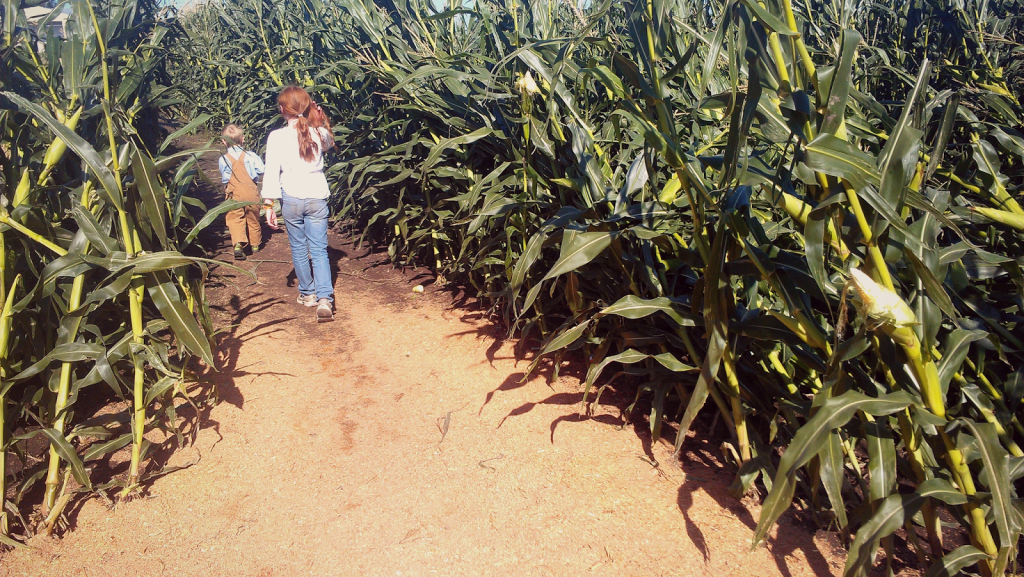 It's almost that time of year again! Pumpkin Patch season as we call it in my house. Every October the kids look forward to hayrides, pumpkins, and of course, corn maizes. We usually go to at least two different ones every year – we have our old favorites, plus we like to "test out" new ones to see how we like them, and this year we will be heading up to the big one. Portland's Pumpkin Patch.
Here's a little more info if you aren't familiar with it:
Portland's original cornfield maze celebrates its 15th season at The Pumpkin Patch on beautiful Sauvie Island in Portland, Oregon. Fifteen years ago, Craig Easterly, founder of the original corn maze, brought his weird idea to Sauvie Island's famous Pumpkin Patch and it soon became a fall tradition. The MAiZE attracts 30,000 eager explorers annually to the giant labyrinth of field corn, located just fifteen minutes from downtown Portland. Portland's premier agri-tainment attraction, The Maize and The Pumpkin Patch, have combined the local food movement with down home fun on the farm.
Right now you can get a jump start and print out a coupon to save $2.00 off of your ticket (up to 4 tickets per customer!)
Save $2 off of The Maize at The Pumpkin Patch
HERE
"Keeping Portland Lost Since 1999" Maize
September: 
Open every day: 10 a.m. to 6 p.m.
October: 
Sunday through Thursday: 10 a.m. to 6 p.m.
October: 4-5, 11-12, 18-19, 25-27, 30- 31 10 a.m. to 10 p.m.
Open Sunday, Oct. 27, Wednesday, Oct. 30 and Thursday, Oct 31 until 10pm
Can't wait to share photos from our adventure with you!
~Melissa
Full Disclosure: I was given a family pass to The MAiZe at The Pumpkin Patch in exchange for sharing my review with you. No other compensation was received. If you are interested in working with me please email me at MelissaKaylene@Gmail.com 
(Visited 110 times, 1 visits today)