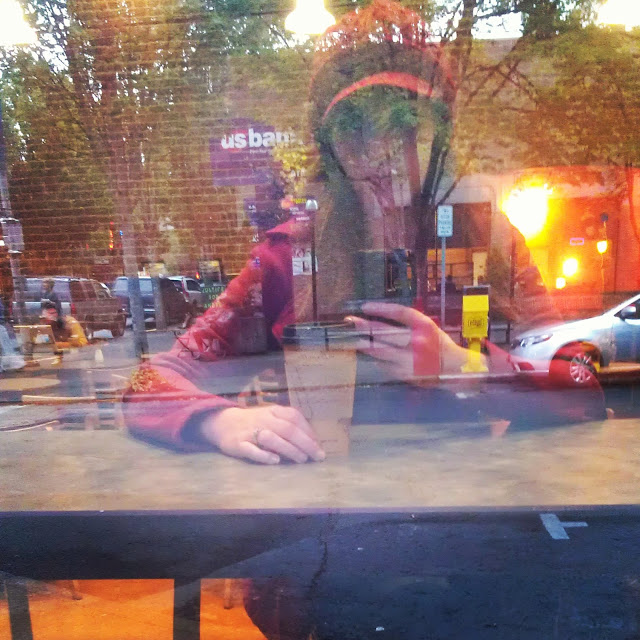 Just some reflections from another busy week of transitions.
This photo was taken two days ago while I waited for Anika in an appointment. The beginning of September and yes, I was wearing a hat and coat with a high of 62 degrees. It poured that afternoon. But this upcoming week the forecast says it will be back up to the 80's, possibly 90's…what can I say? Gotta love Oregon.
The beginning of last week I slowly recovered from our
summer BBQ
that we held Labor Day weekend. You know how you get that adrenaline rush that keeps you going and then when its all over and all the company leaves that everything just hits you? That was me on Monday.
Anika started school this past Wednesday, and Emma started Thursday. I'm so pleased to see them both happy and excited to be back in school. I think that Anika has what could be the best teacher she has ever had (my fingers are crossed). You know, it goes a long way to have a teacher all ready to go the first day of class, calm, prepared, and introducing himself to students and parents and shaking hands, as opposed to running around in class like they don't know who they are or what is supposed to be happening.
First impressions mean oh-so-much.
He appears to have everything thought of and organized. His class is like a little town, and has its own currency, jobs (which you have to apply for and interview for) and you must pay rent on your seat and chair. He teaches the kids how to handle money, and they have to "clock in" every morning on some app that gets sent and logged into his Ipad. And all the 5th graders get in class Ipads as well.
And it gets more exciting.
Her teacher has a Blog.
She says, "Mom, he has a BLOG for our class. He updates it and we get to go online and check it…it's so cool."
I think we have another little blogger in the making 🙂
This year is going to be a fun-filled busy one. One daughter in her last year of Elementary school, the other in her first year; and my little Noah is now officially a preschooler. Anika is trying Band, and both the girls are starting soccer in a week.
I love fall.
~Melissa
(Visited 59 times, 1 visits today)