The Bite is Coming.
Have you ever attended The Bite of Oregon before? It's a fun event held every year at the Tom McCall Waterfront Park in Portland, and it benefits the
Special Olympics of Oregon
.
What is it exactly? It's a collaboration of delectable food and drinks from some of the best restaurants, wineries, and breweries around. The Bite has something for everyone and I guarantee you will find something that pleases you palate! There is also a variety of entertainment including two live stages, a kids area stage, and an Iron Chef competition.
This year is The Bite of Oregon's 30 celebration, and with an average of nearly 50,000 attendees each year, The Bite is definitely the place to be on August 9-11th!  This year there is also a new event going on called Oregon's Bountiful Table, which brings Farm to Table food to a new level as attendees can actually meet the farmer, rancher, and fisher who grew, raised or caught the food which was prepared!
 My husband and I were lucky enough to drive up for the afternoon a couple years ago, and I'm excited to head back this year and share our adventure with you!
To find out more information on this culinary event, including times and prices, check out their website:
Come on out, have some fun, and help benefit a great organization!
~Melissa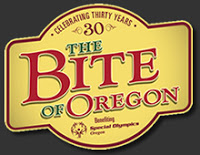 full disclosure: I have been gifted admission tickets in exchange for this post and any related posts. All opinions are my own.
(Visited 232 times, 1 visits today)