Looking for a cocktail that has plenty of fresh fruit flavors? Try this: a mango blueberry 'smoothie' cocktail. Read below to find out more!
Like I mentioned in this post here, I enjoy dabbling in the art of mixology
. Even though I'm just an amature myself, I find it fun creating different basic flavor combinations. One day I hope to expand my knowledge and start crafting with more intricate flavors, but for now I'm having a lot of fun doing this.
I wanted to make a fruity cocktail the other day, so I went into my freezer to see what fruits I had leftover. I always keep a variety of berries in my freezer as we try to go picking every summer. In the willamette valley there are lots of blueberries grown, so I usually have plenty of those. Blueberries are also easy for kids to help pick as there aren't any thorns.
I pulled out some blueberries, found some mango chunks, and decided that those two flavors would make a great smoothie cocktail. After allowing the fruit to defrost, I used my blender and quickly whipped up this drink. The recipe makes enough for two cocktails.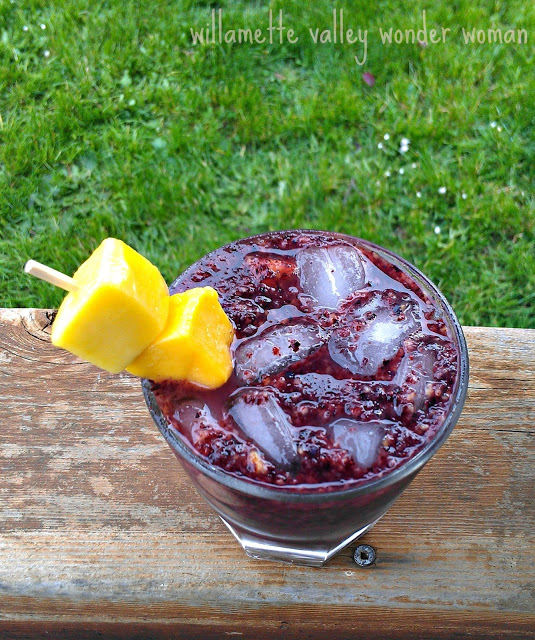 Mango Blueberry "Smoothie" Cocktail
Ingredients
1 oz blueberries

1/3 cup mango chunks

1 oz triple sec

3 oz vodka

1 Tbsp fine sugar

ice
Instructions
I used defrosted frozen blueberries and mango. Place first 5 ingredients in blender and blend until smooth. Pour into chilled glass with ice and garnish with mango's.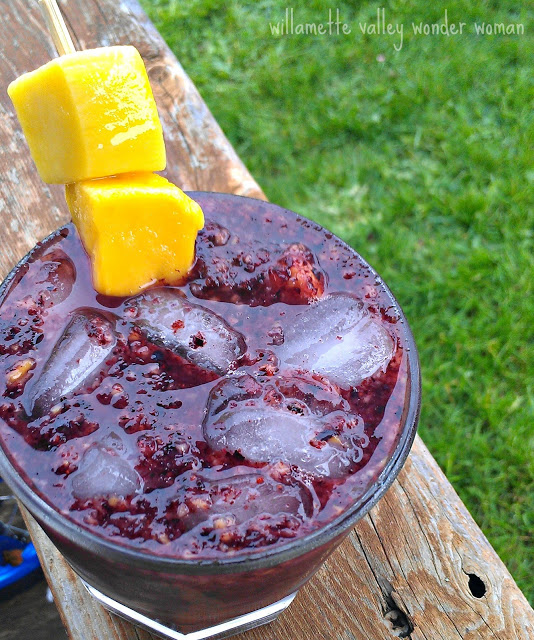 Have you made any fruit smoothie cocktails before? What are your favorite flavor combinations?
(Visited 1,116 times, 1 visits today)