Hey everyone! It seems like forever since I said hello on here! After we went camping on the coast for a few days the kids started school and then I flew down to California for a blogging conference. I got home last night and finally sat down to write out everyone's schedules for the next month – mainly Anika and Noah's soccer schedules.
Anika was placed on a competitive soccer team this year, so we're traveling a bit farther than I'm used to for games. Half of her games this season are in the Portland area, and depending on the traffic it could end up being an h and hour and a half one way – and that's quite a bit of time in the car on top of everything else! I think I'll pretty much be on the go for the next eight weeks. 🙂
I've been a customer with AT&T for about 10 years now, and recently they sent me an
LG Tone Bluetooth headset
to help the kids and I stay in touch and connected for the busy back-to-school season, and I love it!
I've never actually owned a Bluetooth headset before (I know, I know ) and after having these I'll never NOT have a Bluetooth set again.It was so incredibly easy to connect to my phone (literally I had to push two buttons) and the talk life on the headphones is amazing – it lasts about 12 hours of talk time before needing to be recharged.
The headphones cancel outside noise very well and are designed to use for active wear and are sweat resistant. The base sits around your neck and the earbuds are retractable. They fit well without tugging or pulling.
Miss Anika is in love with them too – and has begged me on more than one occasion to let her turn on Pandora so she can 'rock out' during homework. 🙂
I'll be sharing a bunch of photos from my adventures soon – stay tuned!
Now through September 24th, at AT&T you can save 10% off on of the LG Tone Bluetooth Headsets.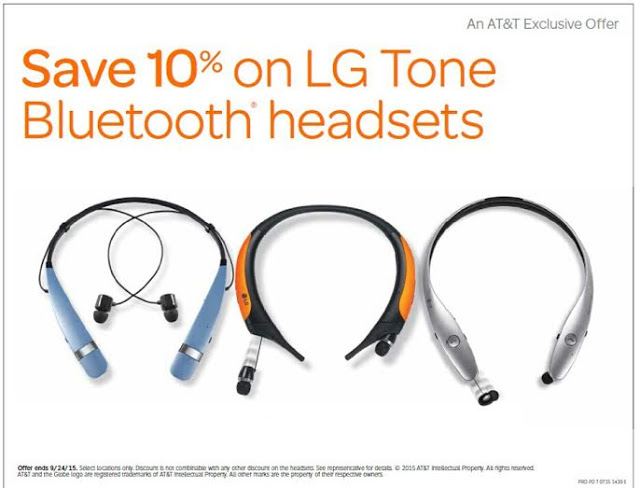 ~Melissa
I was given an LG Tone Bluetooth Headset in exchange for my
review. No other compensation was received. All opinions as always are 100% my
own.
(Visited 245 times, 1 visits today)