Hello! How is it already Tuesday night? This past weekend flew by and I don't know about you, but I'm definitely having a hard time getting into a new routine since school let out. The kids have been very …exhausting the past couple of days! I'm crossing my fingers hoping that they are just all going through a growth spurt and are tired and that everything will even out soon!
Last Thursday we all gathered up and took the kids to the Drive In – where they had a first run double feature, Inside Out and Tomorrowland. We are so incredibly lucky to live very close to a Drive In – but sadly we hadn't been in years! It's normally only opened on weekends, and the lines and waiting can be ridiculously long, and people will seriously sit there and form lines for hours before the shows start, and they will often times sell out. I saw on their Facebook page that they were going to have a special Thursday showing and thought that we had the best chance of fewer crowds – and we were right. It was great and we drove right in and had a good spot. The kids loved it!
Friday – the kids recovered from their late night. 😉
Saturday we spent the day at the ball field – with Noah's t-ball game first and Emma's softball game following directly after. Then we all headed to a birthday party.
Sunday: Father's Day! We stayed home all day and enjoyed some tasty food. Anika made waffles for breakfast – and I made Irish coffee. For lunch we had homemade ham and bean soup that I had cooked, and Anika made corn bread. We made Wayne a snack of one of his favorite appetizers – bruschetta with fresh mozzarella, Roma tomatoes, red onions, and chopped basil with a balsamic drizzle…and of course a little glass of red wine to go with it. 🙂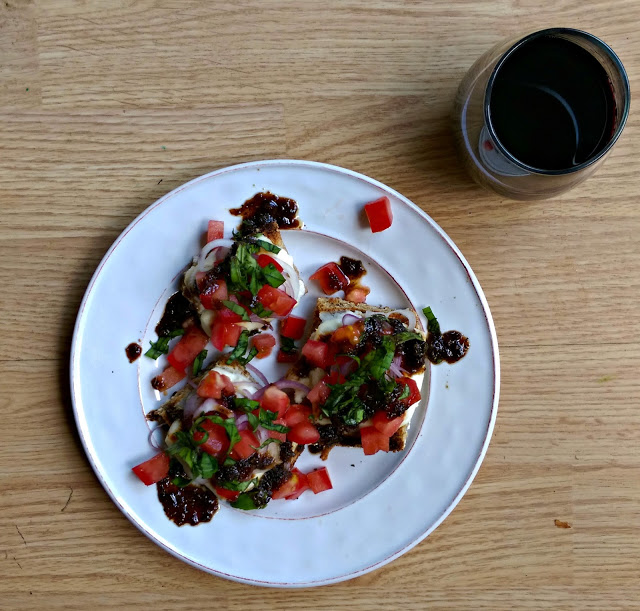 We had dinner out on the patio – I grilled corn on the cob, asparagus, and bacon wrapped pork tenderloins and Anika made brownies that we topped with a pumpkin cream.
Sunday was good.
Hopefully these kids get a good night's rest and the rest of the week goes a little smoother than Monday and Tuesday went!
How was your weekend?
~Melissa
(Visited 126 times, 1 visits today)