Today I've teamed up with Sears to write about something that's going to be here before you know it – school is starting soon! If your kids are anything like mine they are already moaning and groaning about the thought of book reports and story problems, but they are begging and pleading for me to let them do some school clothes shopping! Maybe it's just because they are girls, but they always love getting new clothes and getting to pick them out themselves.
With so many things going on in our lives right now though, I do waqhatever I can to make prepping for back to school time as stress free as possible, and here are some of the ways I am doing just that.
1. Online Shopping: One thing I'm starting this year is more online shopping, especially at
Sears.com.
They always have a great selection of items that my kids actually want to wear (bonus – less complaints = less stress!)
This weekend, Saturday August 9th 6pm – Tuesday August 12th 9am CST Sears is having their Friends and Family sale (or in store Sunday August 10th from 6-9pm )
so we are jumping in and getting started on our shopping.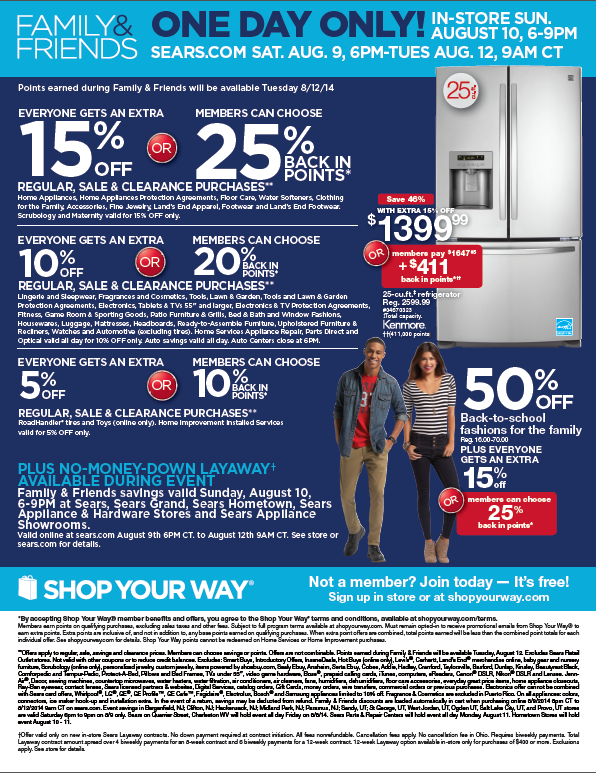 2. Let The Kids Decide: Anika is in love with
Sears Seventeen Fashion collections
, so I let her browse around and pick some of her main outfits – it saves me time plus I know that they are all age appropriate (and affordable! Everything is under $50.00)
3. Have Things Delivered To You: Another thing that's great about online ordering is that you can get it all shipped right to you – but Sears offers another cool thing – in store pick up – so if you are impatient (like we are around here!) you can swing by when you are out and about running errands and pick up your order! If you give them a call they'll even run your order out and deliver it where you are in your car!
4. Free Fashion Advice: Online shopping can be a lot of fun for my little ladies because not only are all of the outfits styled right before their eyes, but Sears.com also has
fun videos
, shopping advice and exclusive apparel. Sears also has a unique social community called
Shop Your Way
where the girls and I can browse products, make wish lists (theirs are a mile long!) and get advice from experts.
In some ways I'm really looking forward to getting the kids back to school and into routines, but in other ways I'm really going to miss the freedom of summer! Have you guys started your back to school shopping yet?
~Melissa
This is a sponsored post written by me on behalf Sears.
(Visited 233 times, 1 visits today)