This shop has been compensated by Collective Bias, Inc. and its advertiser. All opinions are mine alone.
If you follow me on
Instagram
you would know that last week my friend came over and we were working on a 'top secret' project that I wasn't going to share until I was finished.
Well, it's done.
With the help of cool drinks and
anti-perspirant
 (!) I got all of the hard work done and I can officially check one thing off of my summer DIY bucket list!
I created a raised garden in my side yard – and it wasn't quite as difficult as I thought it would be. First I hooked up our trailer and headed into town to get supplies. I decided that I wanted to make the garden 5'x12' and 16" deep. We had to figure out how much soil I would need too, and luckily most of the time if you ask people they will help you figure all of that technical stuff out (since math and me aren't real good buddies). Anyways, turns out 2 yards of soil worked out perfectly. It didn't sound like much – until it filled the whole back of the trailer! The kids loved watching them dump it in.
We then purchased 8 2x4x12's and 8 2x4x8's and the guys at the store were kind enough to cut the 8 footers down to 5 feet for us, which saved us a bunch of time. We already had the screws to assemble the frame, but I did buy some chicken wire to keep all of the random bunnies we seem to have away.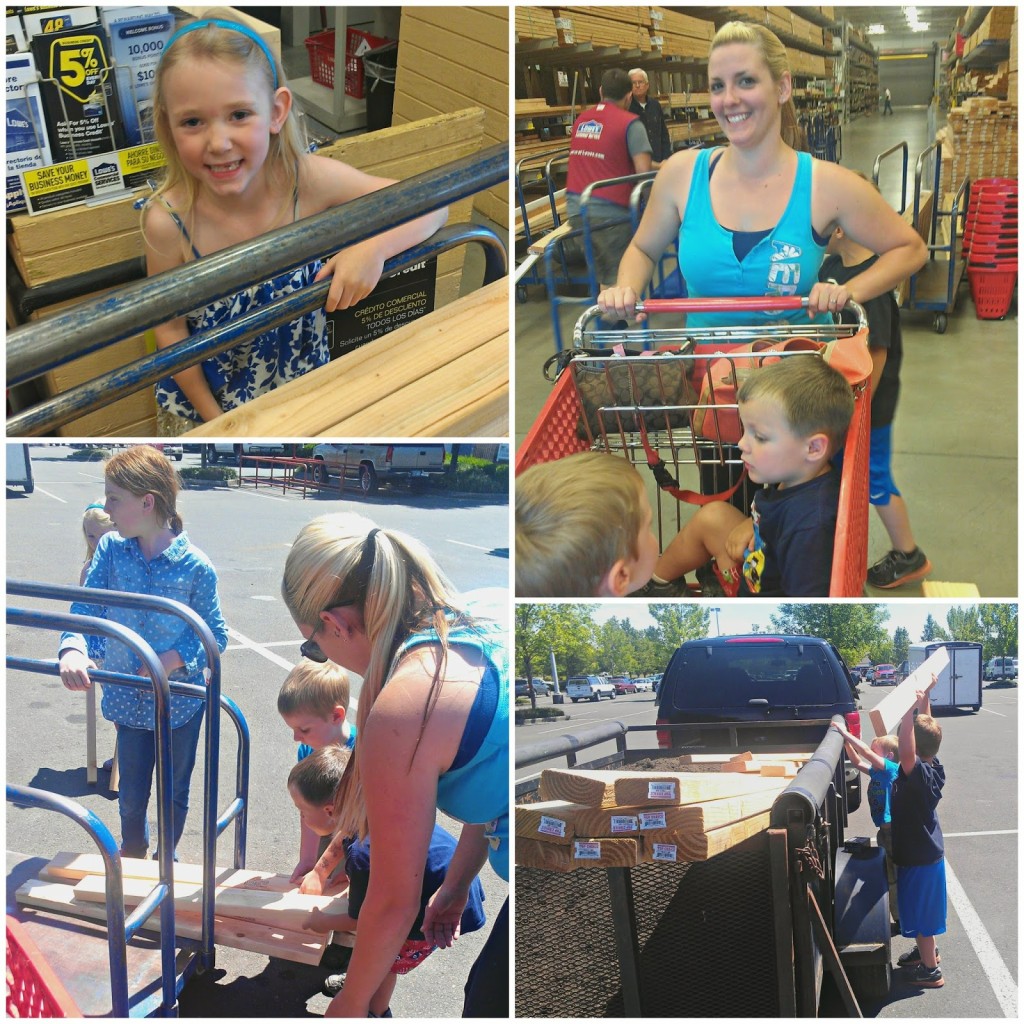 By the time we fed all 5 of our kids and got home it was of course the hottest part of the day! We drank some cool drinks and I was so glad I had my
Tom's of Maine Naturally Dry Deodorant
on because or else I would have really smelled like a
you-know-what.
I love using Tom's products because they have no artificial ingredients, colors, or preservatives.
The first thing we did was make sure the area was level enough (Note: I'm not a professional or perfectionist here) and then we assembled each 5×12 square one at a time, and then positioned them where they would stay. We stacked them as we built them until all four were on top of each other. We then took the 3' scraps we had left from the pieces that had been cut down and screwed each one of them in a corner to connect them all together, along with one on each side in the centers to secure it.
When everything looked right we filled the bottom of the garden with newspaper a couple of inches deep. I read somewhere that it helps to keep the weeds away.Then, shoveling. We live on a hill, so my driveway is an in incline, but I was so proud of myself for backing the trailer up to within an inch of the garden on the first try. (Not shown in photo) I think I may have did a little fist pump in the air. J I spent hours shoveling all of that soil in, and worked until 10:45 that night with the street lights as my guide, you know, just to keep my neighbors wondering.
After day one I came in, cleaned up and sat down exhausted. I don't normally watch too much television, but I do surf the internet probably more than I should, and I remembered I had an Amazon gift card burning a hole in my  online pocket, so I did a little late night shopping and stocked up on Tom's Deodorant – since I have that long DIY list that's going to be forcing me to work in the heat a lot.
The next morning I finished shoveling dirt, then painted the walls white to match our house trim, and the kids helped me plant our plants. I then put the chicken wire around it and voila! We have a nice sized area to grow our own veggies! I'd like to trim the 2×4's down to the level of the chicken wire soon, as well as fill in the side with gravel. I had also ended up moving two wine barrel halves (remember our wine barrel summer salad garden?) to below the raised bed, which required me shoveling all of the dirt out to move them and then filling them back in.
I was definitely sore after day two, but it was totally worth it! It's such a good feeling to tackle and finish a project.
Thanks #CollectiveBias and Tom's of Maine (#NaturallyFresh) for helping me make this garden possible! 
(Visited 388 times, 1 visits today)