"I participated in an Ambassador Program on behalf of Millennial Central for MY M&M'S. I received product samples to facilitate my review and to thank me for my participation."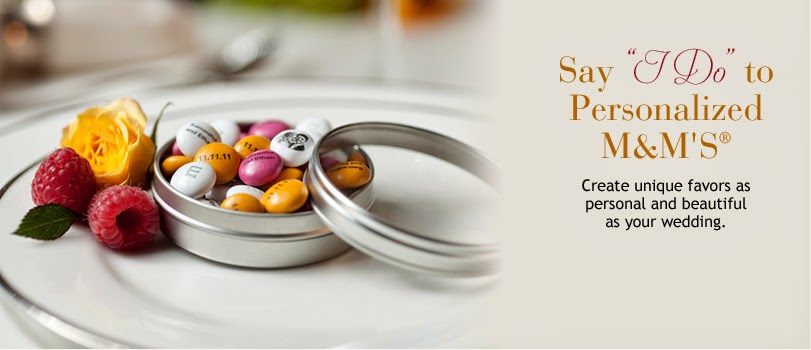 I'm pretty excited you guys – one of my best friends is getting married this summer! I absolutely love weddings… or any excuse to celebrate for that matter! She's been living with her fiancé for quite some time now, so they are just planning on a casual country wedding and no bridal party, but none the less I'm happy to help her plan it.
I was almost more excited though when I found out that I was chosen to participate in the
MY M&M's
Ambassador program, because I love the originality that MY M&M's can give you! It's a custom online printing solution for personalizing an event or occasion. The collection has 25 different colors, 20 of which are available to add custom images or messages.
So, since my friend is having a casual wedding, I decided that I really want to host a fun little bridal shower for her. Honestly I've never had or even attended a bridal shower before! Bachelorette parties yes, but how fun would an afternoon bridal shower be with appetizers, games and presents, and perhaps a mimosa or two along with custom M&M's for favors? Since she is a country girl she wants a pink camouflage themed shower, but knowing me I'll jazz up the country theme just a bit and use the pink camouflage colors to create decorations as well as favors for the guests.
I've ordered a bulk bag of
MY M&M's
in light pink, white and dark pink to resemble the pink camouflage that she likes and I have also added some cute sayings and photos to them! I think they will be perfect gifts to give her guests at the bridal shower. They should arrive in a week or so and I'll be posting shortly after how I'm going to package them!
Have you ever hosted a bridal shower? Any tips for me? 🙂
~Melissa 
(Visited 364 times, 1 visits today)