As some of you already knew, and most can figure out – I became a mom at a young age. Starting a family so young made things a little more challenging as I never had that time in my life for just myself without having to worry and think about someone else.
I would not change anything. Ever.
Most of the time these days I'm with the kids, at home helping with homework, cooking, cleaning, and blogging. When we aren't at home we are usually running errands – and on most days you'll find me wearing jeans, a plain hoodie and my favorite leather flip flops. (Yes, I know its December, when its starts freezing I'll put my boots on!) A couple days a week I'm working my "other" job A.K.A. nurse, which requires me to wear the comfy yet pajama-like scrubs.
I have always put my makeup on first thing in the morning, because a.) its just a routine, and b.) I feel more confident in it. Most of the time my hair gets done, but sometimes its just a simple braid or bun. Even though I do take time out of my morning to do these things, I was still left feeling less than glamorous most days.
I would flip through magazines and watch other women who dress in their business suits heading to their day jobs and secretly covet their excuse to dress nice and wear beautiful jewelry. Then I started thinking even though I'm dressed casual most days, that's no reason not to add a little sparkle to my style.
So I opened up my jewelry box.
I have a few pieces of jewelry from
Shane Co.
that I absolutely adore. We purchased my engagement and our wedding rings through them and were so satisfied with the service we've just always preferred to go back to them. In fact, they almost brought me to tears when I lost a 1/4 carat diamond from my engagement ring and they repaired my ring and replaced my diamond free of charge, no questions asked. I don't know many companies that respect customer loyalty like that.
Aside from my wedding rings now most days I will always wear sparkly earrings studs. They make me feel girlie but don't get in the way of anything, and match whatever I'm wearing. Shane Co. has some beautiful sapphires to choose from and they only sell
naturally mined sapphires
that are hand selected for their beauty and color.
When we go running errands now I like to wear a long statement piece necklace like Shane Co.'s  
Capri Necklace
. It's gorgeous, direct from Italy, can be customized with your initials or favorite saying, and it goes with any one's style.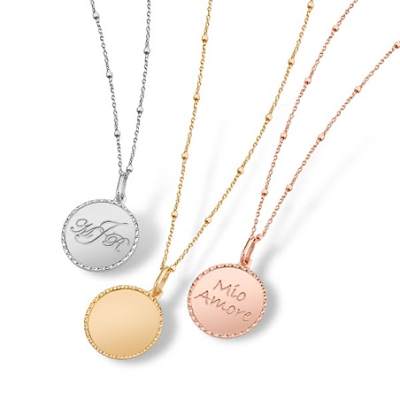 I've learned that just because I'm a busy mom who wears flat shoes doesn't mean I can't wear pretty jewelry, and if you think you need an excuse (which you don't), here's 3 reasons why you should too:
1. You don't want your jewelry collecting dust waiting for that "special event" to wear it.
2. You'll feel more confident, and the sparkles will enhance your beauty.
3. The more you wear it, the more it will remind your significant other to add to your collection. 🙂
~Melissa
I was selected for this opportunity as a member of Clever Girls Collective and the content and opinions expressed here are all my own.
(Visited 121 times, 1 visits today)