I hear a lot of moms out there talking about how they wished they could of finished college but feel like its just too hard now that they have children and that they will have to wait until later.
Believe me, being a mom is the toughest job and career that doesn't pay anything – well money that it.
The rewards are far better than cash.
Some women are content staying at home, which I think is wonderful – but others still feel the need to have an outside career as well.
I made the choice and went back to school when Emma was just one year old. It was hard to leave her, but the opportunity had come up and I knew that it would just take one more year to finish up.
There were lots of factors that helped me make my decision to return to school, but the most important factor was that I knew no matter what happened in life I would have a decent paying career to fall back on that would always be in demand. I will never have to worry about not being able to find a job.
It wasn't easy, but the year passed quickly and when Wayne lost his job this past year I was so grateful that I had my LPN license to help out our household.
Other moms may have different reasons to return to school, but whatever the decision is it really pays to dig in and find out your options. There are many grants and loans that can help you finish your dreams.
Scholarships 4 Moms is holding a giveaway right now for a $10,000 scholarship and I just wanted to share it with you! They also have ideas and options for schools to help you find the perfect career.
Do you want to go back to school? Or do you feel like staying at home is just right for you and your family? Will you wait until your kids are all in school, or will you start today? I'd love to hear your thoughts on this topic and see how other moms feel about it!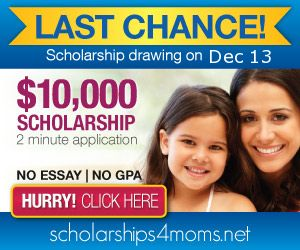 ~Melissa
Full Disclosure: I was compensated for this post but all opinions expressed are that of my own. If you would like to sponsor a post please contact me at Melissakaylene@gmail.com
(Visited 53 times, 1 visits today)