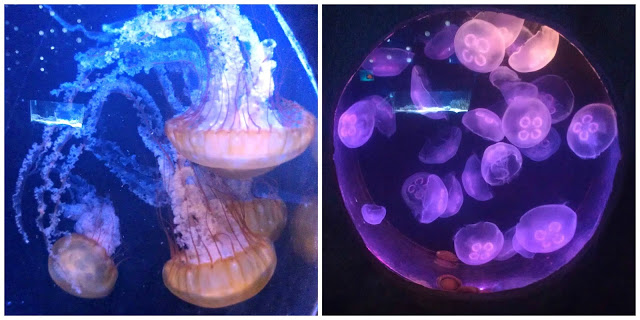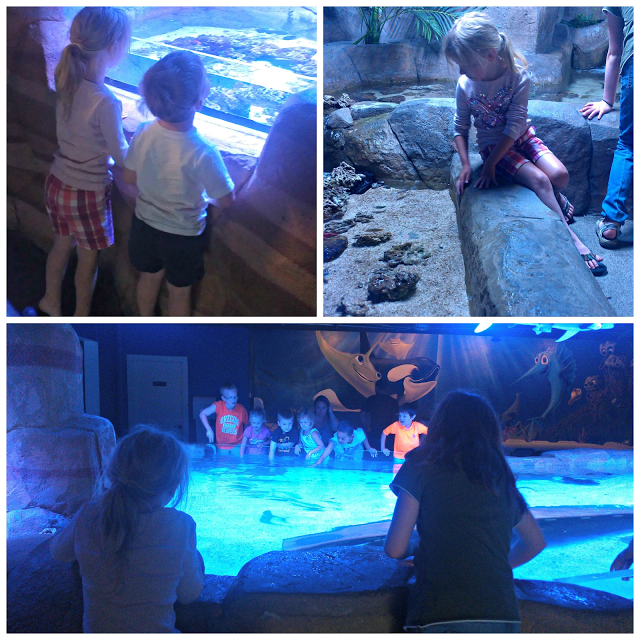 Last week the kids and I were lucky enough to check a few things off of our summer bucket list, one of them being the Portland Aquarium. (Remember me talking about it here?) The Aquarium opened last year and I had been wanting to pay it a visit, so since it was something new it was a must-do this summer.
I didn't tell the kids where we were going until we were about 20 minutes away. They freaked out (as only kids can get away with) and the trio screamed and shouted in joy. They were so happy that we weren't just running errands!
When we first stepped foot into the building, I instantly knew that this place was catered towards kids, and that mine were thoroughly going to enjoy our visit. The gift shop is your starting and ending point to the Aquarium. You walk in, pay admission, then find yourself browsing through a series of themed rooms until eventually you are back at the beginning.
There's quite a variety of things to look at inside. There are little pools for young children so they can touch the fish and starfish. There is a lorikeet aviary exhibit in a rain forest room, where kids can hold and feed the birds, as well as climb in the indoor jungle gym. There are reptiles to peek at, and so many different species of fish to gaze upon. Many of the viewing windows are lower, which is nice so I didn't have to pick up the little ones each time they wanted to see something.
The real popular place for my kids was the big pool exhibit with sting rays and small sharks that children can touch. My kids just stood there in awe – a little brave, a little scared; mesmerized by the creatures dancing in the water underneath blue lighting.
Anika was brave enough to touch them.
All in all it was a fun afternoon outing for us to share. I was pleased to see that all of the exhibits that allowed touching were monitored closely by staff. After loading up with souvenirs my kids declared that they already wanted to come back to show their dad around!
The Portland Aquarium also has areas designated for birthday parties, and they do this little activity called Sleepover with the Sharks….where kids can stay over and camp out with the fish and get a behind the scenes tour, feed the birds, watch movies, and get breakfast in the morning. Anika is already begging me for that one. 🙂
One last thing they offer is free admission for any foster children. That just melts my heart right there.
If you have little kids and an open afternoon you should stop by and check the Aquarium out and tell me what your kids thought of it!
~Melissa
I was offered an annual family pass in return for a written post; all thoughts expressed are my own.
(Visited 599 times, 1 visits today)